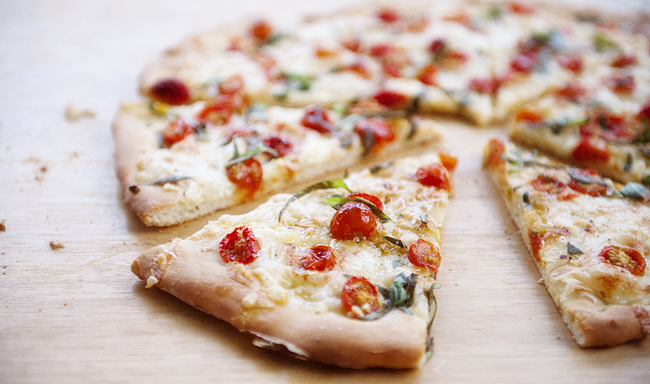 3 years ago I tried what was claimed to be the "easiest pizza dough recipe".  Already intimidated by anything with the ingredient "active dry yeast" I was certain failure would be in my future.  And it was.  Right from the start the dough was dense and thick.  A jackknife would have been needed to lift it off the pan after baking.  I swore off ever trying to make my own pizza dough again.  Of course time heals all wounds and recently when I came across Martha's recipe claiming the same ease I couldn't help myself and had to try.  Martha, you are my favorite.  Not only is this indeed easy for a dough beginner like myself but it is super tasty as well.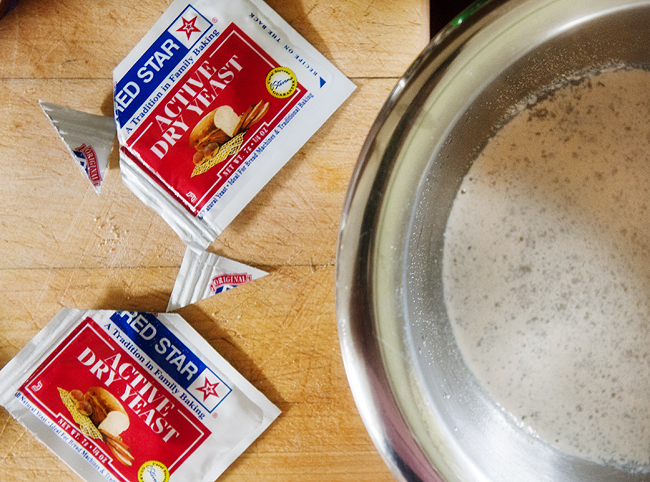 There is something about active dry yeast that scares me.  I think it is all the stories you hear when bread makers discuss things that went wrong with their recipes.  Seems like a lot of mess and work for something that may or may not turn out.  I like recipes that you can "fudge" a bit.  Where weather, humidity or preciseness does not effect it to the point of total disaster.  That is why this dough is for me – fool proof.
easy pizza dough
Ingredients
2 packets (1/4 ounce each) active dry yeast
2 tablespoons sugar
¼ cup olive oil, plus more for bowl and brushing
2 teaspoons coarse salt
4 cups all-purpose flour (spooned and leveled), plus more for work surface
Instructions
Pour 1½ cups warm water into a large bowl; sprinkle with yeast and let stand until foamy, about 5 minutes.
Whisk sugar, oil, and salt into yeast mixture. Add flour and stir until a sticky dough forms.
Transfer dough to an oiled bowl and brush top with oil. Cover bowl with plastic wrap and set aside in a warm, draft-free place until dough has doubled in bulk, about 1 hour.
Turn out onto a lightly floured work surface and gently knead 1 or 2 times before using.
Notes
Recipe makes 2 regular size pizza crusts. Roll/stretch dough to size and bake in a 425 degree oven (place toppings on first) for 18 to 22 minutes. Or form dough into ball, wrap in plastic wrap, place in freezer bag and freeze for up to 3 months.
Recipe from
Martha Stewart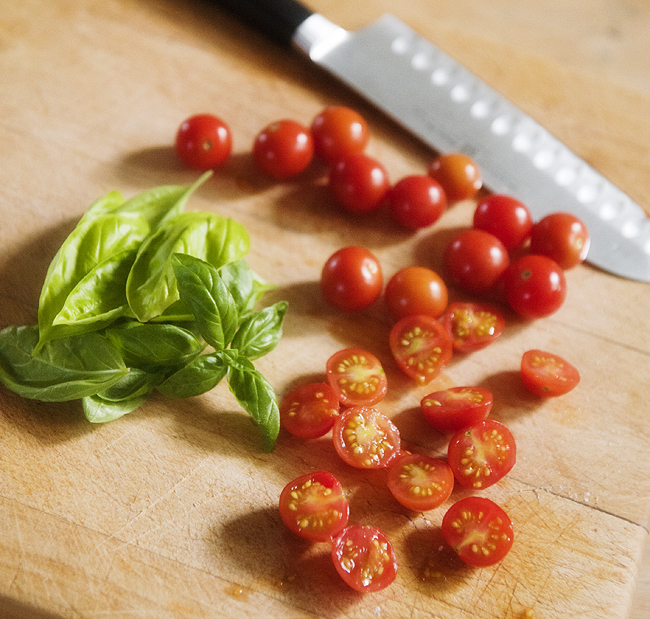 Absolutely loving our daily harvest of sweet little cherry tomatoes.  Paired with basil it is a simple combination but one that is truly hard to beat.  We cut our tomatoes in half and toss with one minced garlic clove, olive oil, salt and pepper before tossing on pizza.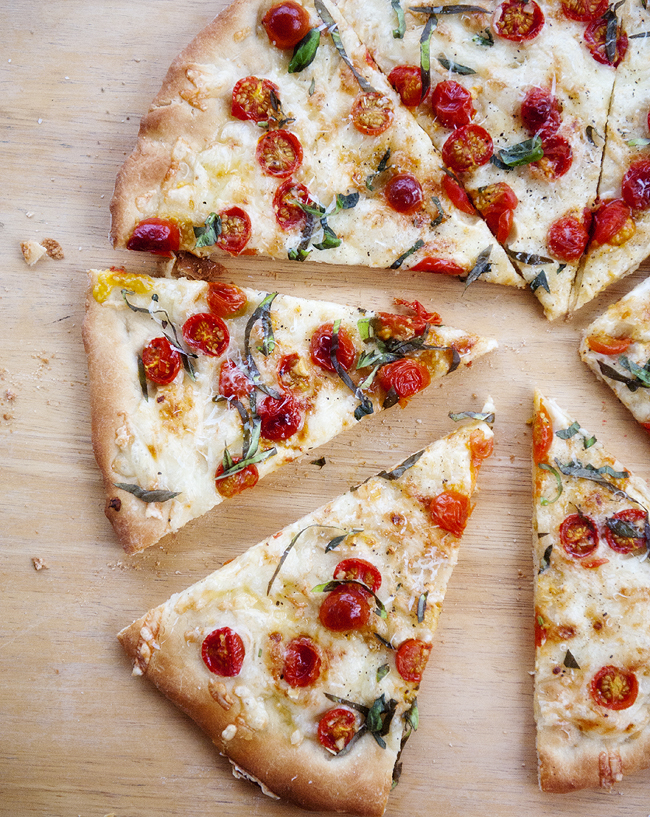 I have made this three times since first trying 2 weeks ago (6 pizzas in 2 weeks for 3 people, one of which is a toddler and only take 2 or 3 bites – yeah, Sticky and I like us some pizza).  The fact that it makes 2 crusts is such a time saver – someday I would like to make 3 or 4 batches and have those perfect balls of dough waiting for me in the freezer on busy evenings.  As far as taste and texture it is not the best dough I have ever had but it is the best dough that has came out of my kitchen and that is certainly good enough for me.