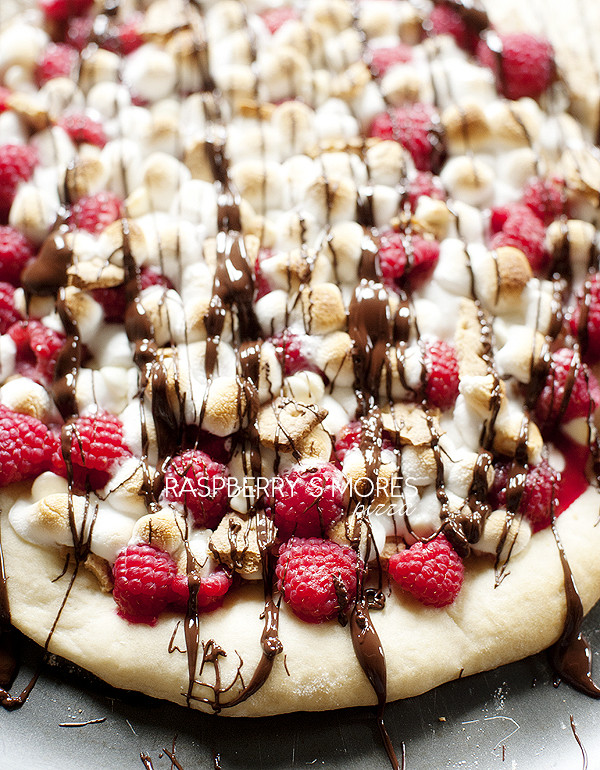 Sometimes a plan gone terribly wrong becomes a new plan that goes better than anyone could have ever dreamed. Ever. That would be this pizza. I can't even remember what I attempted to make which ultimately led me to this masterpiece. If I could remember there would be a thank you card involved….because I am grateful for this amazing pie of berry s'mores heaven.
S'mores have been on my mind lately. Summer seems to be it's season – in fact I'd say s'mores are the pumpkin to Pinterest in the fall.  Everything from cakes to pies to cheesecakes to bars to cocktails and even crispy treats. Of course there is nothing shocking about this. It's graham, chocolate and marshmallow we are talking about here. Very few people find these things repulsive.
I have been on the hunt for something s'mores for a couple of reasons. A. I needed an easy recipe, quick. B. Jettie loves to help me in the kitchen and I wanted something she could do almost entirely herself. (Which makes a 4 year old feel pretty awesome. In turn making mommy feel pretty awesome.) There is nothing easier to assemble than pizza…so I thought why not a s'mores pizza. But not just any old s'mores pizza. How about a s'mores pizza with raspberries and white chocolate?
My ideas may not always be good…but this one guys, it's a keeper. Believe me.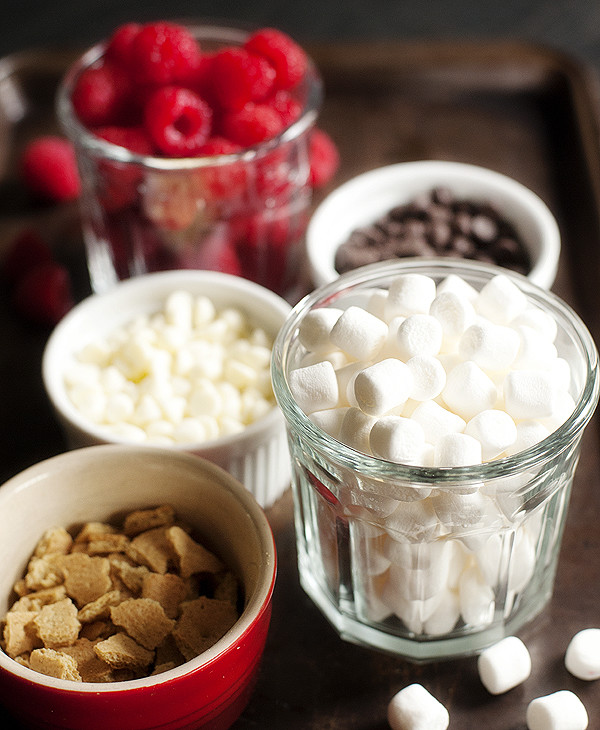 Miss Jettie's first question was "All of these things are going on pizza?!" Say hello to your first dessert pizza, girl. In fact let's call this "ultimate" dessert pizza. That's right, I'm giving it the ultimate title. It's just that good.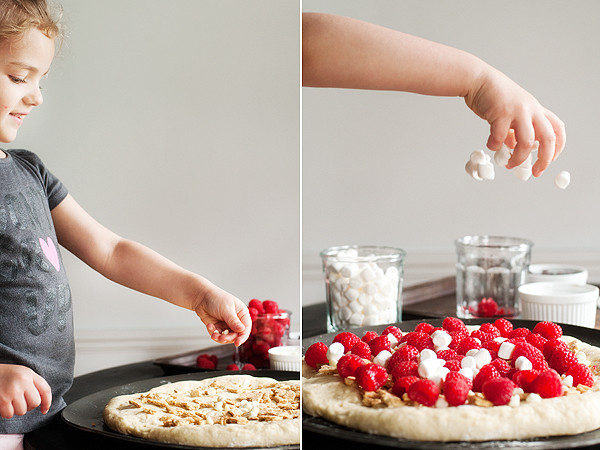 Look at those marshmallows all perfectly toasted with peaks of berries coming through. The dark chocolate isn't even on it yet and I want to eat the screen.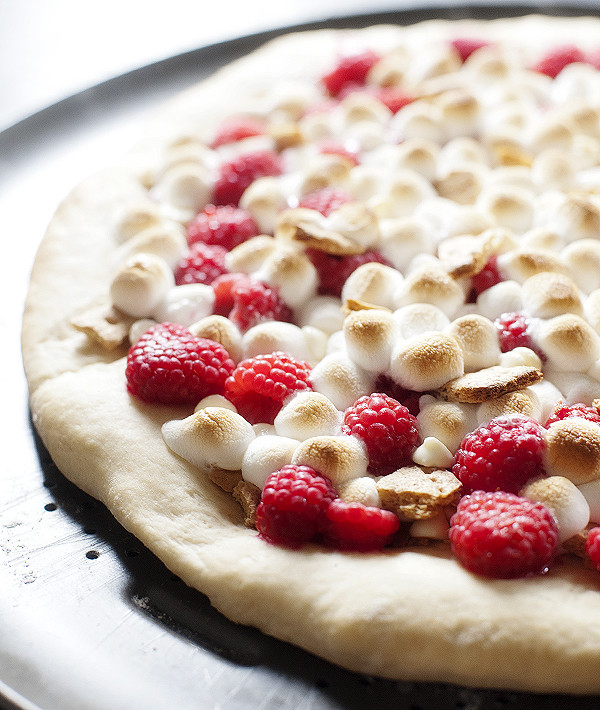 There are so many flavors that make this pizza extraordinary. First you have the best ever classic s'more combo of graham cracker, chocolate and of course marshmallow. But then you add those berries exploding with their tartness and boldness…perfectly balanced by a layer of oh so sweet white chocolate. It's s'mores on crack and the pizza crust is the ideal vessel. Every bite is sweet and fresh and marshmallowy. It's everything you never knew you wanted on pizza.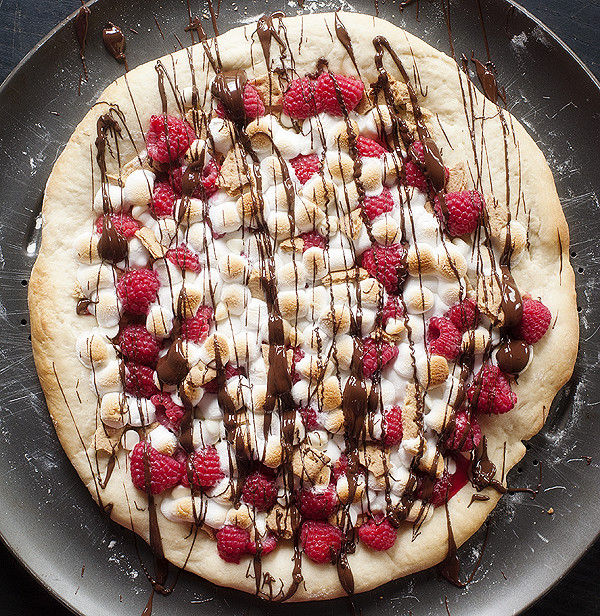 And it's beautiful. (But not be beautiful to stuff in your face immediately.)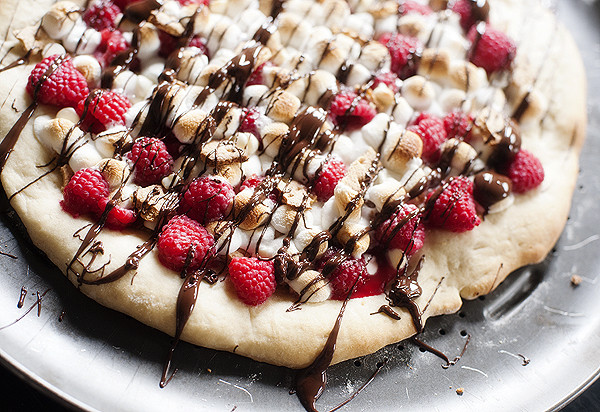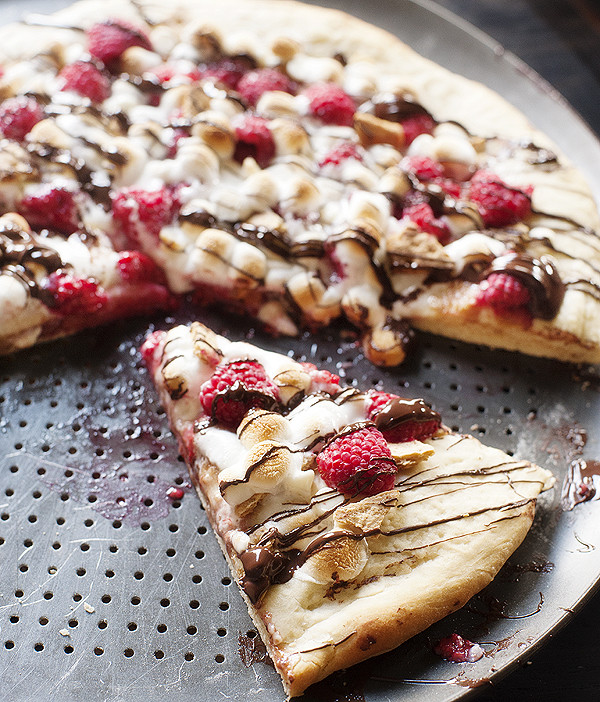 One warning – do not make this alone. It's not something that can just be sitting around. A person could "pick" all day before realizing they have eaten 4 slices of dessert pie. Of course if you are a champ in the self control department (not me) then make away. Otherwise you may want a 6 person cushion…or a double up workout plan for that week.
Enjoy!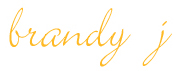 raspberry s'mores pizza
Ingredients
1 12" to 14" pizza dough crust (I used this recipe)
½cup graham cracker pieces (you want them bite size)
½cup white chocolate chips
1cup fresh raspberries
1½cup mini marshmallows
¼cup dark chocolate chips
Instructions
Preheat oven 425 degrees (or whatever your chosen pizza dough tells you). Spread dough onto a greased round pizza pan. Precook the dough according to the instructions and place in oven for the instructed time minus 7 minutes. For me that was about 11 minutes. Pull pizza out of oven.
Top pizza with graham crackers, white chocolate chips next, fresh raspberries and then marshmallows. Pop into oven for 6 to 8 minutes or until crust is done and marshmallows are golden. (If marshmallows become golden before crust is completely cooked cover them lightly with foil for remainder of bake time.) Remove pizza from oven.
Melt dark chocolate chips in a small dish. Drizzle all over your yummy pizza. Serve immediately!