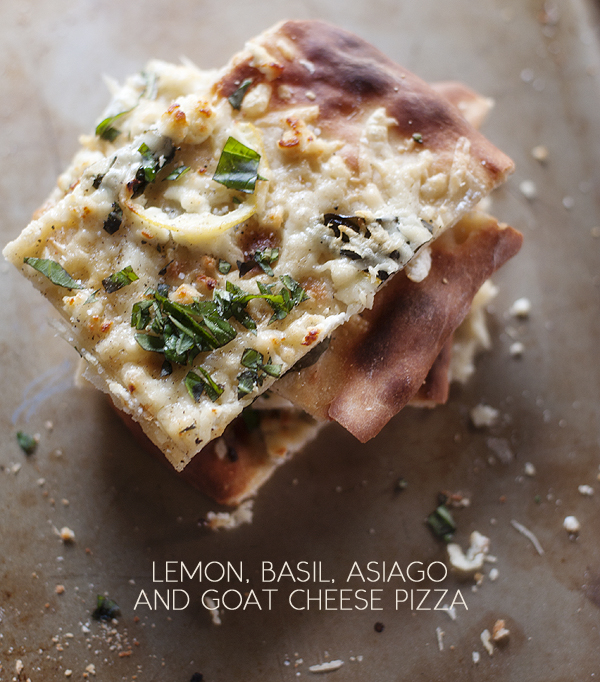 Hi my name is Brandy and I am addicted to competitive cooking shows.  There is something about people frantically preparing a dish as if their life solely depended on it, I love it.  Chopped, Master Chef, The Next Food Network Star – they all have my heart. (Along with Project Runway and my dirty little secret Dance Moms, but we won't talk about that.). Last night I channeled my coveted cooking shows and stared into my fridge and pantry as if they were a mystery basket. In the background I could hear Ted Allen saying "in your basket you have frozen pizza dough, lemons, basil and cheese." Yes, easiest mystery basket ever but hey, I am an amateur level competitor at best.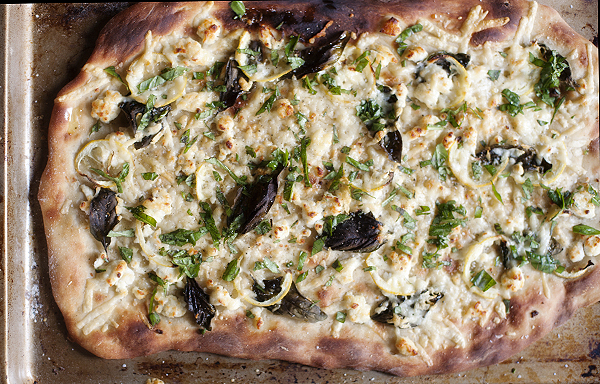 This was definitely a meal made from a very sparse "need to make a trip to the grocery" kitchen.  Luckily we had one frozen pizza crust left in the freezer and a variety of cheeses to chose from (including the asiago leftover from this antipasto salad).  Of course cheese and pizza crust are good on their own but once I spied the lemon I thought why not?  It's fresh, screams summer and pairs really well with goat cheese.  Add some basil and we had ourselves a pretty tasty pizza.  Would Graham, Giada or any of the other judges be impressed?  Undoubtedly no.  But my man was so I am chalking this one up as a win.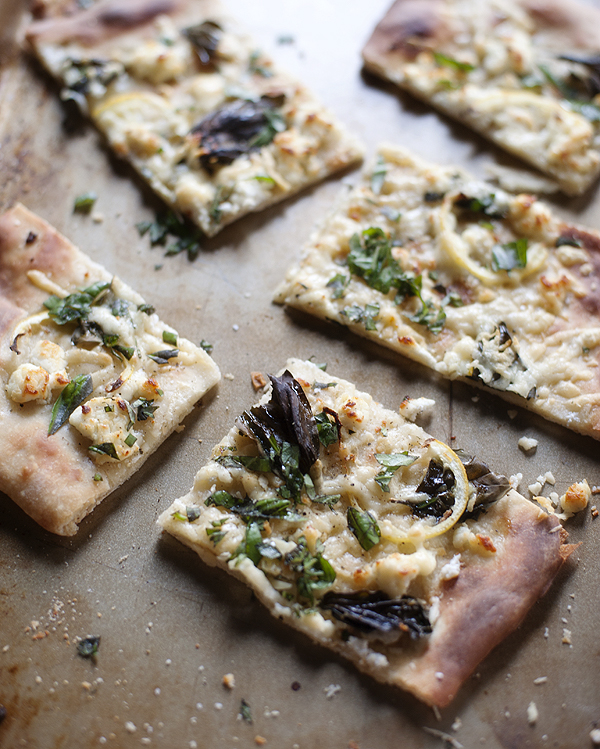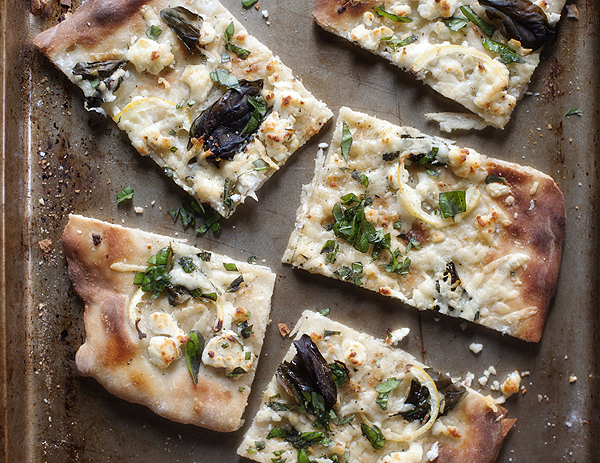 Oh pizza, how I love you so.  Thanks for being so delicious and versatile.
Enjoy!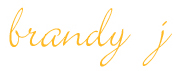 lemon, basil, asiago and goat cheese pizza
Ingredients
3oz goat cheese
½ cup shredded asiago cheese
1 small lemon thinly sliced (I used a mandolin)
large handful of fresh basil (half whole leaf, half chopped)
olive oil, salt, pepper to taste
Instructions
Preheat oven 500 degrees fahrenheit one hour before baking pizza.
Spread pizza dough out on baking sheet and top with crumbled goat cheese, asiago and lemons. Tuck a whole basil leaf under each lemon slice.
Bake on top rack in oven for 8 to 12 minutes or until crust is golden. (You can turn broiler on at the end for 30 to 60 seconds to get a little char on the top. Watch it though as it can burn quickly.)
Top with chopped basil, salt, pepper and a drizzle of olive oil before serving.