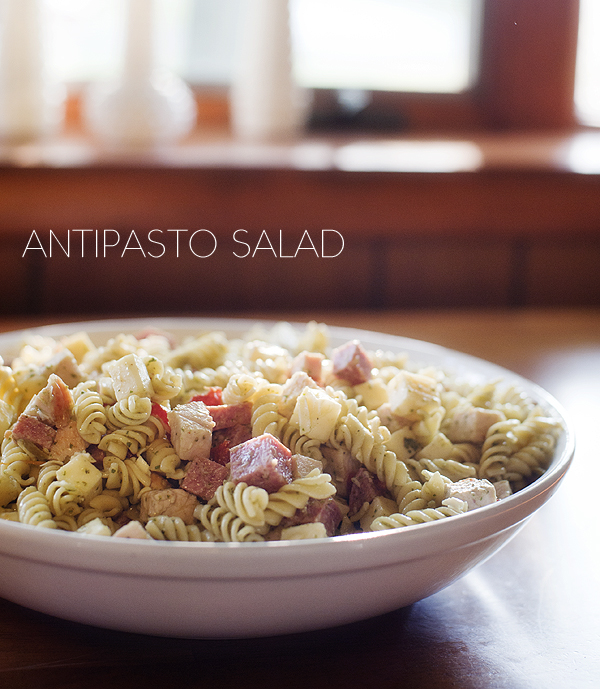 Over a year ago I made this pasta dish for Jettie's 2nd Birthday Party.  The plan was to search for a salad that would be easy to prepare a boat load of the day before the event.  I had no idea whether it would be good or not but figured if Giada made it then it can't be all that terrible.  (The saying "never trust a skinny cook" does not apply to Ms De Laurentiis.)  Not only was this devoured but I still receive the occasional "That salad from Jettie's party last year was so good."  When people can remember food from over a year ago you know you have a winner on your hands.  So this is my gift from me to you – a crowd pleasing salad that is shamefully easy to throw together.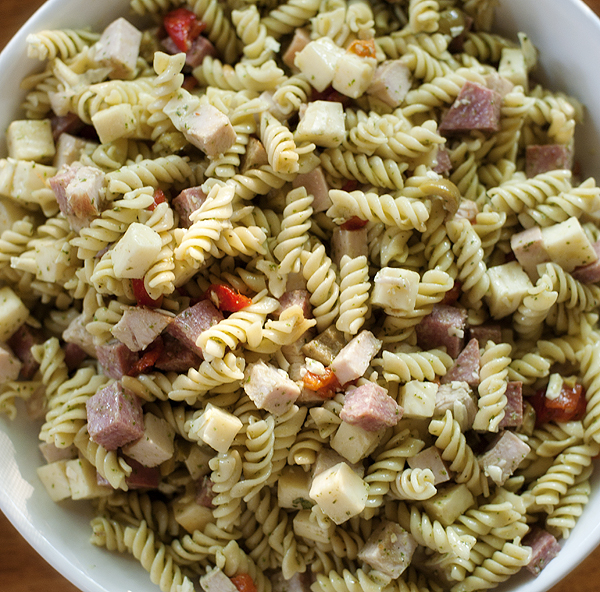 I know what you are thinking. "Brandy you do not eat meat and once again you are telling me something with meat is worth making."  You are just going to have to trust me (as well as my satisfied friends and family).  Besides, there is pasta, cheese and olives involved.  You bet your britches I pick around the salami and smoked turkey to get my own sampling of goodness.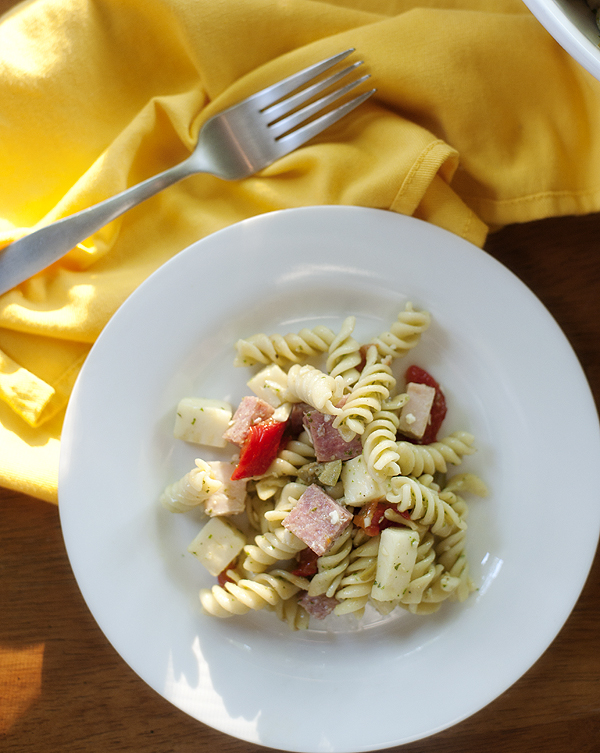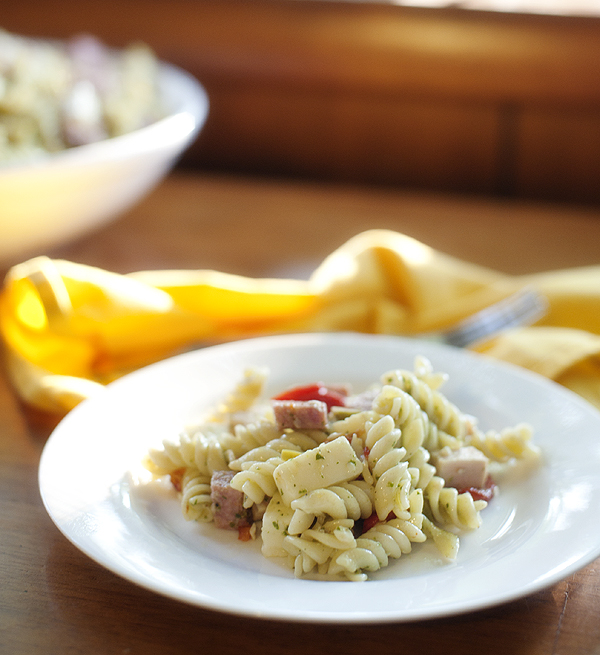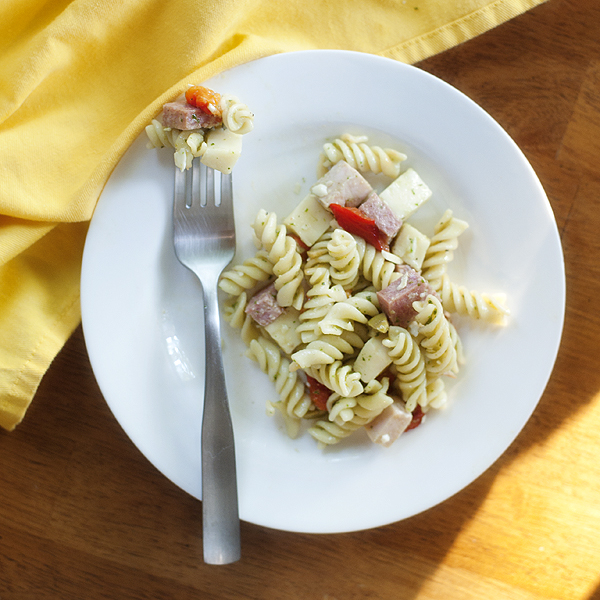 Between the 50 Shades trailer premiere (what, we didn't read those filthy books in a few days or anything…), Project Runway starting and sharing this recipe I would have to say that today is shaping up to be a kick arse Thursday.  Pasta, red room of pain and fashion – what more could one want?
Enjoy!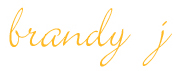 antipasto salad
Ingredients
DRESSING:
1 bunch fresh basil, stemmed and leaves chopped (about 2 cups)
½ cup red wine vinegar
2 clove garlic
2 teaspoon Dijon mustard
1 teaspoon salt
1 teaspoon freshly ground black pepper
½ cup extra-virgin olive oil
SALAD:
1 pound spiral pasta (such as fusilli or rotini)
1 cup hard salami, cut into strips (about 6 ounces)
1 cup smoked turkey, cut into strips (about 6 ounces)
½ cup provolone cheese, cut into cubes
½ cup grated Asiago cheese
¼ cup green olives, halved and pitted
1 roasted red pepper, cut into strips
1.2 teaspoon salt
1 teaspoon freshly ground black pepper
Instructions
For the dressing: Combine basil, vinegar, garlic, mustard, salt and pepper in a blender or food processor. Blend until the herbs are finely chopped. With the machine running, slowly drizzle in the olive oil until the dressing is smooth.
Bring a large pot of salted water to a boil over high heat. Add the pasta and cook until tender but still firm to the bite, about 8 to 10 minutes. Drain pasta and let cool slightly.
In a large bowl, toss together the cooked pasta with the remaining salad ingredients. Drizzle with dressing and toss to coat. Serve. Store leftover pasta in fridge (is just as delicious the next day).
recipe adapted from Giada De Laurentiis