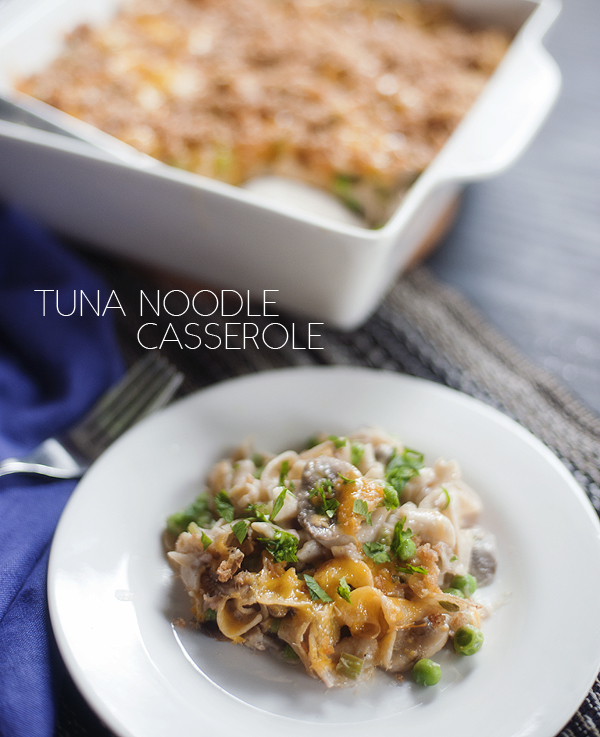 Yes I am still pregnant.  Am I ready not to be anymore?  The answer to that is complicated – my body screams yes while my heart says "just a bit longer little guy".  These last days, hours, minutes – whatever we may have left – are bittersweet.  A chapter is about to end in the story of our growing family.  Baby boy will be our last (I know, never say never but the plan has always been 2 kids).  Last positive pregnancy test, last baby bump, last trip to the hospital to welcome a newborn.  So many sweet moments only to be revisited in our memories.  Of course there are wonderful times yet to be experienced.  Knowing that is what makes life so blessed and worth living.  So yes, we are ready to welcome you into the story baby boy.  Actually we can't wait.
This last month I have spent some time making a few easy to freeze dishes, one of them being the classic tuna noodle casserole.  This was a favorite of mine and Sticky's both as children.  It's also a dish that Jettie has never turned her nose up at – bonus in the toddler world.  While I would not judge anyone who uses the classic red and white cream of mushroom soup can, I will say you have to try the recipe without it at least once.  It is not complicated at all and the taste of all the ingredients truly shine when prepared this way.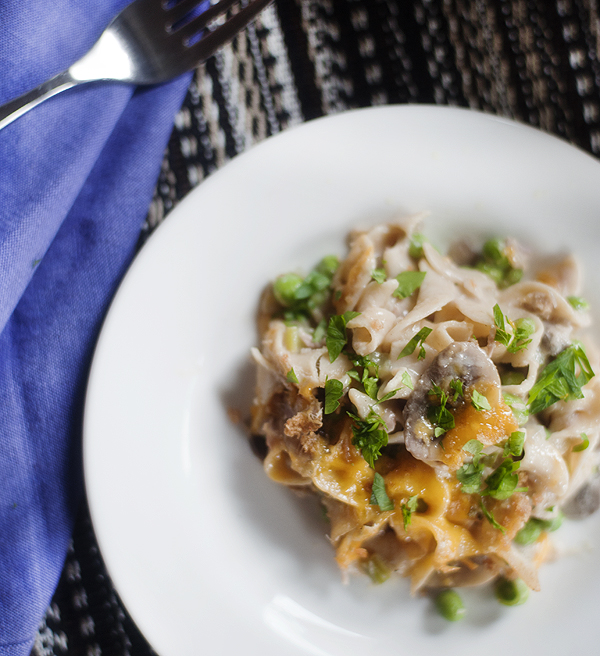 tuna noodle casserole
Ingredients
½ cup butter, divided
1 (8 ounce) package uncooked medium egg noodles
½ medium onion, finely chopped
1 tsp red pepper flake
1 stalk celery, finely chopped
1 clove garlic, minced
8 ounces button mushrooms, sliced
¼ cup all-purpose flour
2 cups milk
salt and pepper to taste
1 tsp dijon mustard
2 (6 ounce) cans tuna, drained and flaked
1 cup frozen peas
¼ cup bread crumbs
2 tablespoons butter, melted
1 cup shredded cheddar cheese
Instructions
Preheat oven to 375 degrees F. Butter a medium baking dish with 1 tablespoon butter.
Bring a large pot of salted water to a boil. Add egg noodles, cook for 8 to 10 minutes, until al dente, and drain. (I use whole wheat noodles and they take 8 minutes)
Melt 1 tablespoon butter in a skillet over medium-low heat. Stir in the onion, celery & red pepper flake and cook 5 minutes, until tender. Increase heat to medium-high, and mix in mushrooms and garlic. Continue to cook and stir for 5 to 10 minutes, or until most of the liquid has evaporated.
Melt 4 tablespoons butter in a medium saucepan, and whisk in flour until smooth. Gradually whisk in milk, and continue cooking 5 minutes, until sauce is slightly thickened. Season with salt and pepper. Stir in mustard, tuna, peas, mushroom mixture, and cooked noodles. Transfer to the baking dish. Melt remaining 2 tablespoons butter in a small bowl, mix with bread crumbs (I throw a couple of slices of wheat bread in a mini food processor), and sprinkle over the casserole. Top with cheese.
Bake 25 minutes in the preheated oven, or until bubbly and lightly browned.
Notes
To freeze simply make recipe up to the point of baking, cover with foil. When ready to eat thaw in the fridge overnight and bake until bubbly.
recipe adapted from All Recipes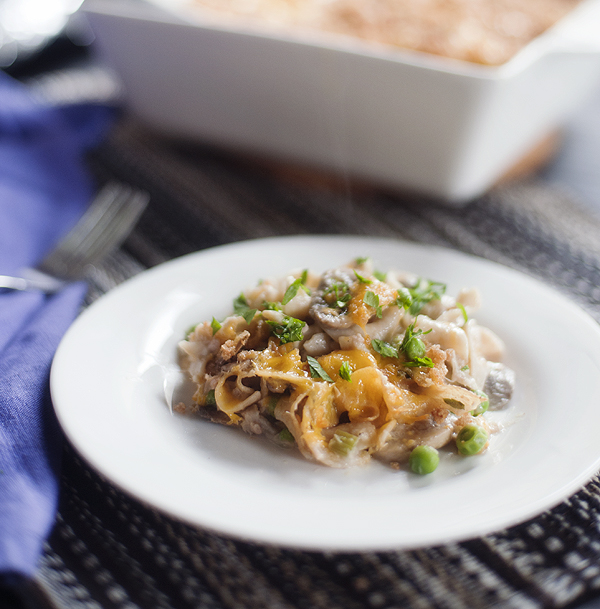 Also in the freezer are my marinara and spinach lasagna (prepare to the point of baking, cover in foil, freeze and when ready thaw overnight before baking), gnocchi (prepare up to the point of boiling, freeze in single layer, store in freezer bag and follow recipe for boiling when ready), pizza dough and biscuits (both links have freezer instructions).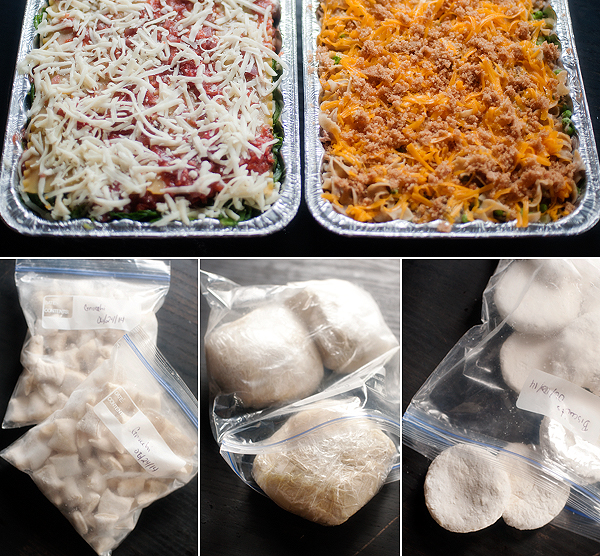 Being prepared would not be Sticky and I's strongest trait but we do enjoy home cooked food.  Stocking our freezer with a few basics will come in handy the first few weeks of adjusting to being a family of four.  Gosh it still feels unreal to say that – a family of four.  It's certainly about to get real.
Eagerly waiting…