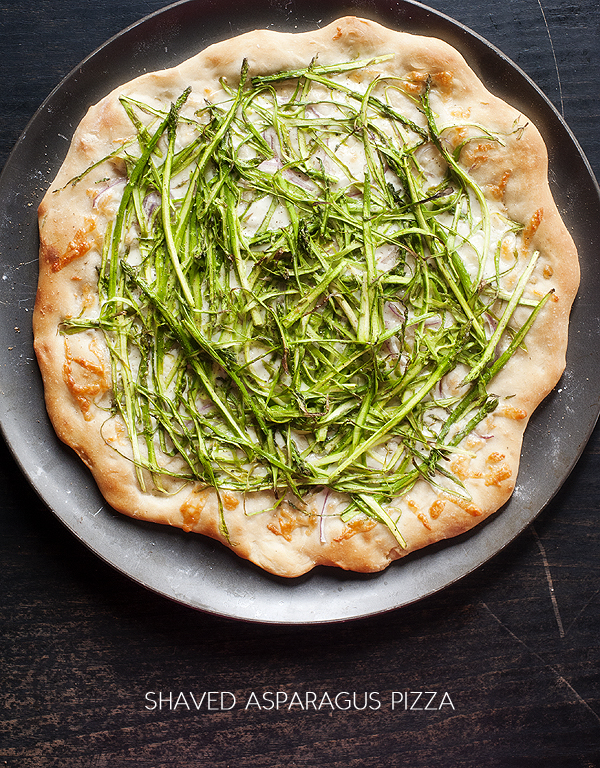 If we are home on a Sunday I almost always try to make a double batch of pizza dough.  This is my best attempt at plan ahead meals.  A decent one at that considering we could eat homemade pizza every other day (okay, everyday).  Typically we top our pizza with whatever needs to be used before going bad and some mozzarella cheese.  Every now and then though there will be a not so subtle hint for certain combos.  Like when Sticky brought home two bunches of asparagus.  The man had a hankering for one of his favorite pizzas and I can't say I blame him.  This asparagus pizza is outrageously delicious.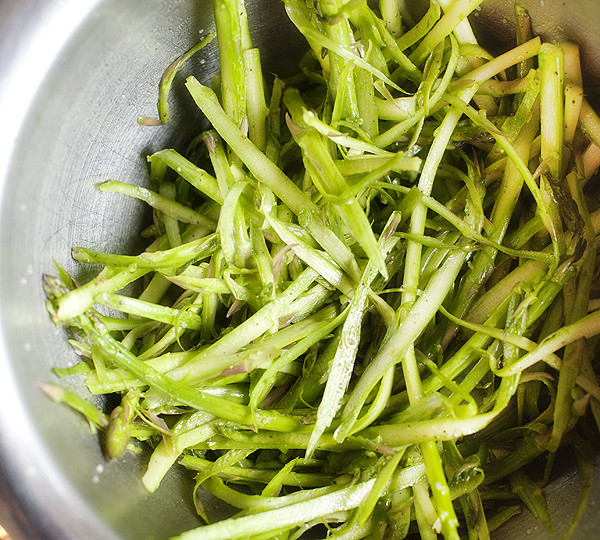 Shaving the asparagus is at first fun, and then a little tedious, but well worth all of the effort.  Be sure not to break off the tough end that you typically would when making asparagus.  You need that guy for your "handle" while shaving.
I have always used a regular vegetable peeler and it works just fine, but I think one shaped like a "Y" would be even better.  (The mandolin I would avoid, don't even entertain such a thought.)  Also, no worries if the shavings are inconsistent in depth and length.  The diversity will give your pizza a fantastic texture.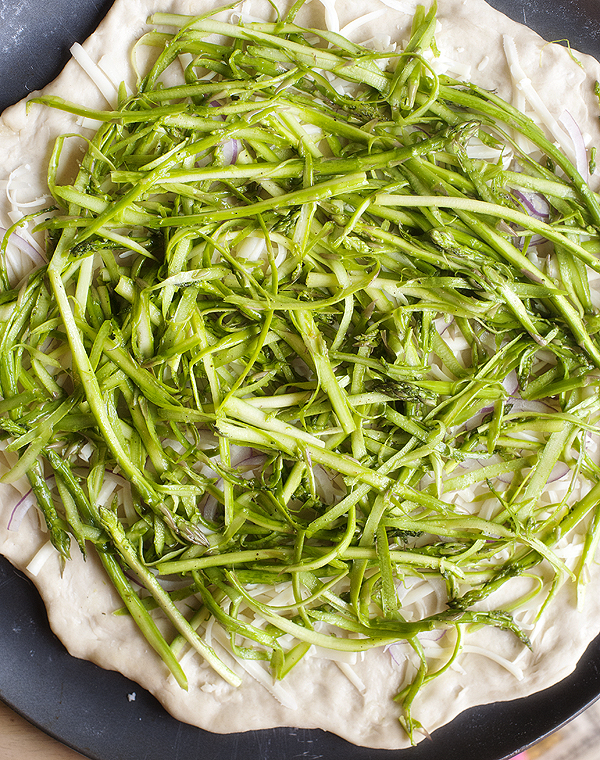 We firmly believe that the reason this pizza is so dang good is because nothing outshines the asparagus.  There are definitely little adjustments you can make as far as toppings go, just be sure not to overpower that green mound of heaven you slaved over.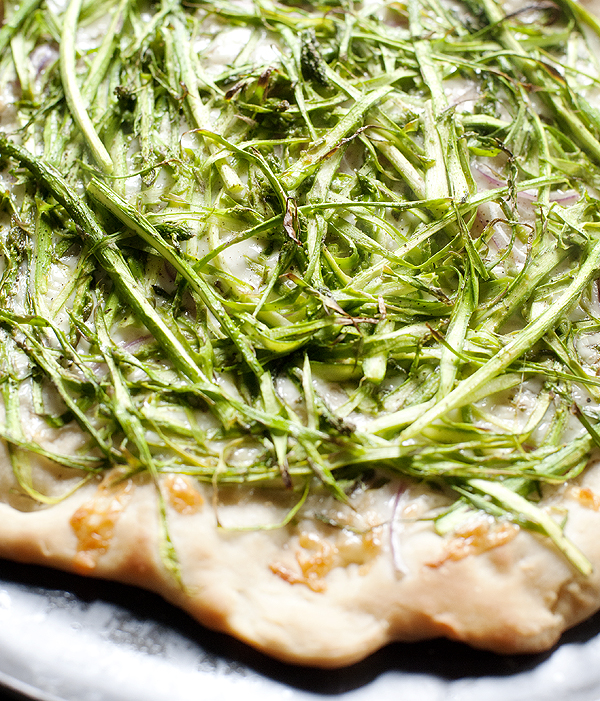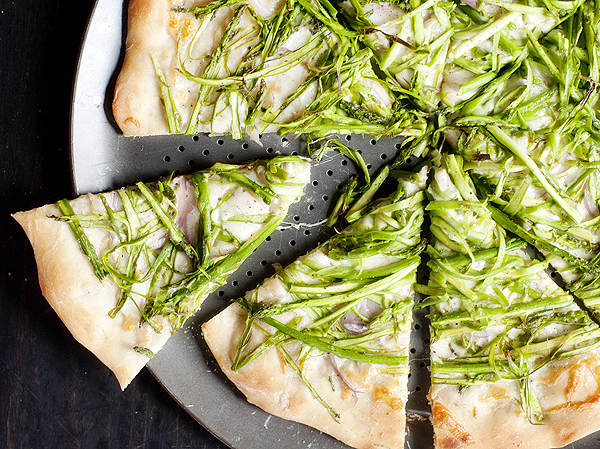 You will be tempted to pull this guy out of the oven as soon as you smell that dough mingling with the roasted asparagus.  Drink a beer, do a dance, make out with someone – whatever it takes to not open that oven.  Wait until the crust is golden and the cheese has just started to brown.  This is the point of pizza perfection.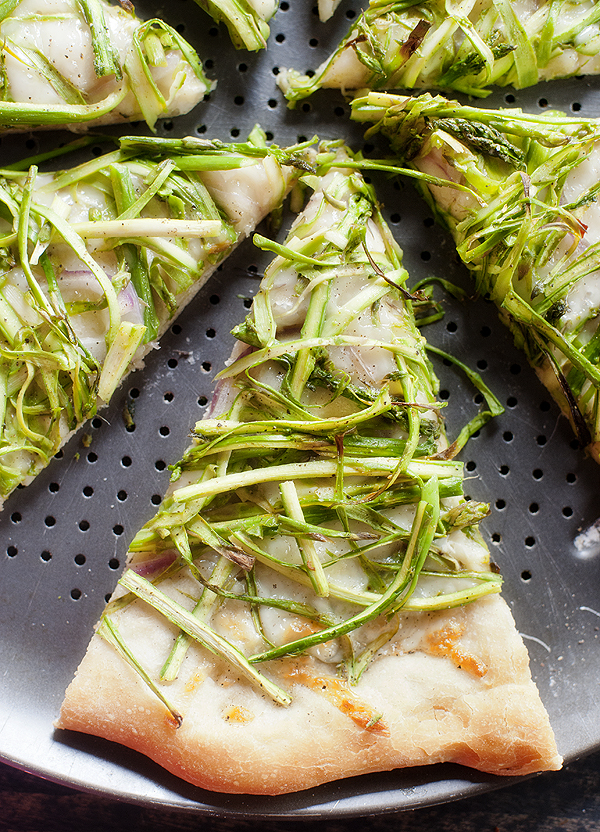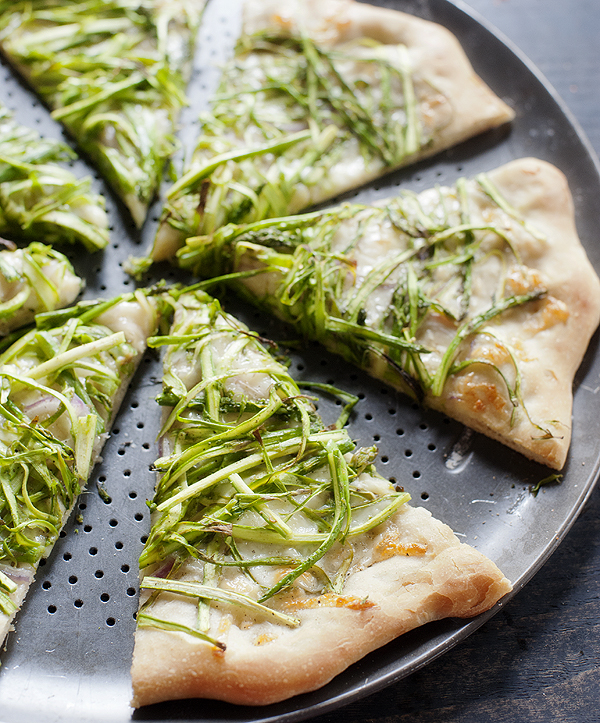 Roasted, slightly crunchy asparagus on a bed of melted cheese and crispy, warm, olive-oily crust.  Finished with just spritz of lemon.  This is spring in pizza form.
Enjoy!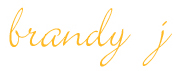 shaved asparagus pizza
Ingredients
1 unbaked 12" pizza dough
1 bunch of asparagus
¼cup grated Parmesan
4oz mozzarella cheese shredded
2tsp olive oil
½tsp coarse salt
½tsp black pepper
½tsp red pepper flake
¼ red onion thinly sliced
½ fresh lemon
Instructions
Preheat oven 500degrees. Stretch or roll pizza dough to a 12" round. Place on a pan dusted with flour or cornmeal.
Shave asparagus with a vegetable peeler and place shaving in medium bowl (do not snap off the tough ends - those are your handles for shaving). Toss shavings with olive oil, salt, pepper and red pepper flake.
Top dough with parmesan and then mozzarella. Next add onion and then pile asparagus on top. Bake in oven for 10 to 15 minutes or until crust is golden and cheese begins to brown.
Immediately after pulling out of oven squeeze fresh lemon juice on top. Slice and devour!