Happy New Years Eve!!
Can you feel the (freezing) crisp new air rolling in? Sure, we all make resolutions, plans to celebrate, plans to be healthier, more prosperous in the new year.. but you know what I really think is the very best?  The blank calendar.
Last January while strolling the isles of Target I came across a giant calendar that was beautiful and I decided it would live on the side of our refrigerator.  Vividly, I can remember staring at the blank pages of that calendar and dreaming about what would fill them.  Birthdays, our first anniversary, holidays, of course.  But what else?  Things you can't see for sure but hope will fill the pages… due dates, weddings, milestones in our lives.  I remember flipping to September, knowing that at that second I could possibly be pregnant.. wondering if we would be bringing a baby home that month, if there would be a new birthday to add to that month every year.
Yesterday I took that calendar off of our refrigerator, and slowly flipped through the months before I threw it away.  It's over.  This year of heartache, miracles, tears and faith… is over.  I tore out September and folded it in my hands.  Locke.  Neatly I tucked that month into his box, and closed my eyes a moment to just be thankful for that season.
Today, a crisp new calendar went up on our refrigerator, and I would be lying if I told you I wasn't grateful for that sight.  While I am so, so indebted to 2014 and all of the blessings it brought.. I am also very ready for a new tide to roll in.  Welcome, 2015, we are so glad to see you.
---
To wrap up 2014, I wanted to share a few of our best and most popular recipes from this year!  If you missed them before, be sure to try them out now!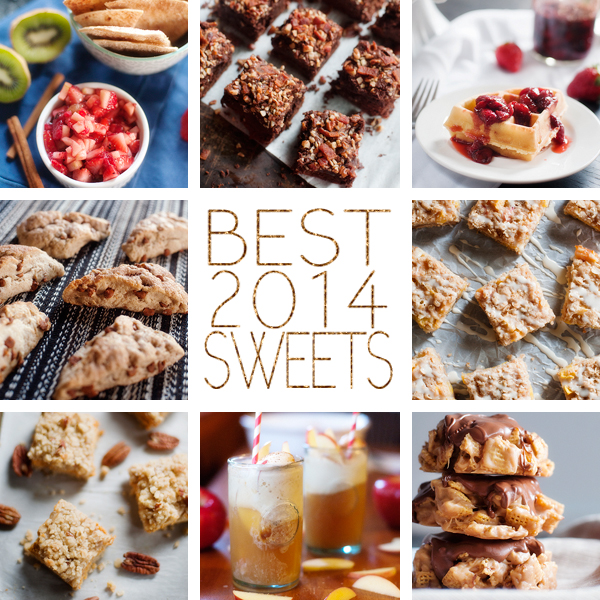 Fruit Salsa & Cinnamon Chips, Bourbon Bacon Pecan Brownies, Waffles & Roasted Balsamic Strawberries, Cinnamon Scones, Peaches & Cream Bars, Pumpkin Pecan Bars, Caramel Apple Cider Floats, Chex Scotcharoo's
Cheers to 2015!