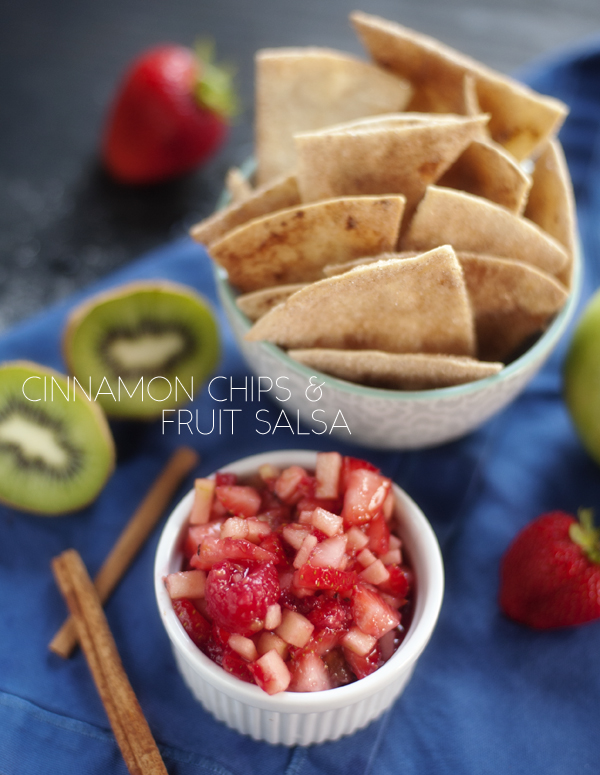 My therapy lately has been books, particularly anything written by Shauna Niequest. First I read Cold Tangerines, followed by Bread and Wine, and now I am starting Bittersweet (which relates all too well to my life right now.)  I loved Cold Tangerines, but I really loved Bread and Wine.  A collection of short stories that anyone can relate with, followed by great recipes to share around the table.  I finished the book feeling so inspired to open our door more often, and gather with our friends over a meal, to share our stories.  There is something so sacred about that time and those relationships- something that is helping us through our journey right now.   To me, it is the same feeling you get from sitting around a fire late into the night, staring into the flames the world has a way of stopping.  Time doesn't exist.  We need more time-stopping moments desperately.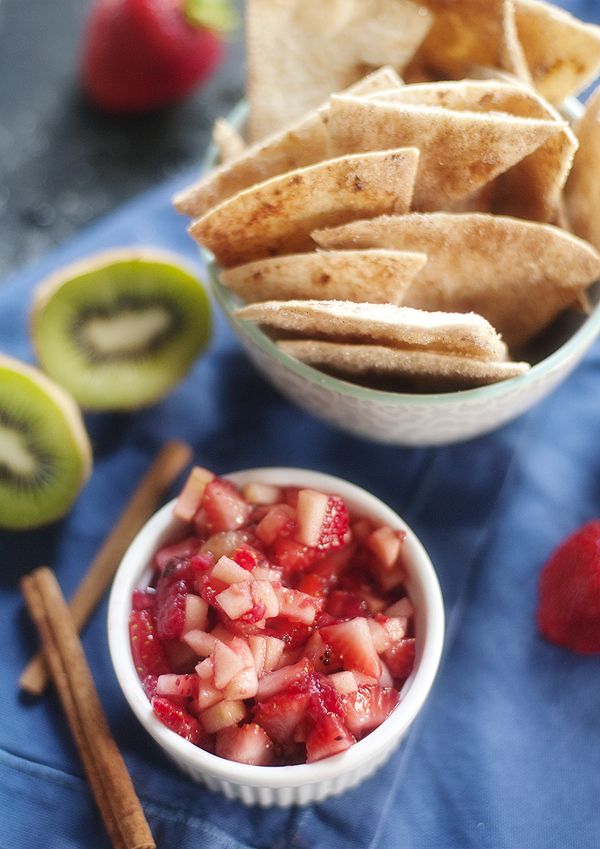 Last night Brandy and I prepared this fruit salsa together, chopping fruit and baking chips as the girls ran around laughing.   Lately, so many of our conversations have been about how complicated pregnancy can be for so many women.  How heartbreaking the journey that is suppose to be filled with joy can really be.  We, as women, read eachothers stories and think, "I have no right to feel bad about my situation, hers is far worse".  You would be suprised at how often we are curled up on the couch with tear filled eyes, sharing stories that others have shared with us of their own heartache, their own painful journey.  Our hearts are breaking right with yours, we know that pain all too well.  And here is the thing- regardless of your situation, your journey is no less painful than anyone else's, your tears are just as valid as mine.  You have every right to really feel that pain, you have every right to mourn those dreams.  Your story is important.
This journey has given completely new meaning to writing for me.  Sharing Locke's story has been my outlet, and the support of other women has been my crutch.  I wonder what would happen if more women shared their journey, how much we could learn from eachother, how much we could help eachother.  I desperately want to wrap my arms around every single person suffering silently through their own heartbreak.  You are not alone. 
Faith can not be handed to someone, but in the simplest of gestures it can certainly be demonstrated.  The language of love is universal, and I want to live in a world where we speak it fluently.  A world where we wrap our arms tightly around eachother and face these struggles together.  A world where we open our doors, and gather around eachothers tables, letting time stand still when it needs to.
XO,

fruit salsa and cinnamon chips
Ingredients
Cinnamon Chips:
10 flour tortillas
cooking spray, or olive oil, or coconut oil
1 cup sugar
1 tbsp cinnamon
Fruit Salsa:
2 granny smith apples
2 kiwi's
1 lemon
1 lb strawberries
½ lb raspberries
1 tbsp brown sugar
3 tbsp fruit preserves (I used strawberry!)
Instructions
Preheat your oven to 350F.
Start by peeling and finely chopping your apples, and place the pieces in a large bowl. Zest your lemon and toss that into the bowl as well, and then cut the lemon in half and sqeeze about 2 tsp of the juice onto the apples & zest.
Next, chop your strawberries and kiwi's and add them to the bowl, follwed by the raspberries that will break apart on their own, stirring well to combine.
Add fruit preserves and brown sugar, and mix well.
Let sit for 15 minutes while chips are baking.
To make your chips, spray each tortilla with cooking spray, or brush with oil on both sides, and then coat in cinnamon sugar. Using a pizza cutter, slice into chips, and place on baking sheet. Bake for 11-13 minutes until chips are crisp!
Store salsa in refrigerator for up to 5 days.