Ahh, a classic.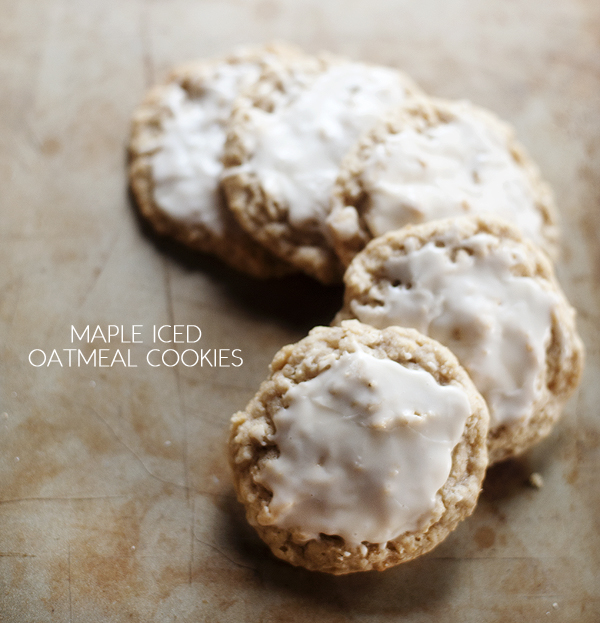 These days you can get on Pinterest and find all kinds of off the wall cookie recipes. Don't get me wrong, I'm obviously a big fan of that- but sometimes you just want a good, classic cookie, and that's exactly what this recipe is.  Josh came in the kitchen as I was baking these and said, "No RAISINS?",  like I was commiting some kind of oatmeal-cookie-crime.  But don't you remember those grocery store frosted oatmeal cookies from your childhood??  Well, these are sort of like those… except better.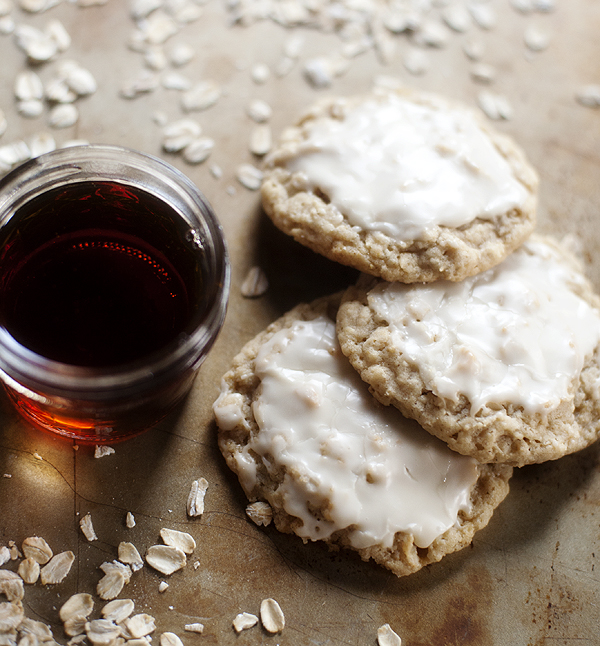 maple iced oatmeal cookies
Ingredients
2 cups quick cooking oats
2¼ cups all purpose flour
½ tsp baking powder
½ tsp baking soda
¼ tsp salt
¼ tsp nutmeg
¼ tsp cinnamon
2 sticks softened unsalted butter
1 cup light brown sugar
½ cup granulated sugar
2 eggs, room temp
½ tsp vanilla
Icing:
1 cup powdered sugar
3 tbsp maple syrup
1-3 tsp water, added as needed
Instructions
Preheat oven to 350F. Line two baking sheets with parchment paper, and set aside.
In the bowl of your mixer, beat butter and sugars until light and fluffy. Add eggs, one at a time, followed by vanilla.
In a medium bowl, whisk together flour, oats, baking soda, baking powder, nutmeg, cinnamon and salt.
On the lowest speed, combine the dry ingredients with the wet.
Drop balls of dough onto prepared baking sheets using a large ice cream scoop. The cookies will spread a bit while baking. Bake for 9-12 minutes, until they are lightly golden.
Once completely cooled, prepare your icing. Mix syrup into powdered sugar until a thick consistancy is achieved, adding water in small amounts if the icing is too thick. Use a spoon to spead onto cookies, and allow to dry before storing. Keep the cookies in an airtight container for up to 5 days! Enjoy!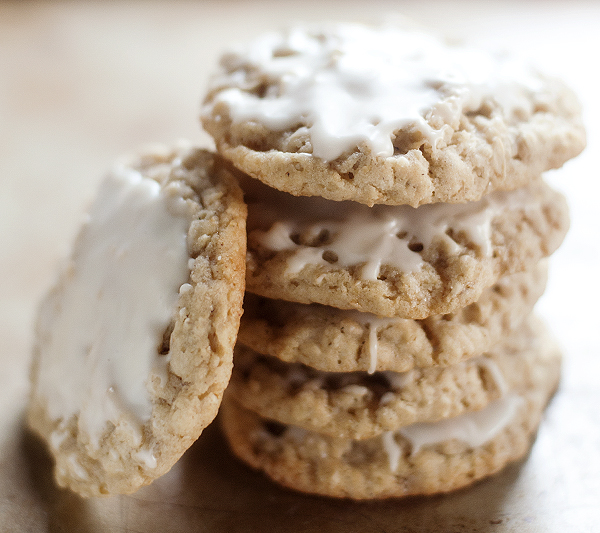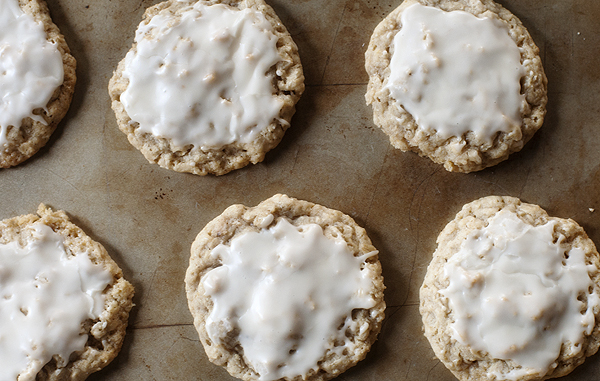 Tomorrow kicks off the 4 day holiday weekend for many, and we couldn't be more excited for the festivities to begin!  If you're searching for great idea's for a cookout, these cookies are perfect!  Also be sure to check out the fruit salsa we made a few weeks back, this festive rasberry beer cocktail recipe, or the gourmet smore's we made last year for the 4th!
Cheers!