These sweet cinnamon scones were my first crack at scones, and I'm hooked.  Dipped in coffee, they will straight up change your life.  I've always liked scones but I've never loved them, and maybe if I had known how easy they are to make I would have given them a try a (very) long time ago.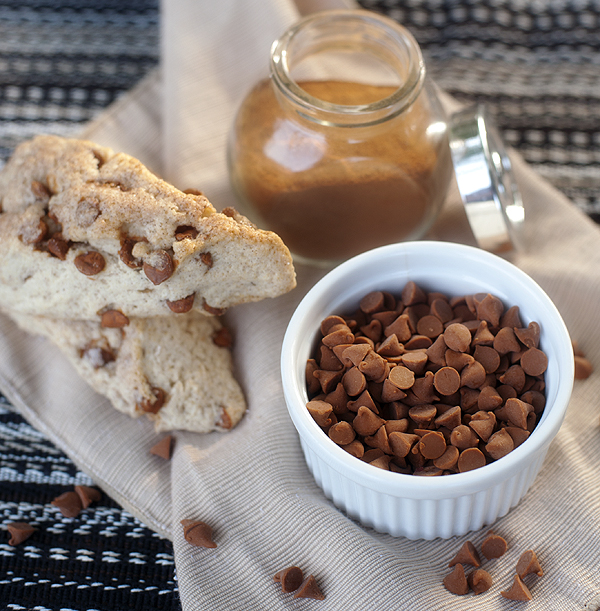 This recipe is so simple and quick to throw together- even if you don't have a food processor.  Crisp on the outside and tender on the inside- they are honestly breakfast perfection.  Whats better than that is that I've determined you could switch out the cinnamon and cinnamon chips and throw just about anything you want in there!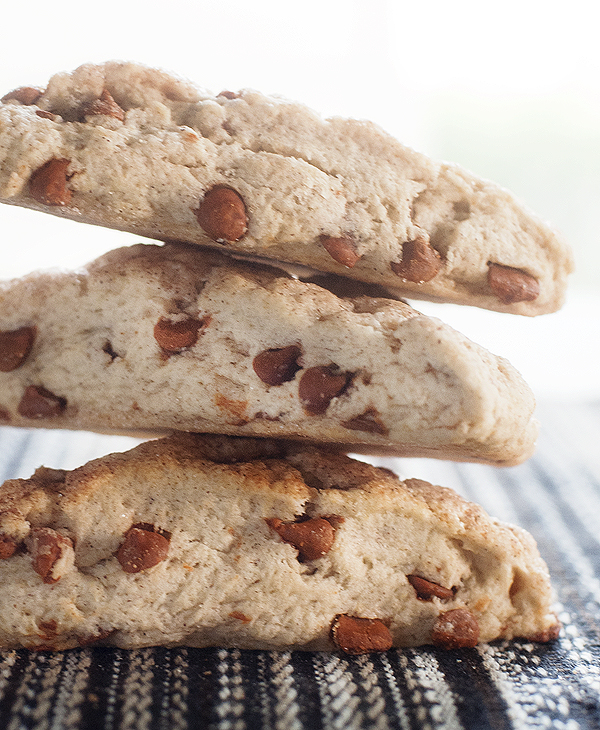 cinnamon scones
Ingredients
2 cups all purpose flour
1 tbsp baking powder
3 tbsp granulated sugar
1 heaping tsp cinnamon
½ tsp salt
5 tbsp cold butter, unsalted, cut into small cubes
½ cup cinnamon chips
1 cup heavy cream
Topping:
1 tbsp heavy cream
¼ cup granulated sugar
2 tsp cinnamon
Instructions
Preheat oven to 425F, and line a baking sheet with parchment paper.
In a large bowl, whisk together flour, baking powder, sugar, cinnamon and salt. Using a food processor, two forks, your hands or a pastry cutter, cut in the cold butter. Continue mixing until butter lumps remain, but you've got a coarse meal texture. Stir in your cinnamon chips. Add heavy cream and stir until dough begins to form, being careful not to overmix.
Transfer the dough to a floured surface, and knead until you've got a ball. Pat down the ball into a ¾-inch thick circle, and cut into triangles.
Place the scones on your prepared baking sheet. Toss your sugar and cinnamon together in a small bowl. Lightly brush the tops of each scone with heavy cream and sprinkle generously with cinnamon sugar.
Bake for 12-15 minutes, until scones are lightly golden. Cool, and serve the day of for best taste, or store for up to two days.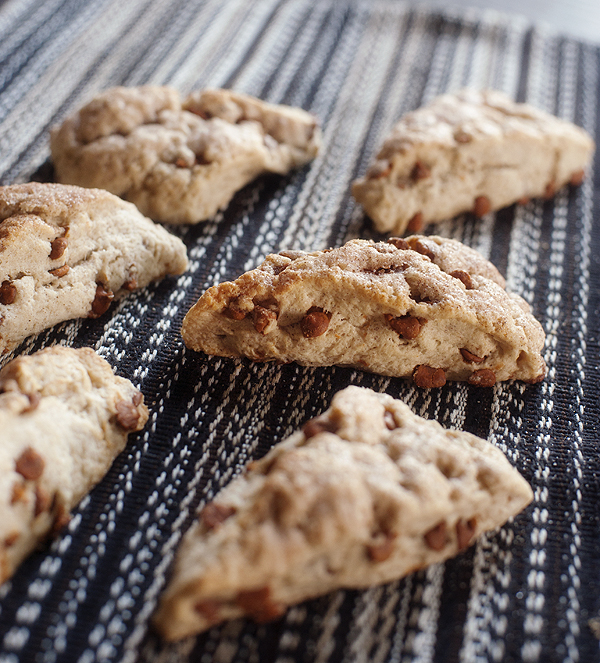 Recipe by Two Peas And Their Pod.
On a side note from these fabulous scones, today is Brandy J's DUE DATE!  Thats no guarantee little man will arrive today, but a due date is certainly worth celebrating.  We are on pins and needles waiting for his arrival, so come on out Mr. Rammel!
XO,