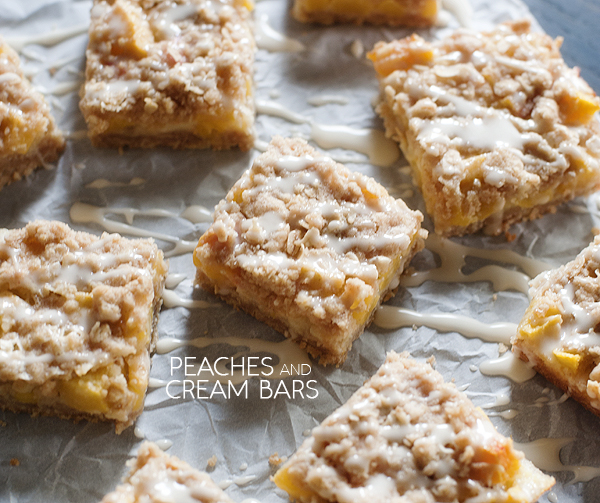 Let's just call these dream bars.  While chowing down on these "dream bars" and marveling at how easy they were to make, the term "easy as pie" came up.  Seriously- who made that phrase famous?  Whoever she was, she had a very loose interpretation of the word "easy".  Don't get me wrong- I love to make pie.  But is it easy? Not if you use real, fresh fruit and make your crust from scratch (which makes for a fabulous pie!).  Now bars, bars are fabulous and easy- and somehow you sort of get the same wow-factor that a pie punches.  (Not to mention you only have to peel and chop two peaches for this.  Two!)
Not that these really needed improving, but through mouthfuls we decided that throwing some raspberries into the mix would kick these up a few more notches.  And a scoop of vanilla ice cream certainly wouldn't hurt as well.  But maybe we were just getting carried away?
If you haven't noticed pumpkin recipes are flooding pinterest right now- but do we really need to ignore August like that?  So I'm holding off for a few weeks and squeezing the last peaches out of summer, and you should too.
XO,

peaches and cream bars
Ingredients
Crust & Topping:
1 cup all-purpose flour
½ cup old fashioned oats
⅓ cup brown sugar (light or dark will do!)
1 tsp cinnamon
10 tbsp cold butter, cubed
Filling:
1 large egg
½ cup sugar
1 tbsp flour
¼ tsp salt
2 medium peaches, peeled and chopped
Glaze:
½ cup confectioners sugar
1 tbsp heavy cream (or milk will do!)
½ tsp vanilla extract
Instructions
Preheat oven to 350F, and line an 8x8 baking pan with foil, then butter or grease it and set aside.
Make the crust/topping by whisking together the flour, oats, brown sugar and cinnamon in a large bowl until combined. Using two forks or a pastry cutter, cut in the cold cubed butter until a coarse, crumb texture is achieved. Measure out ¾ cup and set aside to be used for the topping. Pout the rest into your prepared baking pan, and press firmly to create the bottom crust.
Bake for 15 minutes as you prepare the filling.
Whisk the egg and sugar together until smooth and creamy. Add the flour and salt. Fold in the chopped peaches.
Remove the crust from the oven, and immediately pour peaches on top of it. Top with the remaining crumble mixture, and return to the oven for 30-32 minutes, unil just lightly golden.
Allow to cool for 30 minutes on wire rack, then transfer to refridgerator to cool for an hour before cutting and glazing.
When ready to glaze, combine the confectioners sugar, vanilla and heavy cream until you have a thick glaze. (Add more milk or powdered sugar as needed to achieve desired thickness).
Drizzle over each square and let set for about 15 minutes before serving.
Store bars in airtight container in the refridgerator for up to 3 days.
(Recipe by Sallys Baking Addiction)