I believe there is some sort of law that requires people to purchase twice as much bird as their family can eat on Thanksgiving day. This of course is a good thing becasue just like chicken, turkey is incredibly versatile.
Here are some of my favorite PPJ recipes that are ready and waiting for your leftover white or dark meat. If the recipe already contains meat simply replace with turkey (throw in at the end if the recipe calls for cooking the meat – your bird has already been through that). If a vegetarian recipe, add some meat during the last step. Theses dishes will taste nothing like yesterday's, which is a good thing.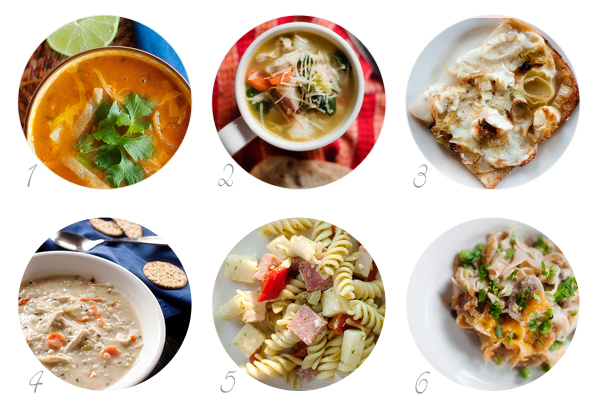 1Tortilla Soup/2Chicken Veggie Soup/3Leek & Potato Pizza/4Creamy Chicken & Wild Rice Soup/5Antipasto Salad/6Tuna Noodle Caserole
Have a wonderful weekend everyone! Enjoy those leftovers!
xo,