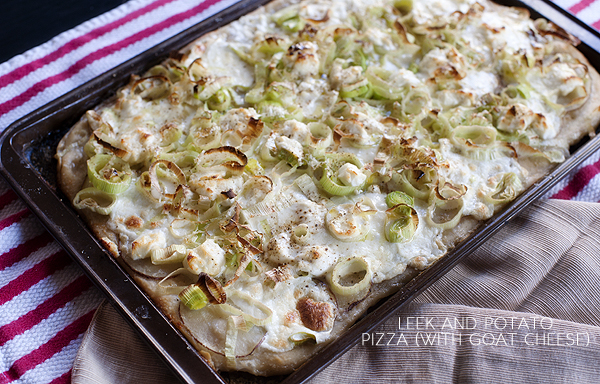 We are going to keep this short and sweet because there is a dining room full of unfinished costumes and a hot glue gun calling my name.
This pizza, it's good.  Leeks, need to be in your life.  Goat Cheese,  if you don't like it try it again.  If you still don't like it try it one more time.  After that if you are still a hater I am sorry but we can't be friends…(Okay, I'll forgive if it's an allergy thing.)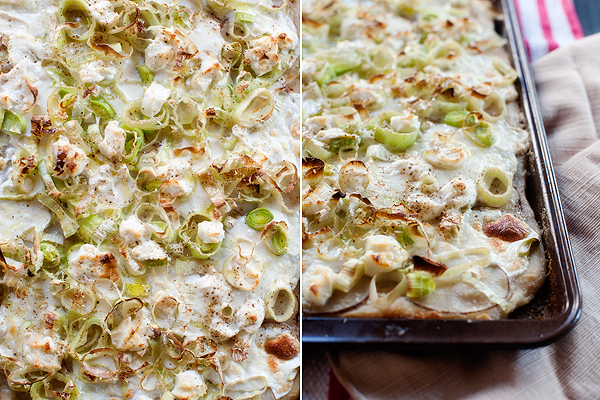 I watch tv while I nurse.  Hey, at least I don't "brext".  (That's texting and breastfeeding and yes, of course I do that too.)  So basically when I am not staring at my amazing little man forming a bond only he and I can form while breastfeeding, I do indeed watch a little television.  To be specific the Food Network.  One Saturday morning Ree, aka Pioneer Woman, was making leek and potato pizza.  She claimed it to be her absolute favorite and a dish she consumes almost weekly.  I thought "what is so special about leeks and potatoes" and then she put goat cheese on top.  Okay Ree, I am totally with you now.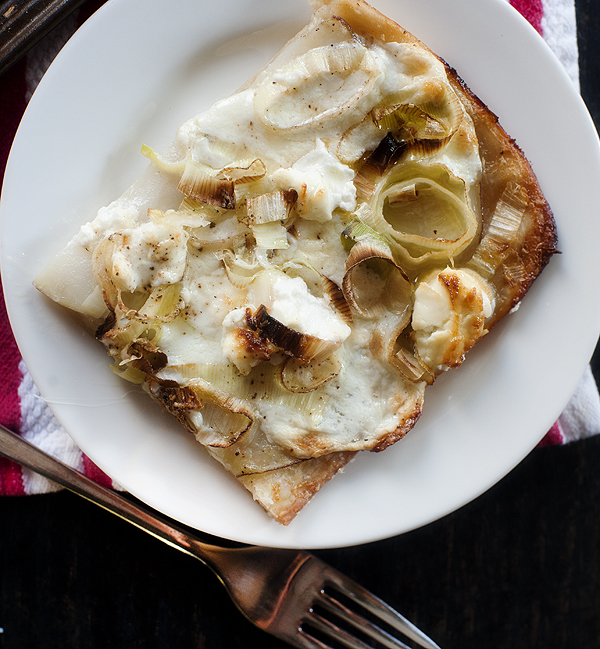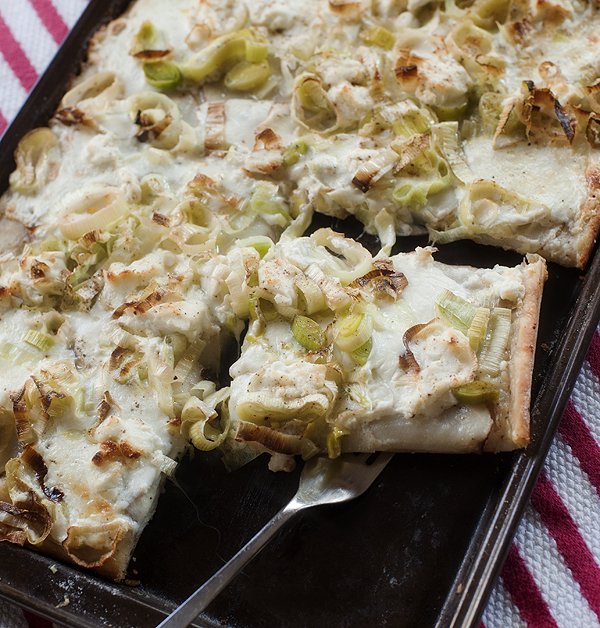 We had this for lunch and it was nothing short of amazing.  It's like leek and potato soup except toastier and with warm tangy goat cheese laced throughout.  Every bite says "thank you ingredients for existing so you can be eaten together."  Jettie only ate the crust so no promises on the kids liking it but I guaranty you will.
Now where's my glue gun…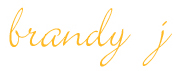 leek and potato pizza (with goat cheese)
Ingredients
Extra-virgin olive oil, for drizzling
2 leeks, rinsed well to remove grit and thinly sliced
1 pizza crust (homemade or store bought - follow baking instructions if store bought)
2 medium red potatoes, sliced paper thin with a mandoline or sharp knife
Kosher salt
1 pound fresh mozzarella, sliced thin
4 ounces goat cheese, crumbled
⅓ cup grated Parmesan
Freshly ground black pepper
Instructions
Preheat the oven to 475 degrees F. Drizzle a baking sheet with olive oil.
Roll pizza dough into a rectangle and place on baking sheet. Drizzle with olive oil. Place potatoes in single layer on top and sprinkle with a little salt. Lay mozzarella in single layer on top of potatoes. Arrange the leeks on top of the cheese. Crumble goat cheese over leeks and finish with grated Parmesan and freshly ground black pepper.
Bake until crust is golden and cheese is bubbly, 17 minutes for my dough. Cut into squares and serve immediately.
recipe adapted from pioneer woman