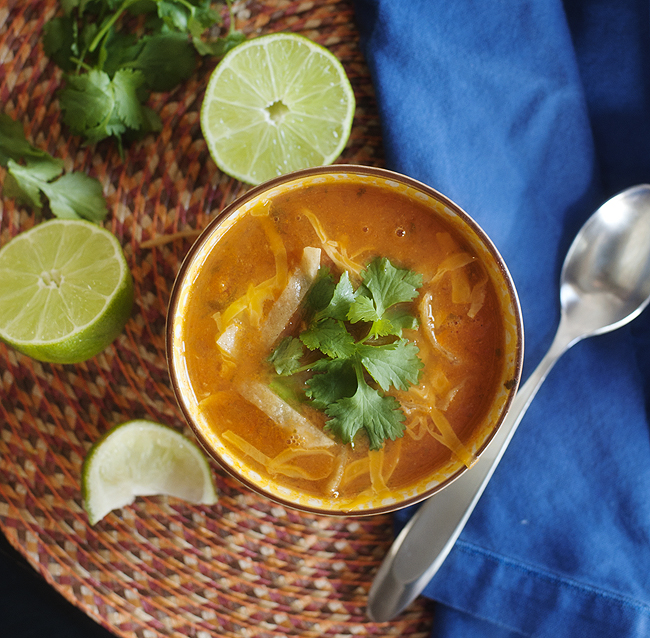 There are many things in life that are simple and uncomplicated. Then there are other things that are a lot of work but prove themselves to be completely worth it. That is what this soup is to me. First there is the frying of the tortilla. Then there is the blending of the soup(why don't I have a handheld emulsion blender again?). After all that you need to prepare an array of toppings. Sure you could skip some steps, take a shortcut here or there. But just like the best relationships this soup is worth every single ounce of effort. I promise.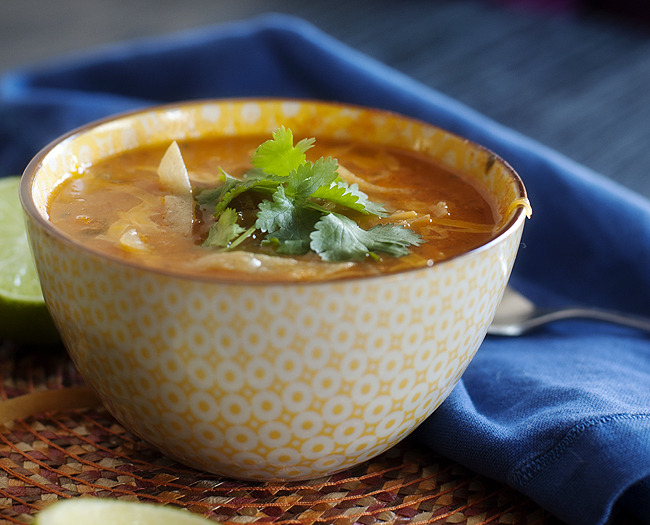 vegetarian tortilla soup
Ingredients
6 tablespoons cooking oil
8 6-inch corn tortillas, halved and cut crosswise into ¼-inch strips
1 onion, chopped
4 large cloves garlic, smashed
1 tablespoon paprika
2 teaspoons ground cumin
1 teaspoon ground coriander
1 teaspoon chili powder
¼ teaspoon cayenne
1½ quarts canned low-sodium chicken broth or homemade stock
3 cups canned crushed tomatoes in thick puree (one 28-ounce can)
2 bay leaves
2½ teaspoons salt
¼ cup lightly-packed cilantro leaves plus 3 tablespoons chopped cilantro (optional for serving)
1 can black beans, drained and rinsed
1 avocado, cut into ½-inch dice for serving
¼ pound cheddar, grated for serving
Lime wedges, for serving
Instructions
In a large heavy pot, heat the oil over moderately high heat. Add half the tortilla strips and cook, stirring, until pale golden, about 1 minute. Remove with a slotted spoon and drain on paper towels. Repeat with the remaining tortilla strips.
Reduce the heat to moderately low. Add the onion, garlic, and spices; cook, stirring, for 5 minutes. Add the broth, tomatoes, bay leaves, salt, cilantro leaves, if using, and one-third of the tortilla strips. Bring to a simmer. Cook, uncovered, for 30 minutes; remove the bay leaves.
In a blender, puree the soup in batches; pour it back into the pot. Add the black beans, bring the soup back to a simmer, and simmer until just cooked through, about 1 minute.
To serve, put the remaining tortilla strips in bowls, top with the cheese, and pour in the soup. Sprinkle with the chopped cilantro and avocado, if using, and serve with the lime wedges.
Notes
Easily add cooked chicken or shrimp (at the point where you add the beans) to make a not so vegetarian version.
recipe adapted from Food & Wine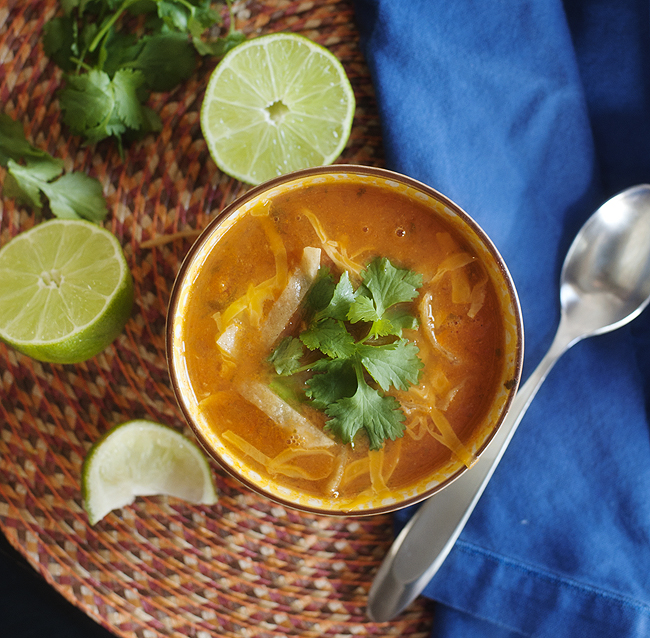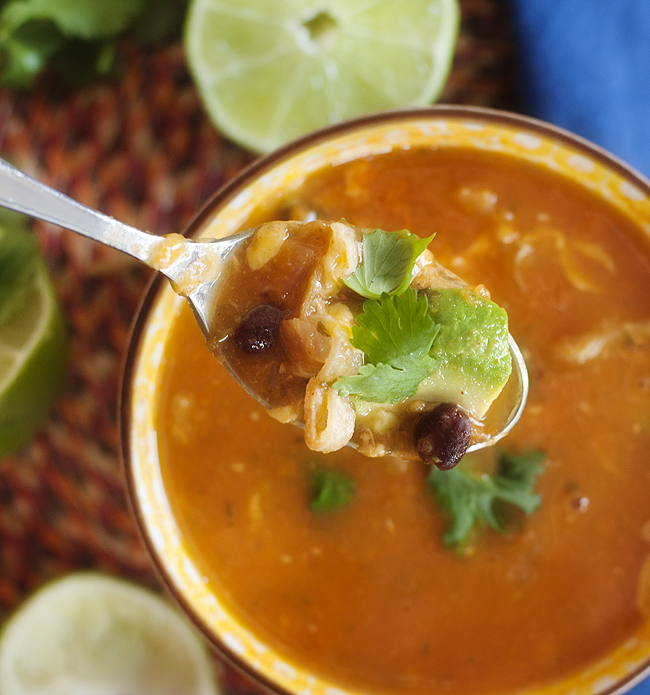 A warm taste with a fresh twist.  If you have never made tortilla soup at home now is the time.  Your house will smell amazing and everyone in your family will thank you.