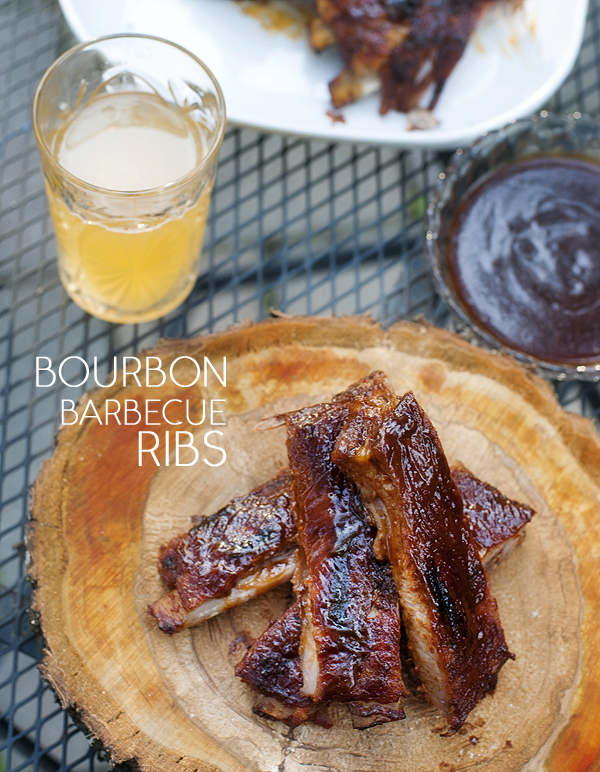 If you really want to make Shan's outrageously delicious brownies you are going to need some bourbon.  3 tablespoons to be precise.  This leaves quite a bit of whiskey goodness in the bottle.  The way I see it you have two choices – drink the leftover bourbon (a perfectly logical decision) or make yourself some mouthwatering ribs.  My man wanted to ribs and I aim to please (or maybe I wanted to post something meaty for Father's Day…).
Meat in general is always scary for me due to the fact that a. I do not prepare or make it often and b. have to rely on others comments because it's not something I consume.  With that being said I do enjoy making new things, regardless of whether or not I eat them.  Admittedly barbecue ribs at home had me a little hesitant – I feel like all over the country masters have their secret recipes and the ribs have to cook for hours on end in a very specific way.  When I spied this recipe on pinterest however I was sold.  The ribs are beautiful and the recipe, including a homemade sauce, could not be simpler.
First, combine your spices, you're going to rub the ribs with this mixture later.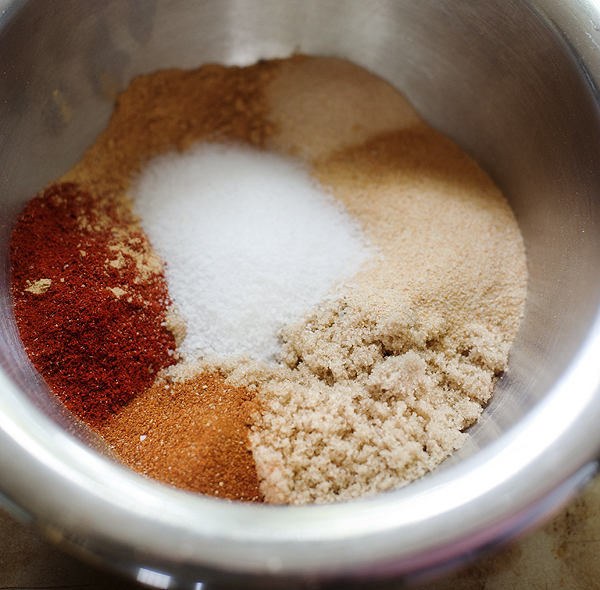 Next grab a paring knife and remove the filmy membrane from the bone side of the rack.  This step was not my favorite.  At all.  (In fact editing the picture of it made my stomach turn a bit.)  After that disgusting task is complete you can rub your meat with spices, wrap in foil and stick in oven for 2.5 hours.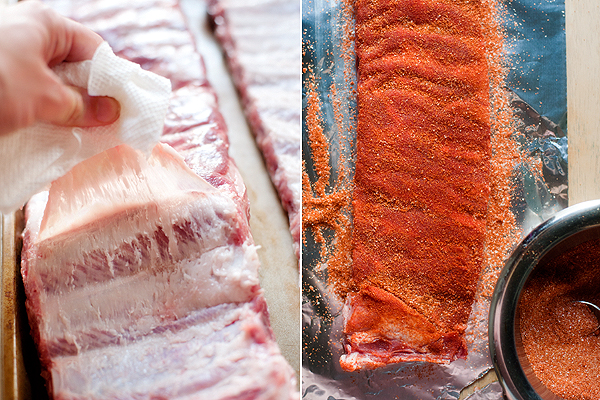 While ribs are in the oven it's time to whip up the sauce.  You get to use something called "liquid smoke".  I opted not to read the label of what ingredients make up such a product, some things are better left not knowing.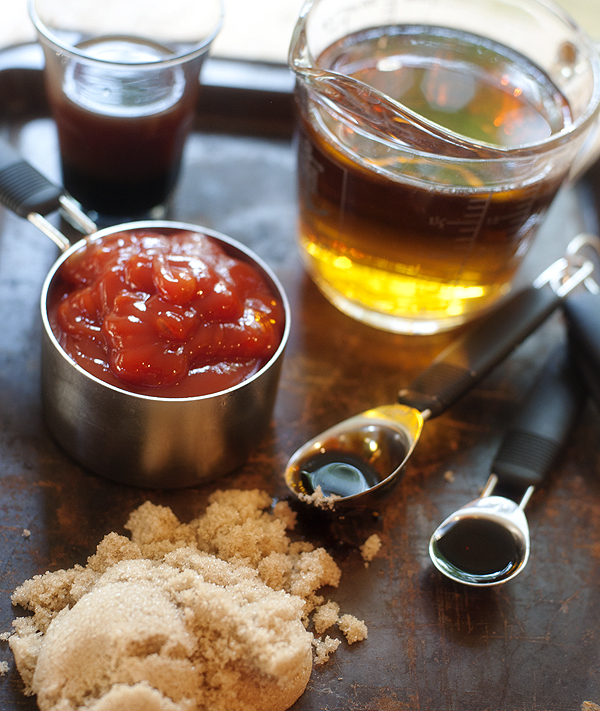 Once ribs are finished baking let them come to room temperature and set in the fridge overnight.  This will ensure that the meat stays on the bone while grilling.  And speaking of grilling all you have to do is baste those babies with the sauce a few times and they are ready to serve.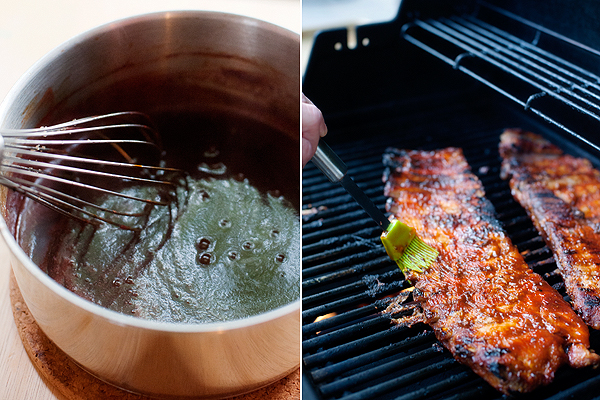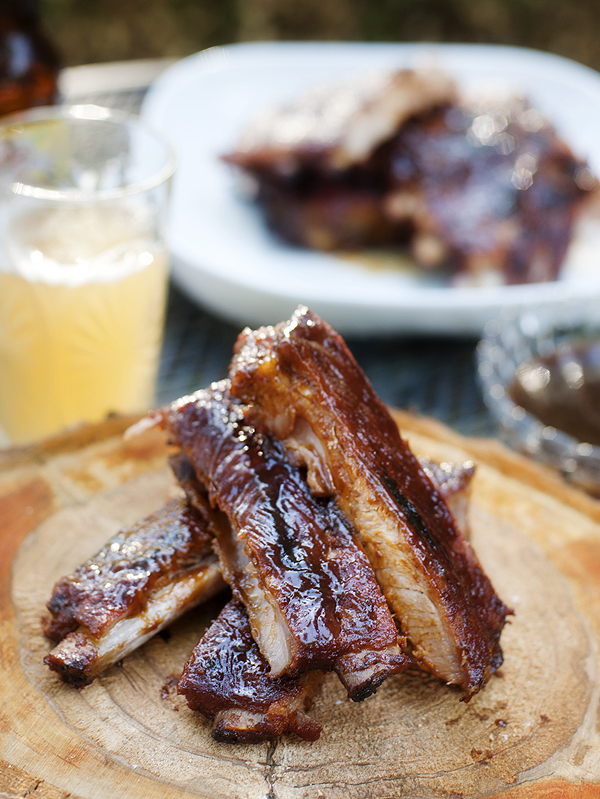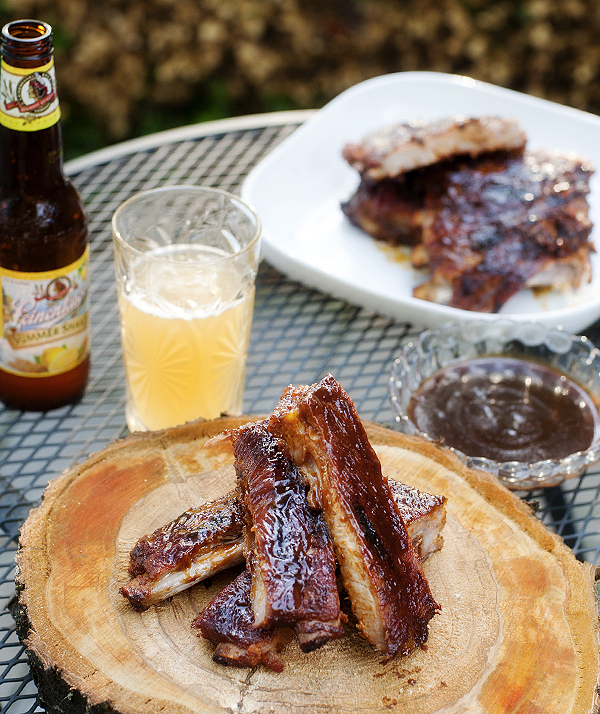 Serve ribs with extra sauce and beer (or bourbon).  According to the carnivores in my immediate family these were absolutely delicious.  Whether they were lying or not I cannot say for sure.  (But seriously, who's going to tell a 9 month pregnant woman her food stinks?  A crazy person, that's who.)  I can say with certainty though that they look impressive, smell amazing and came off the bone with little effort.  If I did eat meat I would give these babies a try.  According to my husband he will be eating these again and again.  Sounds like someone has some mastering of filmy membrane removal ahead of him…
Happy Barbecue-ing!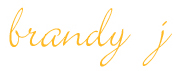 bourbon barbecue ribs
Ingredients
2 racks of baby back pork ribs
⅓ cup packed dark brown sugar
¼ cup smoked paprika
2 tbs cayenne pepper
2 tbs garlic powder
2 tbs onion powder
1 tbs ginger powder
2 tbs kosher salt
1 tbs ground black pepper
Ingredients for bourbon BBQ sauce:
2 cups bourbon
1 cup ketchup
½ packed brown sugar
2 tbs molasses
2 tbs Worcestershire sauce
2 tbs malt vinegar
1 tsp liquid smoke
Instructions
Preheat oven to 350 degrees.
Remove the filmy membrane on the bone side of the rack. This material blocks flavor reaching the meat and will make the ribs tough. With a paring knife, start at one end of the rack and carefully peel the membrane away from the surface of the last bone. Use a paper towel to grip and remove it with one easy motion. (Slow and steady wins the race here.)
Combine all spices and rub 2 to 3 tbs into each side of rib racks. Store leftover rub in airtight container for future use.
Wrap racks separately in foil and place in oven for 2.5 hours.
While ribs are baking, combine the wet ingredients in a saucepan and bring to a boil. Simmer over low heat until the sauce has reduced to about half.
After the ribs have finished baking, let them cool to room temperature and leave them in the fridge overnight.
Turn your gas grill to medium high. Brush both sides of racks before placing on grill. Baste and turn frequently until the sauce is caramelized and charred.
recipe from Honestly Yum