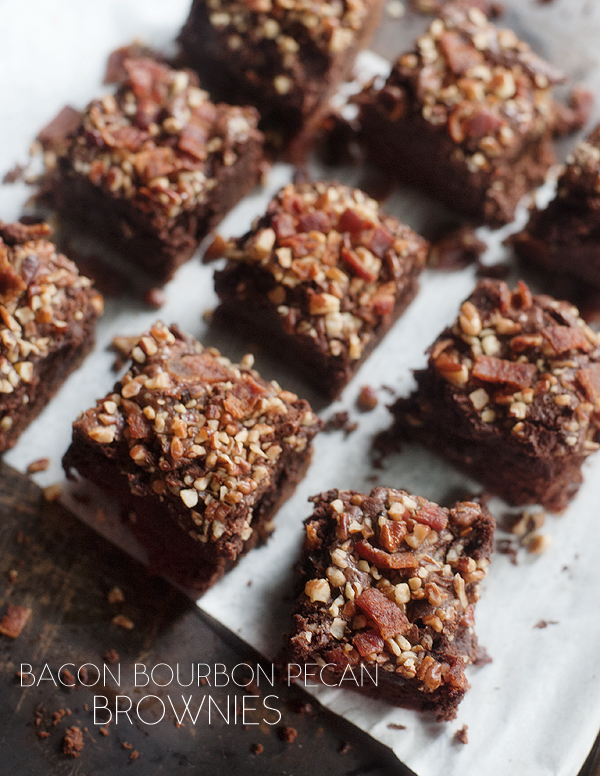 Savory and sweet, these are by far the manliest brownies I have ever made.  A shot of bourbon, crunchy pecans and yes, bacon.  I had to work up my courage to try them because I know that bacon in sweets is all the rage right now- but something about it feels wrong to me.  With Father's Day in mind, however, I thought it was now or never for a bacon experiment.  One bite and it all became clear, I am no longer a sceptic.  Bacon just might have a place on a brownie.. at least for Father's Day.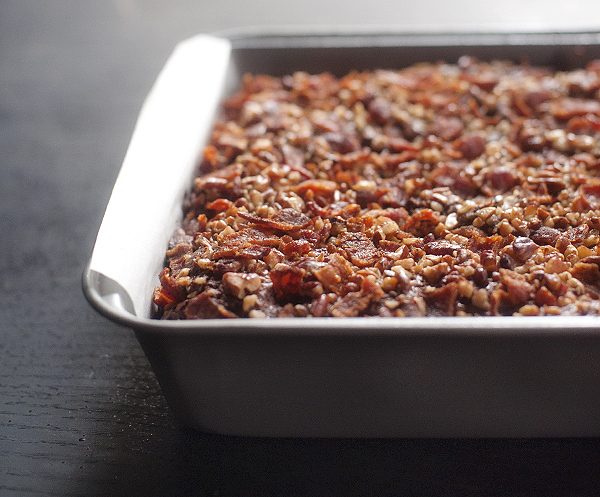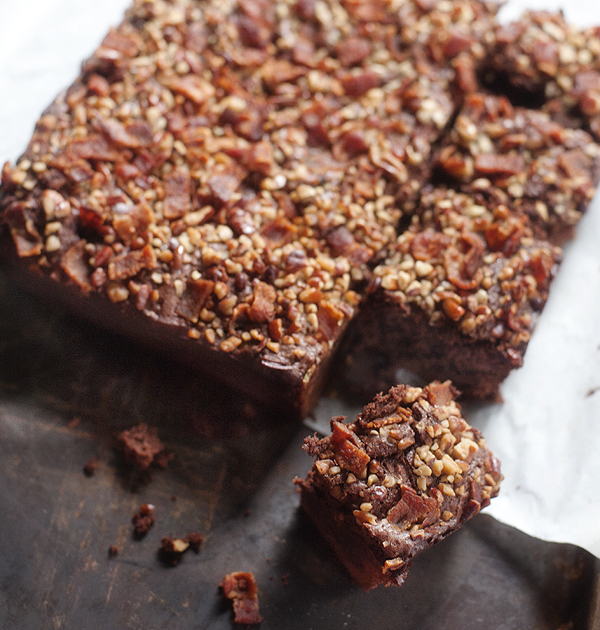 These brownies are a bit more work than buying and whipping up a premixed box for Dad, but if you're really trying to treat your guy I promise they are worth the extra effort.  All of the texture, combined with the savory bacon and unmistakable hint of bourbon makes these brownies extra special!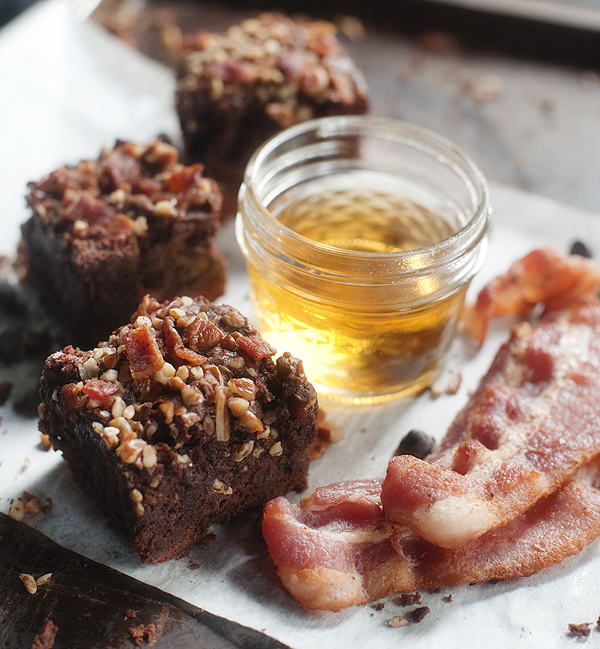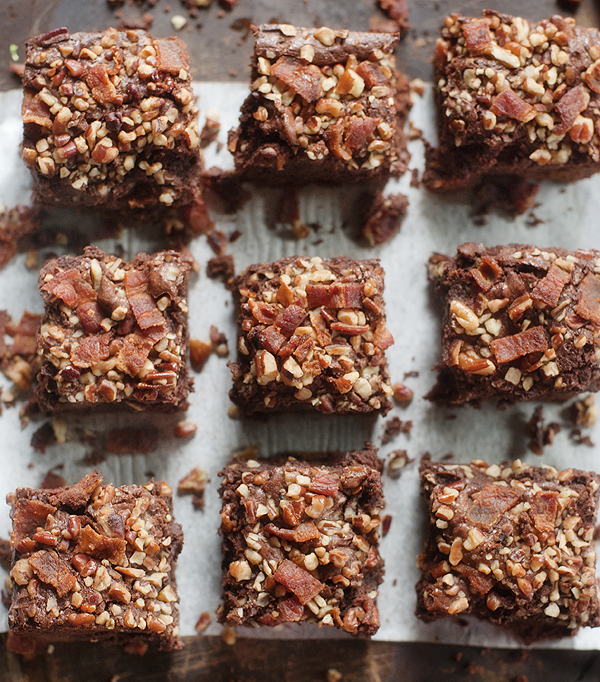 This Father's Day I am feeling extra grateful for Josh, and the other men in our lives.  Being a great dad goes so unnoticed in our society today, and too many times the ones that are screaming from the rooftops about what a great dad they are, are not.  The ones that truly are fly under the radar.. they don't need you to know how deeply they love their families, it just shows.  It's in moments that he could lay her in bed but chooses to snuggle her a few minutes longer instead.  The times that he reads the same Belinda Ballerina book 3 times in a row without complaint, because she wants to hear it one more time.  It's in the moments that I catch him staring at her in the rear view mirror, with a grin on his face that I never saw before having her.  365 days a year, 24 hours a day, a job that never ends and you can't take breaks from.   These dads, they certainly deserve more than one day a year on our calendar.  Their payment comes in the form of tiny kisses on the cheek, the sleepy "I love you daddy" she murmurs in the early morning hours.  Little moments that can not be captured on a camera, they just live in our hearts.. shouting louder than any words ever could, telling the stories of our lives, the grounding moments that make the world stop spinning.
Take time this weekend to really show your guy some love, because they may not always get the recognition that they deserve, but we certainly appreciate them. (And nothing shows him appreciation more than bacon.  Seriously.)

bourbon bacon pecan brownies
Ingredients
½ lb sliced bacon, cooked (with fat reserved)
8 oz bittersweet chocolate, chopped
2 oz unsweetened chocolate, chopped
1 stick plus 2 tbsp unsalted butter
1 cup granulated sugar
½ cup light brown sugar
3 tbsp reserved bacon fat
3 tbsp bourbon
4 large eggs
1 tsp salt
1½ cups all purpose flour
¼ cup unsweetened cocoa powder
½ cup chopped pecans
Instructions
Preheat the oven to 350F and line a 9-inch square pan with parchment paper. Spray the paper with vegetable oil and set aside.
Cook the bacon over medium heart until crisp, draining on paper towels when done. Reserve 3 tbsp of the fat from the pan.
In a saucepan melt chocolate with the butter, stirring frequently. Scrape into your mixer bowl (a large bowl and a hand mixer can be used also!), add sugars and bacon fat and beat well. Add the bourbon, followed by the eggs and the salt. Sift in the flour and cocoa powder. Beat until combined.
Scrape the batter into the prepared pan, and use a spatula to evenly spread. Add the chopped pecans and bacon to the top, pressing down on them very gently.
Bake for about 50 minutes, until edges are set. A toothpick will not come out clean from the center, but it will set while cooling. Cut into squares once cool and enjoy!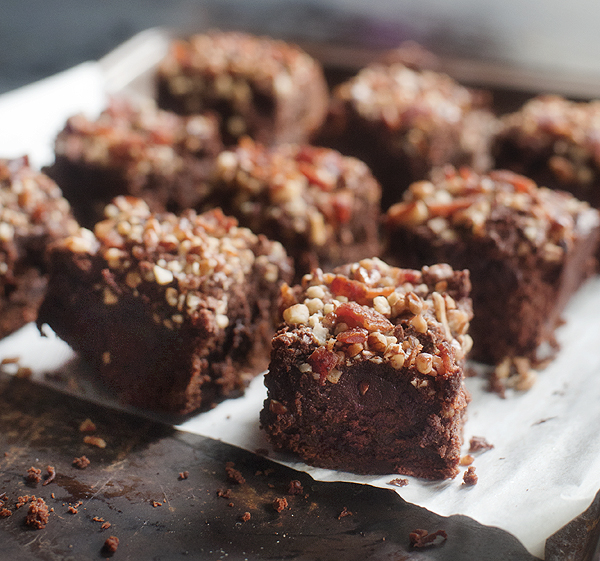 {Original recipe by
Food and Wine
}