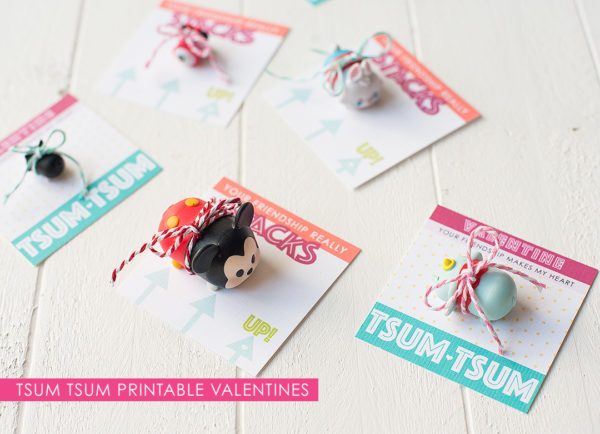 It's time to take the tree down and start thinking about Valentine's day! [Please tell me I am not the only one who still has a tree up.] I happen to adore pink, red, hearts and all things adorable so yeah, Valentine's Day is well loved in my world. When Jettie received a plethora of small collectible toys for Christmas, I couldn't help but think how fabulous they would be as Valentines. So I grabbed some Tsum Tsums and created a couple cards.
Not gonna lie guys, I am sort of obsessed with the way they turned out.
Here is what you will need to make your own:
Scissors
Pencil
small hole punch (one like this works best)
colorful twine
tape
Simply print the FREE printable, cut out the cards and place a Tsum Tsum on top to see which orientation looks best. With a pencil, mark a dot underneath the Tsum Tsum – off to one side a bit and then do the same on the other side. These holes are what you will thread your twine through. You need 2 of them hidden under the Tsum Tsum vertically in order to hold the Tsum Tsum in place. Thread the twine through the holes from the back and tie a bow neatly around the top of the Tsum Tsum. Use a piece of tape to provide a little extra security on the backside, over the holes and twine.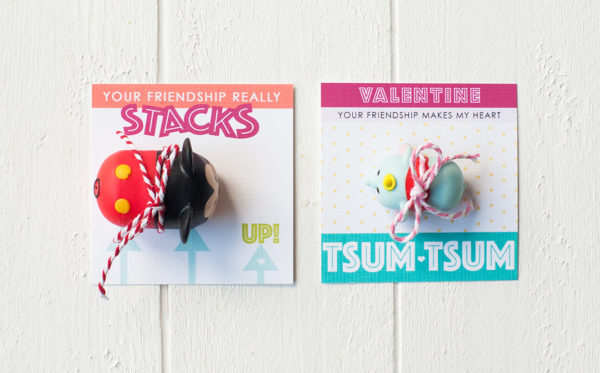 I love that Tsum Tsums have a gender neutral vibe to them including characters that both girls and boys love. (I also designed the cards with a more more friendship and less "in love" vibe…I remember this being a big thing when I was in grade school. Figured I'd make it easier on everyone by not having random love claimed in the 1st grade.) The one thing that could make these cuter would be a Tsum Tsum Valentine box. I haven't talked to Jettie yet but oh yes…I would love to tackle that craft project.
You can find more Valentine's design at the PPJ Shop!
Happy Valentine-ing!