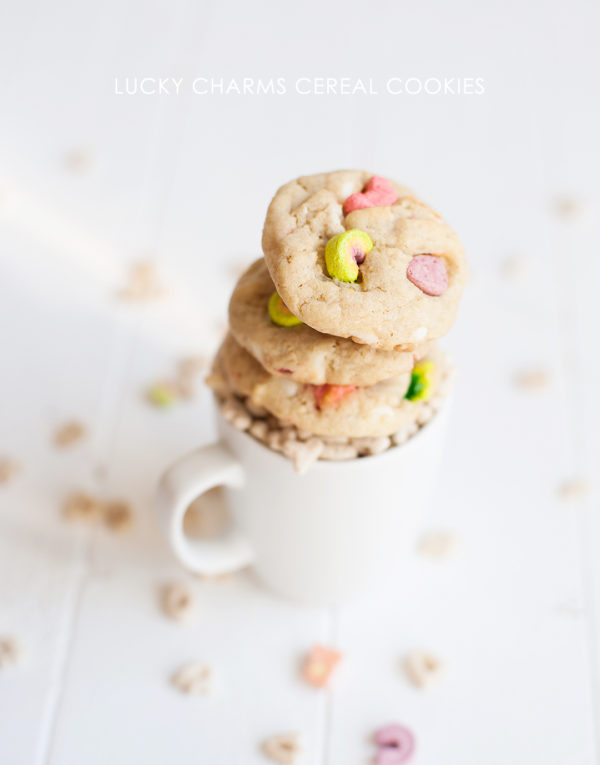 Now through the end of March I am declaring random recipe posting month – I have been shooting recipes, teasing you with the "coming soon" on my insta stories (which aren't all that exciting – but I am giving it a go), and all the while not finding the time to actually post them.
Disclaimer: I could of been posting those recipes instead of watching back to back episodes of "Grace & Frankie" buuuuut that show speaks to me on a out of this world level and I needed it in my life. [I may have a dirty martini obsession now but it's okay.]
Sadly, I am all caught up with G&F so onto productive things….productive things like these breakfast cookies. Which are not the kind of "breakfast" cookies that are loaded with whole grains, dried fruit, oatmeal or good for you protein powder. No, you are not consuming those things here. Not even a little.
What you are getting is a cookie that tastes like your childhood. And that is 100% worth the sugar crash you'll experience 45 minutes after you eat one.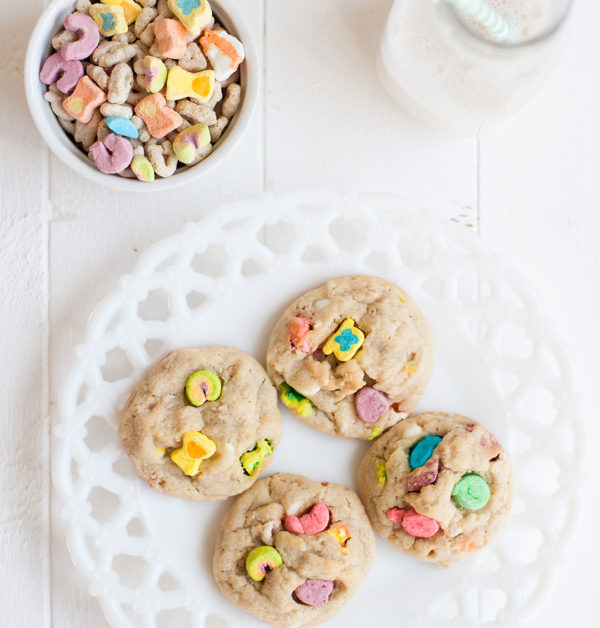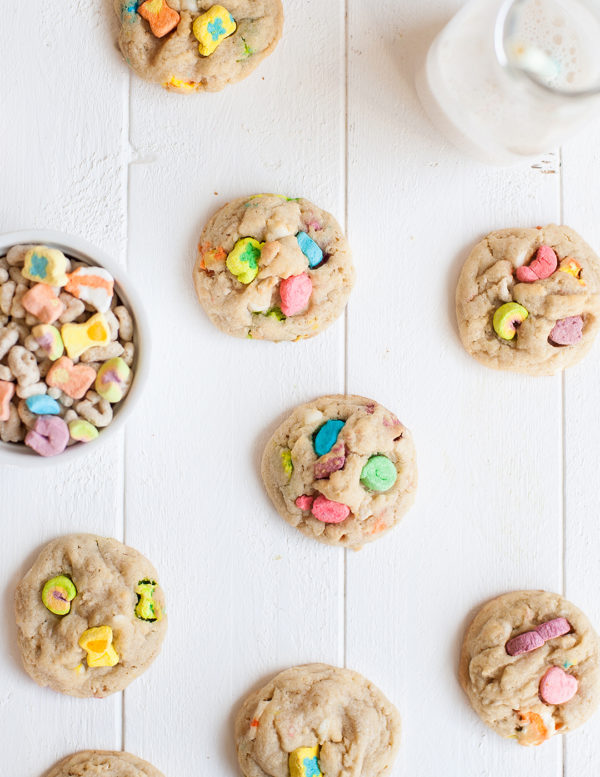 Never having made a cereal laced cookie before, I really wasn't sure how the taste and texture would turnout intertwined in my typical go to chocolate chip cookie recipe. [Found on Pinch of Yum – I am not sure what it is about their butter melting technique, but it creates perfect, puffy, slightly crispy on the edges, chocolate chip cookies every single time.] I did have to make a couple of ingredient adjustments, since I was adding ground cereal, but I gotta say these were winners the fist batch out.
Soft and chewy with that delectable golden bottom. The white chocolate is the milk in your 5 year self's bowl. And oh boy when you catch a crunch of mallow…it's like Saturday morning and you've got your cartoon lineup to watch sort of good.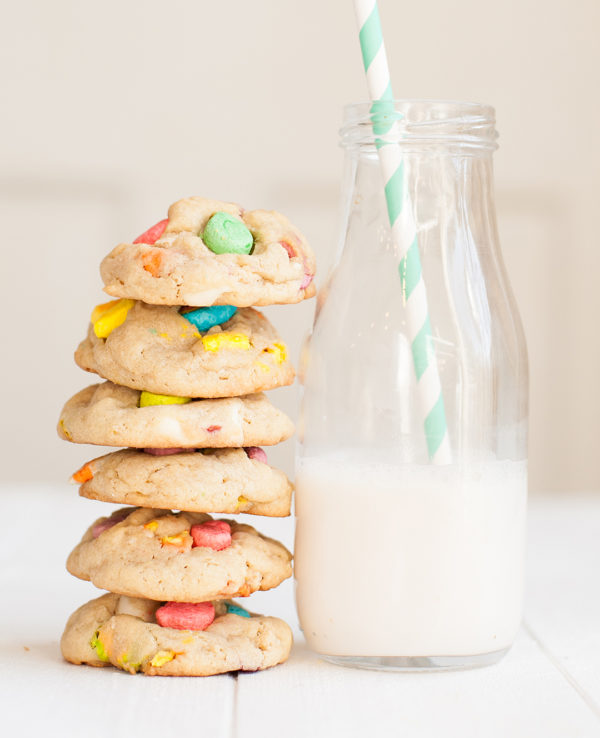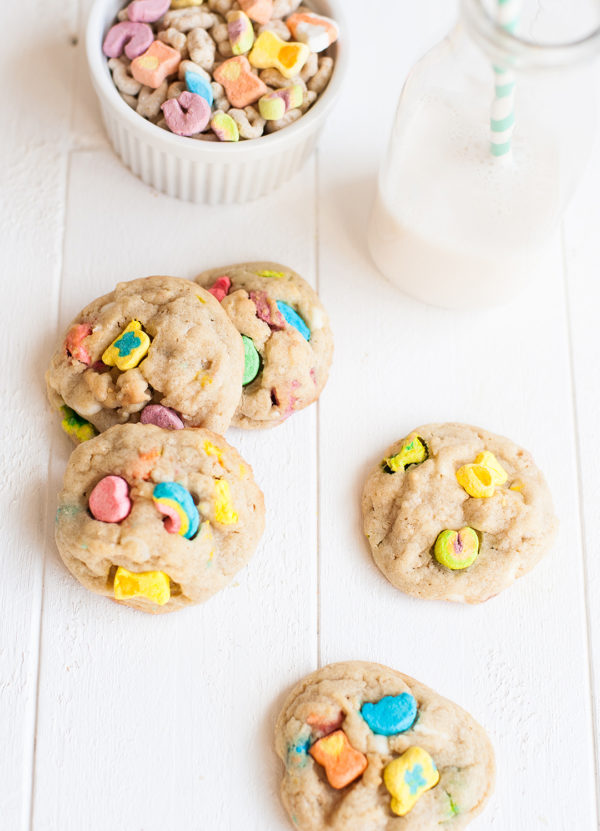 Alright guys, St Patrick's Day is this Friday so you have no other choice to make these bad boys these week. You, your fam, your friends…basically anyone you give a cookie to (including yourself) will thank you immensely. My husband suggested washing them down with a shot of Baileys. (Man, he really does have the best ideas sometimes!)
Enjoy!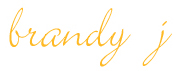 lucky charms cereal cookies
Ingredients
8tbsp unsalted butter
1cup Lucky Charms cereal only (marshmallows picked out)
¾cup granulated sugar
2tbsp packed brown sugar
1tsp vanilla
1 egg, room temperature
1¾cup all purpose flour
1tsp baking soda
½tsp kosher salt
½cup Lucky Charms cereal, no marshmallows, coarsely chopped
½cup Lucky Charms marshmallows only
½cup white chocolate chips
Instructions
Preheat the one 350ºF. Place the butter in an oven safe dish and put in oven. Once ⅓ of the butter is melted, remove from the oven and allow to come to room temperature. (About 30 minutes. DO NOY over melt your butter, ⅓ is all you need melted.)
Place the 1 cup cereal only in a food processor and pulse until it is a coarse powder. Set aside.
In a bowl fitted to a stand mixer, place the butter, egg, sugars and vanilla. Cream until mixed well, pale yellow and slightly fluffy. Add the ground cereal, flour, baking soda and salt. Mix on low until it all comes together. Fold in the chopped cereal, marshmallows and white chocolate chips with a wooden spoon.
Line a baking sheet with parchment paper. Using a cookie scoop, drop mounds of dough on sheet leaving at least 2 inches in between each. You can place some extra marshmallows on top to ensure the cookie shows them off - just don't flatten the mound when doing so. Bake in a 350º oven for 7 to 9 minutes or until the bottoms begin to turn golden. Allow to cool for 10 minutes on baking sheet until transferring to a wire rack. Enjoy!