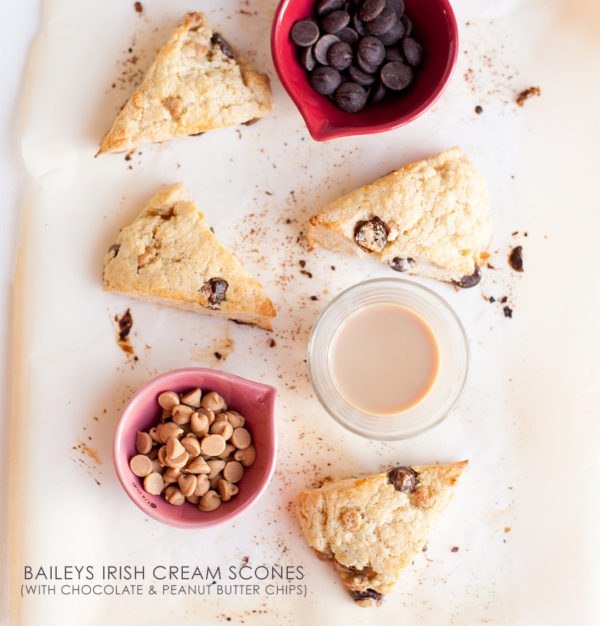 Earlier this week I posted these Lucky Charms cereal cookies for the kiddos (and kiddos alike). Never one to leave out the adult fun on St Patrick's Day, I simply had to post something for the 21+ crowd.
And you guys, this is a really good one.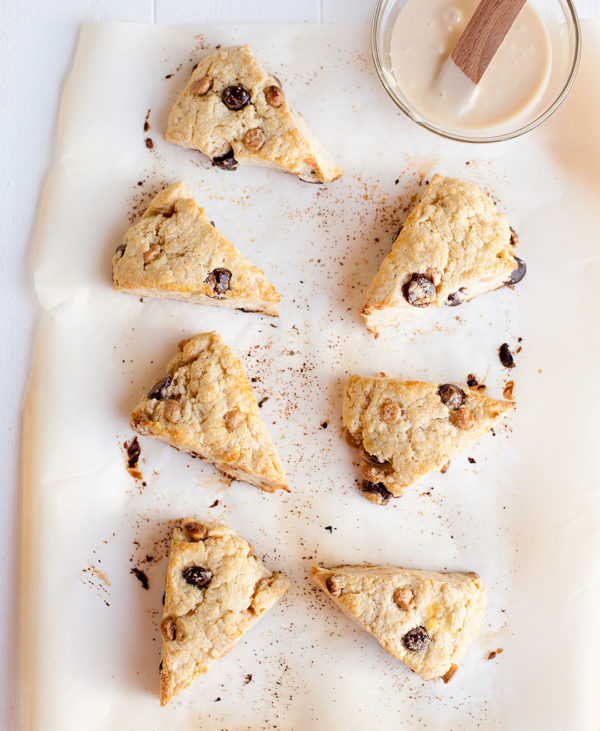 I have posted scones quite a few times on the blog because a. I love them and b. they are ridiculously easy to make. That being said though, you can go wrong with a scone really fast by overworking your dough. So don't that. Ever. (Never ever, ever, ever….your scones will have the texture of a hockey puck. Which is never good.)
This dough in particular turned out a little drier than I am accustomed to, which made it a lot less messy to work with. I was worried the scones would turnout dry but alas they did not. These lovely wedges are full of pillowy pockets of butter with bits of chocolate and peanut butter intertwined throughout. Plus there's booze in them. I mean, who doesn't want one right now?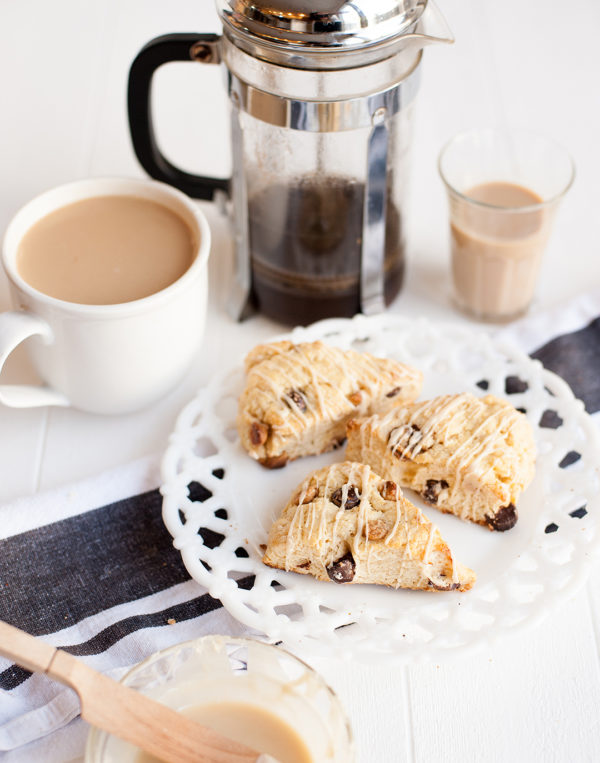 Best served with coffee on St Patrick's Day. Nope, I take that back. Best served with coffee and Baileys on any given day.
Enjoy!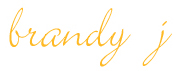 baileys irish cream scones
Ingredients
For the scones:
1½cup all purpose flour (plus more for dusting)
1½tsp baking powder
1tsp kosher salt
2tbsp sugar
5tbsp unsalted butter, cut into small cubes and chilled
½cup half&half
2tbsp Baileys Irish Cream
½ cup morsels or chips (I used chocolate and peanut butter)
1 large egg beaten and blended with 1tbsp water
1tbsp sugar to top scones with before baking
For the glaze:
2tbsp Baileys Irish Cream
¾cup Powdered Sugar
1 to 4tbsp milk or cream for thinning
Instructions
Preheat the oven 425ºF and line a baking sheet with parchment paper.
Place the flour, baking powder, salt and sugar in a food processor and pulse a few times. Add the butter and pulse 5 to 6 times....until butter is about pea size. Add the half&half and Baileys and pulse a couple of times until it's just incorporated. DO NOT OVER PULSE. The dough should look crumbly - not formed into a large ball.
Dump dough onto a lightly flour surface. Pour the morsels/chips on top and lightly toss them together with dough a few time. Next start kneading the dough - 3 or 4 turns, until it comes together. Shape it into a large disk, about 1" thick and cut into 8 wedges. Place wedges on prepared baking sheet. Brush with egg wash and top with sugar.
Place scones in oven, on the middle rack, for 12 to 15 minutes or the bottoms and tops begin to turn golden. (Be sure not to over bake.) Remove from oven and place immediately on wire rack to cool.
While scones are baking, prepare the glaze by mixing the powdered sugar and Baileys. If it is too thick add 1tbsp of milk or cream. Too thin add a little more sugar. Once you have the consistency you like drizzle over the cooled scones. Serve with coffee and enjoy!