I cannot believe we are less than a few weeks from Cinco de Mayo 2016 already! I also cannot believe I have not posted a margarita in almost a year. A year??!! I do not know what I have been doing for almost a year but I have a feeling you will forgive me after a sip this bad boy.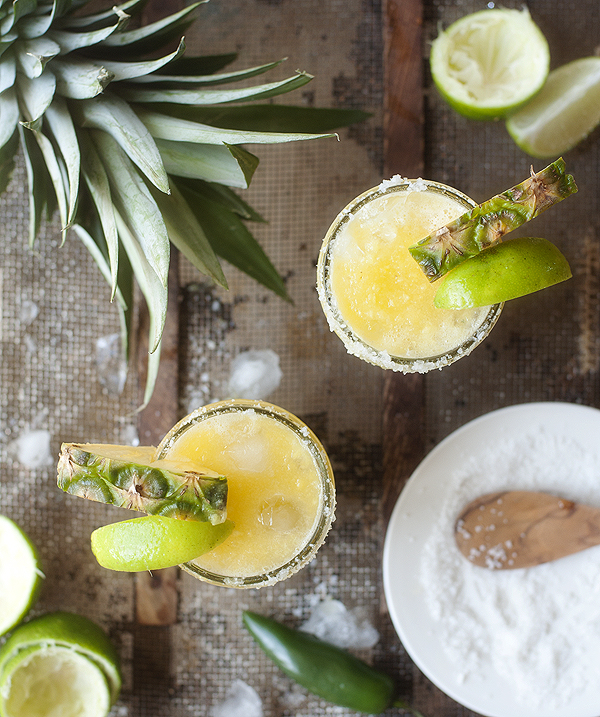 One of the margaritas that did make it on the blog last year was an incredible fresh pineapple version. This is basically the same recipe except with a little less sweet and a lot more spice.
I personally love the heat and taste of a jalapeño. It's not an overpowering spice and has a great peppery, finishing flavor. Tequila and jalapeño go hand and hand, add that pineapple and this is literally a fiesta in a glass.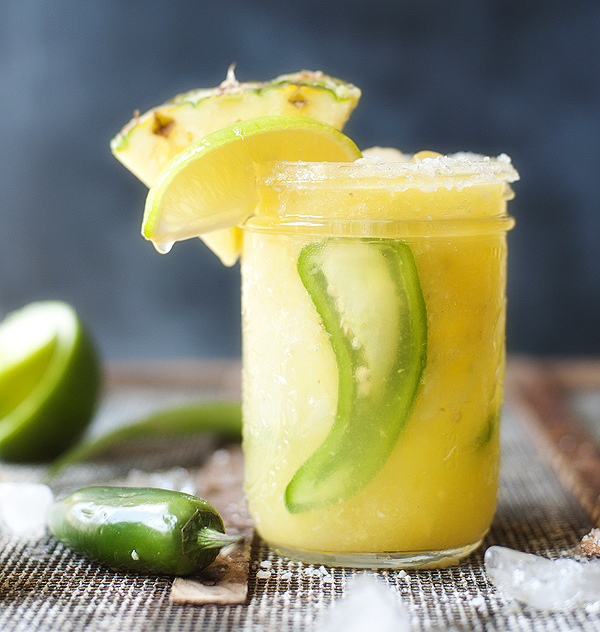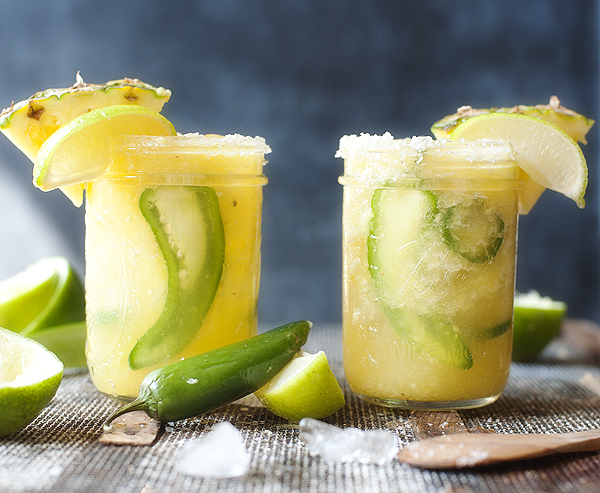 If the heat scares you can simply scale it back a bit by only adding one ring. I beg of you not to remove the seeds and ribs though. That is where all the heat is, yes, but it is also where the true jalapeño flavor hangs out. You don't want to miss out on that. And you especially don't want to miss out on this margarita.
Cheers!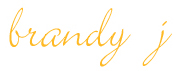 spicy pineapple margaritas
Author:
brandy j of www.prettyplainjanes.com
Ingredients
Sea salt and lime for glass rimming
1 fresh jalapeño, sliced into ⅛" rings
5 to 6cups fresh or frozen pineapple, cubed
1cup ime juice
1cup tequila
½cup orange liquor
Pineapple and lime wedges for garnish, optional
Instructions
Rim 4 glasses with lime juice and dip in sea salt. Throw 2 to 3 jalapeño rings in each and muddle with the end of a wooden spoon. Filled the glass with ice.
Place pineapple in a blender and add lime juice. Blend until very smooth. Add tequila and orange liqueur and blend until well combined.
Divide evenly among the glasses. Garnish with lime or pineapple wedges. Serve with a straw for stirring. Enjoy!
Notes
Drink becomes spicier over time.

For more sweetness add up to ¼cup of simple syrup.