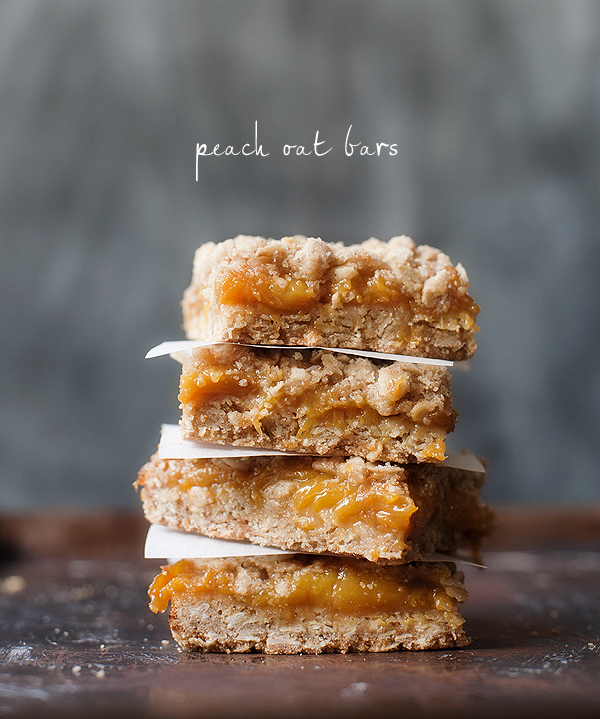 We had one of those magical snowfalls this morning. The perfect setting for cozy spots and large cups of coffee. I would have loved to gaze out the window and watch that dreamy scene outside…but instead I was white-knuckled in my car with my 2 babies.
The snow did not look too threatening, which is why I didn't think twice about driving the kids to Bingham's doctor appointment. Of course once we got 10 minutes down the highway I realized I was in winter hell with that perfect temperature that turns snow to ice as soon as it hits asphalt. My conversation with Jettie was cool and calm but the voice in my head needed a double dose of Xanax. I nearly kissed the ground when we arrived safely.
Thankfully the temperature changed while we were inside and the drive home was cake. Jettie asked what we were going to do the rest of the afternoon and I told her we were making these bars and getting snuggly. To which she replied… "Sounds great, just wish they were Starbucks cherry bars."
Can't please them all, can you? (Although those Starbucks bars are delicious…and so are these.)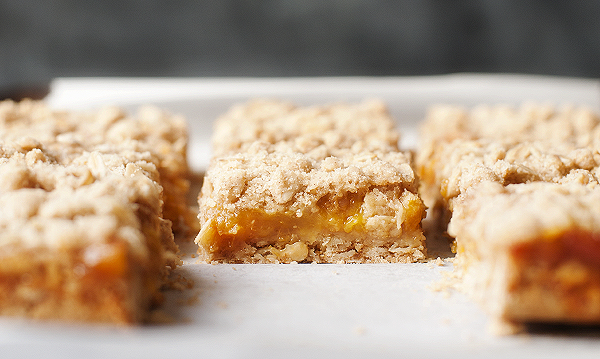 This recipe came straight from the cranberry oatmeal bars I made last September. The orange was eliminated however, and I did swap the cranberries for peaches obviously. This version is also much simpler, especially if you use peach preserves instead of making your own filling from scratch. If you are looking for something quick, that requires very few ingredients, this if for you.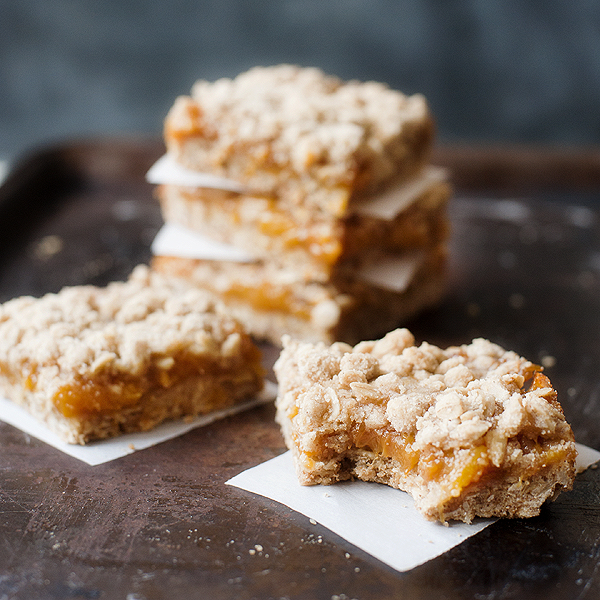 I used up some peaches we froze from last summer for my bars. What a treat it was to have the sweet, peach taste in the middle of January. Of course now I can't stop thinking about the cherry bars…coming soon I am sure.
Enjoy!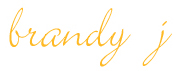 peach oat bars
Ingredients
1cup all purpose flour
1cup old fashioned oats
½cup brown sugar
¼tsp kosher salt
¼tsp cinnamon
¼tsp baking soda
6tbsp melted butter
1½cup peach preserves (can also place 2cups frozen sliced peaches in a saucepan with ¼cup sugar and juice of ½ lemon. Bring to a bowl and allow to simmer for 10 to 15 minutes or until peaches have broken down. Allow to cool completely before using.)
Instructions
Preheat oven 325ºF and line an 8X8 baking dish with parchment paper.
Mix flour, oats, brown sugar, salt, cinnamon and baking soda in a bowl. Add butter and combine with hands. Mixture will be crumbly.
Reserve ¾cup of the flour/oat mixture and press the rest evenly into the bottom of the prepared baking dish. Spread peaches evenly on top of that and sprinkle remaining flour/oat mixture over the peaches.
Bake on middle rack for 40 minutes. Allow to cool completely in the pan on a wire rack. Store in airtight container in the fridge for up to a week. Enjoy!