With fall officially in full swing we are more than ready to make our favorite soup recipes.  There is something so fulfilling about chopping the ingredients, layering them in one pot and tending to the flavors.  The smell fills the house with comfort, luring anyone within nose-shot in.  No more than one bite and your belly, heart and soul are wrapped up in the coziest of blankets.  We love making these comforting meals for our little families and are excited to be sharing them with you.  Once a month (during the fall and winter) Shan and I will post a cherished soup recipe that we hope you enjoy!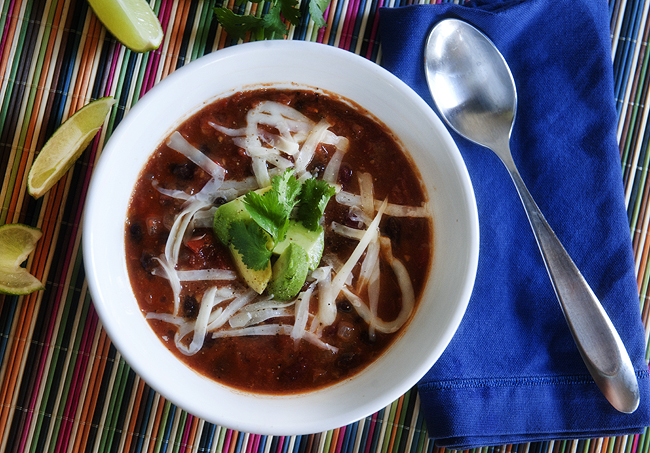 Before Rachel Ray became "Rachel Ray the sort of Oprah" she just had 30 Minute Meals and a teeny little cookbook called Veggie Meals.  I was just discovering that I had a passion for cooking when this book crossed my path.  There are many reasons I love this book with the top 3 being that the ingredients are accessible in every grocery, the recipes are not intimidating and everything can be made in 30 minutes or less.  To this day I use a variation of one of the recipes on a weekly basis with this chili being close to #1.  Sure there are many other award winning, more complicated versions of chili I could try.  But honestly I don't see the point considering this has pleased everyone who has ever tried it.
vegetarian three bean chili
Ingredients
2 tablespoons (2 turns around the pan) olive or vegetable oil
1 medium red onion, chopped
1 large red pepper, seeded and chopped
1 large jalapeno pepper, seeded and chopped
4 cloves garlic, crushed and chopped
1 cup pale beer (or vegetable stock/broth)
1 (32- ounce) can crushed tomatoes
1 (14-ounce) can black beans drained and rinsed
1 (14-ounce) can dark red kidney beans drained and rinsed
1 tablespoon ground cumin
2 tablespoons chili powder
1 teaspoon coarse salt
1 cup spicy vegetarian beans
Lime wedges
Optional: diced avocado, diced tomatoes, cilantro leaves, shredded cheese or sour cream for topping.
Instructions
Over moderate heat, add oil to a deep pot and combine onion and peppers. Saute for 3 to 5 minutes to soften vegetables.
Add garlic, cumin and chili powder and saute for another 1 to 2 minutes.
Add beer (or broth) and simmer until liquid is halved.
Add tomatoes, black beans, red kidney beans - stirring to combine. Season with salt.
Thicken chili by stirring in refried beans. Simmer over low heat about 5 to 10 minutes longer, then serve up bowls of chili with lime wedges and top with shredded cheese, diced avocado, cilantro leaves, diced tomatoes or sour cream.
Notes
Excellent served with black bean tortilla chips.
recipe adapted from Rachel Ray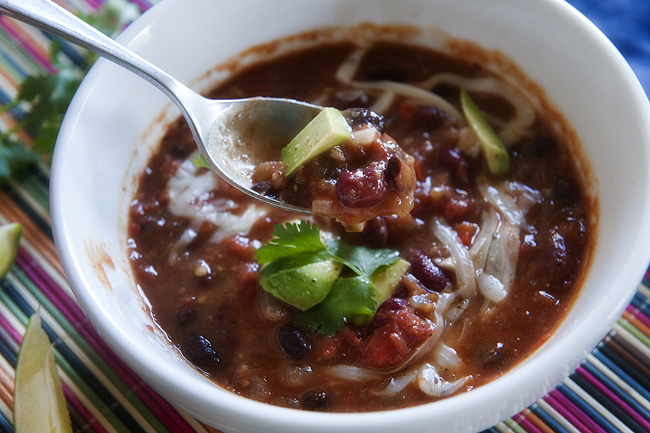 Bring a double batch of this plus a big bag of tortilla chips to your next football get together and you will be invited back for sure.
Wondering where the meat is?  Shan just may have something for you later today…