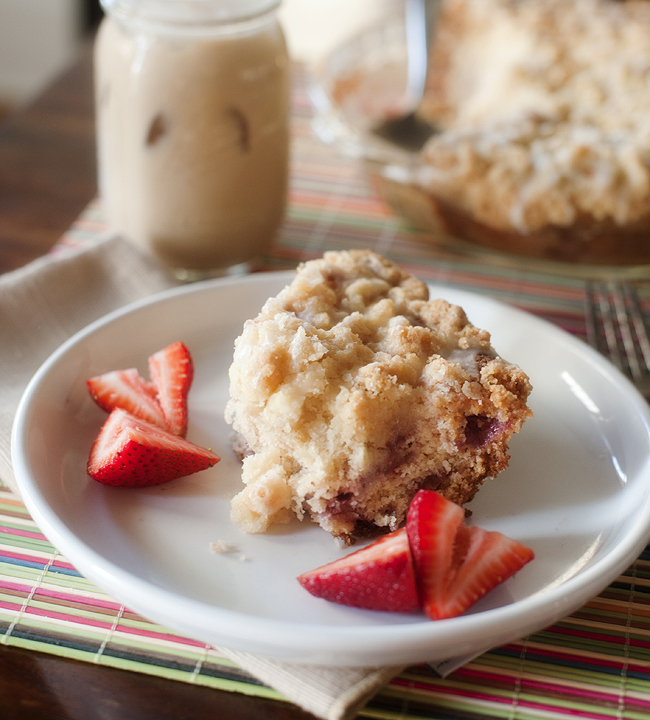 Whoever decided there should be a cake deemed acceptable to eat for breakfast sounds to me like someone with a few great ideas. Of course, it's not really your best breakfast option, you indeed are eating cake for breakfast.  But hey, that's okay sometimes.  (Your secret is safe with me!)  Coffee cake reminds me of oatmeal cookies- you know- the "healthy" cookie (because there is oatmeal in there after all!)  I like to sum it up to the fact that some days you just need something sweet for breakfast, and there is nothing wrong with that.  This particular coffeecake is filled with lemon zest and strawberries- giving it a little something extra.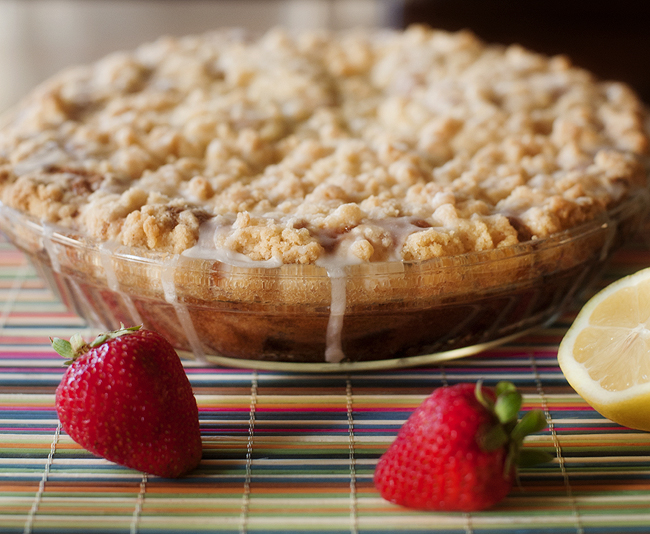 strawberry coffeecake with lemon glaze
Ingredients
Streusel:
½ cup sugar
1 cup all-purpose flour
1 stick softened unsalted butter
pinch of salt
Coffeecake:
1 stick unsalted butter, room temperature
1 cup sugar
2 large eggs, room temperature
1 cup buttermilk
1 teaspoon vanilla extract
2¼ cups all-purpose flour
1 teaspoon baking powder
½ teaspoon baking soda
½ teaspoon salt
zest of one lemon
2 cups fresh diced strawberries
Lemon Glaze:
1 tablespoon almond milk
1 tablespoon fresh squeezed lemon juice
Up to 2 cups powdered sugar
Instructions
Preheat oven to 350F. Lightly butter the base and sides of a 9x13 dish.
To prepare streusel:
Whisk together dry ingredients, and then using hands work in softened butter until it resembles a coarse crumble.
To prepare coffeecake: Cream together butter and sugar until light and fluffy. Add eggs, individually, scrapping down sides as needed. Add lemon zest, buttermilk and vanilla.
In a separate bowl, whisk together flour, baking powder, baking soda and salt.
By hand, slowly fold dry ingredients into wet, being careful to not over-mix. Batter will be lumpy, that's okay! Gently fold in strawberries, and then pour batter into prepared pan and spread evenly. Top with streusel.
Bake for 45 minutes, and then check cake by inserting a toothpick into the center once the top no longer appears "wet". Continue baking if needed until top is golden and center is set.
To prepare glaze:
Mix almond milk and lemon juice, and then whisk in powdered sugar until thick consistency is achieved.
Drizzle glaze over top once the cake is completely cooled.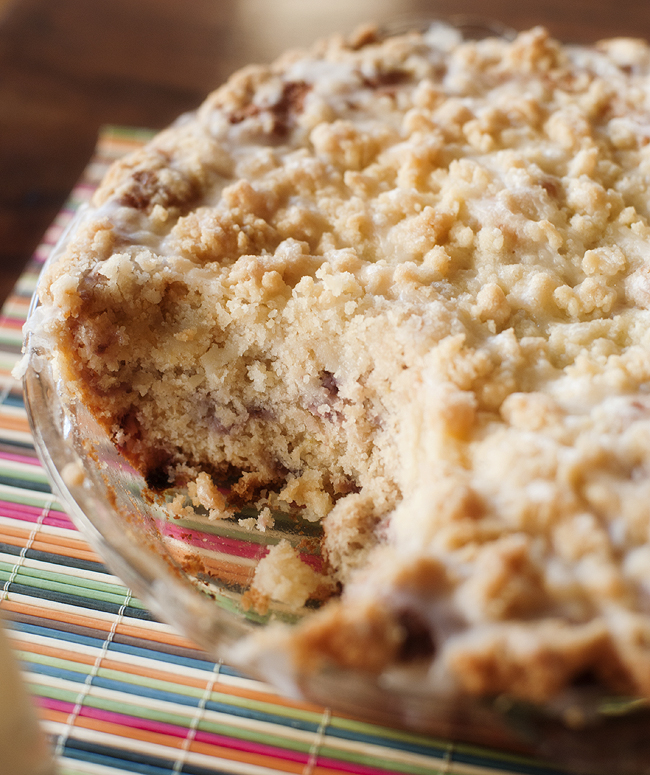 Serve this coffeecake up with fresh, sliced strawberries and iced coffee! So light and summery!