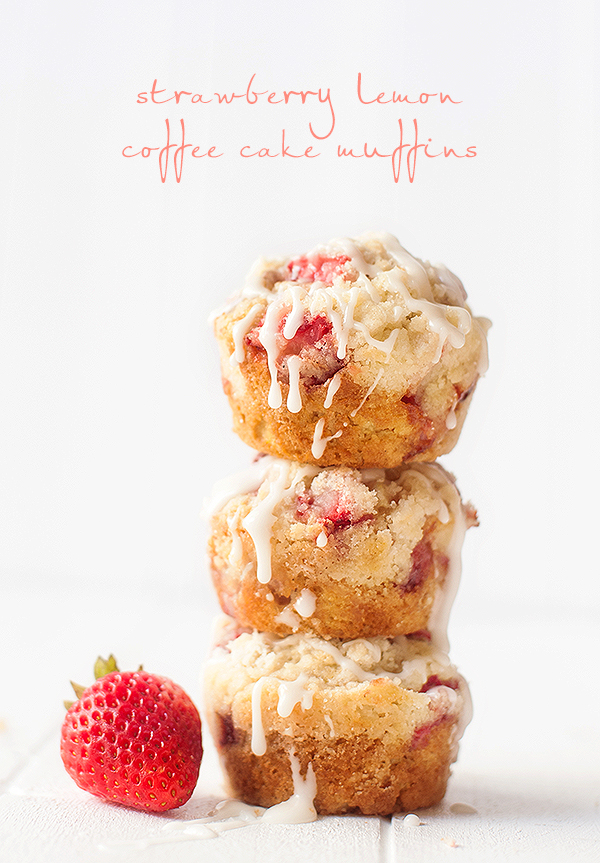 Three years ago Shan posted a Strawberry Coffee Cake with a Lemon Glaze that was seriously one of my favorite cakes ever. (I can't believe I can say "3 years ago" in blog terms…where has time gone?) That recipe is what inspired these muffins. Basically portable versions of that delicious coffee cake…and still damn delicious with iced coffee.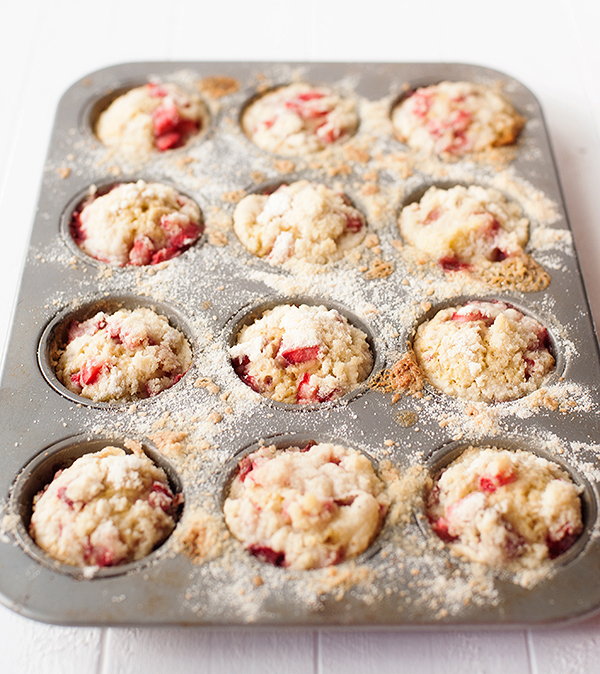 I am not exactly sure what distinguishes a coffee cake from all others but I think it may have something to do with the crumb topping. And sometimes that buttery delectable topping is topped with a sweet glaze. Which is the case for these muffins. Cake topped with berries, topped with crumb, topped with lemon glaze. Yes, these are good people.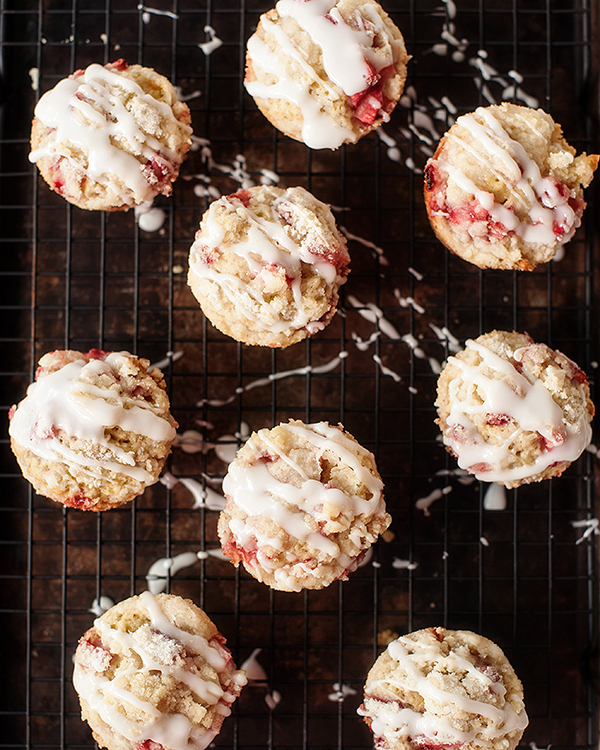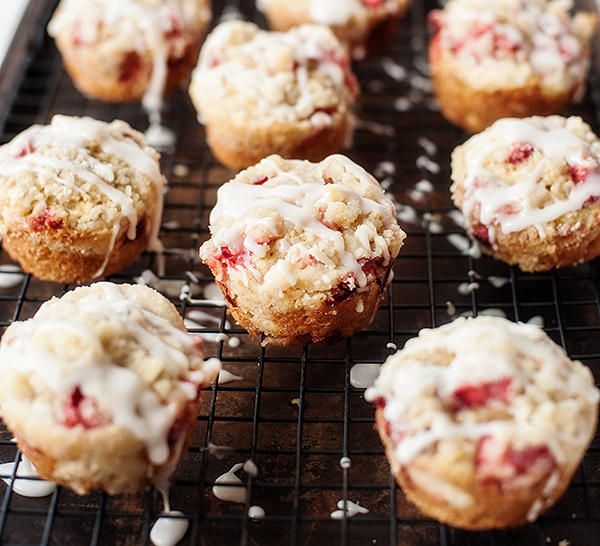 If my search was correct, this is only the 3rd time strawberries and lemon have been featured together on this blog. Say what??!! It's only one of my favorite summer combos! Be prepared for more berries and lemon. It'll probably be a cocktail you will see next, just being honest here.
First though, you gotta make these muffins! Jettie said they are so good that I should make one million more. That's high praise from a 5 year old.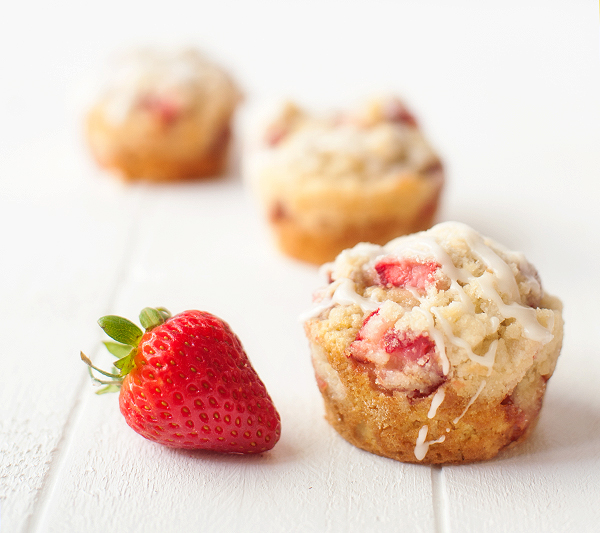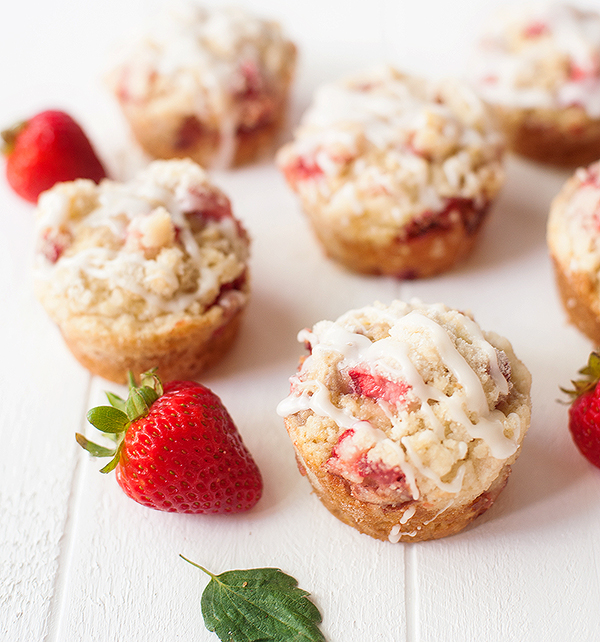 Of course the almost 2 year old loves them as well…so sneaky he is stealing a muffin while I am shooting. But how do you take a muffin away from that face? I am seriously asking, how??!! (He's a cutie!)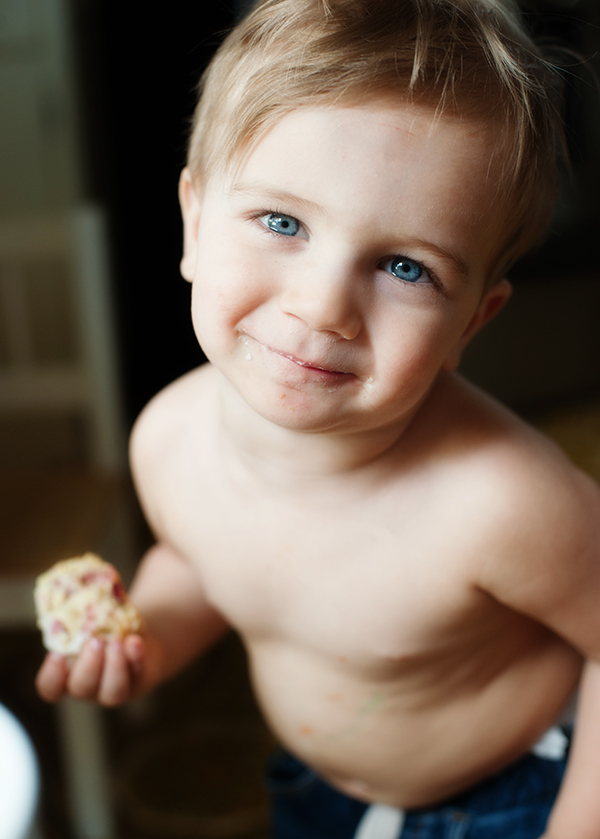 There is one bad thing about these amazing muffins – they need to be eating within 2 days of baking. Good news is there's a good chance they won't last 24 hours.
Enjoy!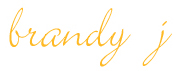 strawberry lemon coffee cake muffins
Author:
brandy j of www.prettyplainjanes.com
Ingredients
Muffins:
¼cup unsalted butter, room temp, plus more for greasing pan
½cup granulated sugar
1 large egg, room temperature
1tsp vanilla
1½cup flour
½tsp baking soda
1½tsp baking powder
½tsp kosher salt
zest of 1 lemon
½cup milk (buttermilk works as well)
1½cup small dice strawberries
Crumb topping:
¼cup cold butter, cut into small cubes
½cup flour
¼cup granulated sugar
Glaze:
1tbsp milk
1tbsp fresh squeezed lemon juice
1 to 2cups powdered sugar
Instructions
Preheat the oven 350ºF. Grease a regular muffin tin with butter (or use muffin liners).
Cream the butter and sugar in a stand mixer until light and fluffy. Beat in the egg and vanilla on low until incorporated.
In a separate bowl, combine the flour, baking soda, baking powder, salt and lemon zest. Slowly add to the butter mixture, on a low speed, alternating with the milk. Combine until just incorporated - there should be a little flour still visible. Gently fold ½ of the strawberries in with a rubber spatula. Fill each muffin compartment ½ full with the batter. Top each one with the remaining strawberries, evenly.
For the crumble, in a small bowl work the cold butter, flour and sugar together with your fingertips or a pastry cutter until you have small, pea size clusters. Divide evenly on top of the muffins.
Place muffins on the middle rack in the preheated oven and bake for 15 to 18 minutes or until the edges and top begin to look golden. Allow to cool in pan for 10 minutes before removing to cool on a wire rack.
While the muffins are baking, prepare the glaze by mixing the lemon juice, milk and 1 cup of the powdered sugar. Add more powdered sugar until you achieve the consistency you want (I prefer a thicker glaze). Drizzle glaze over completely cooled muffins and devour. So good with iced coffee! Be sure to eat these guys within 2 days of baking.