Today my baby boy is nine months old.  What?  How is it possible he's been out of me as long as he was in?  Life is moving by far too quickly for my liking.  SJP is 50, Bingham is 9 months – I mean, when is it going to stop?  Oh yeah, it doesn't.
Instead of bawling over my coffee I thought it'd be more productive to share 9 things I'm liking right now…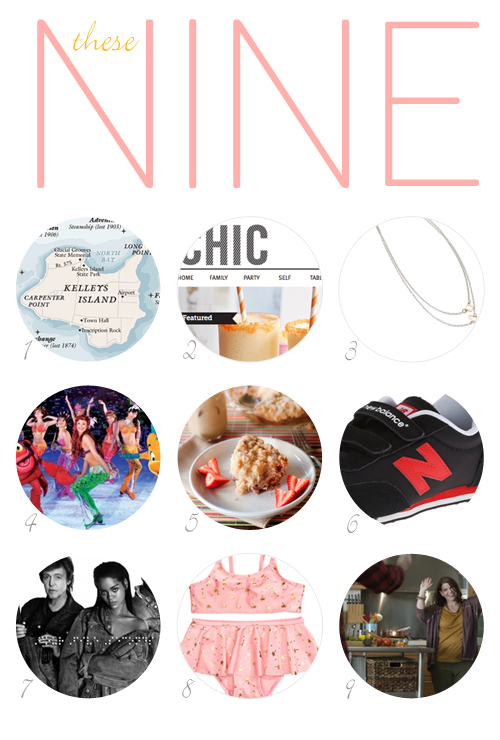 1Tiny, secluded, quiet Kelleys Island.  My heart is craving that first sip of coffee by the lake./2Rachel Hollis blew up the internet this week by sporting a bikini with…gasp, stretch marks and a slightly saggy belly button. Thank goodness because now I know about her fab blog, The Chic Site./3Dainty geo necklaces have me swooning and this guy is under $3.  You're welcome./4Last night was our 2nd time attending Disney on Ice.  As always, Disney does it best (like there was ever a question)./5Shan's strawberry coffee cake is calling my name this weekend./6New Balances for toddlers. Um, cute!/7"FourFiveSeconds" is my sing-a-long jam, which is strange because I can't stand Kanye (notice the cropping on the image). /8I'm slightly addicted to swimwear for girls.  And this palm bikini is to die for./9If you have yet to see this ad you must do so right now.  Like right, right now.  It's hilarious.
Cheers to the weekend!