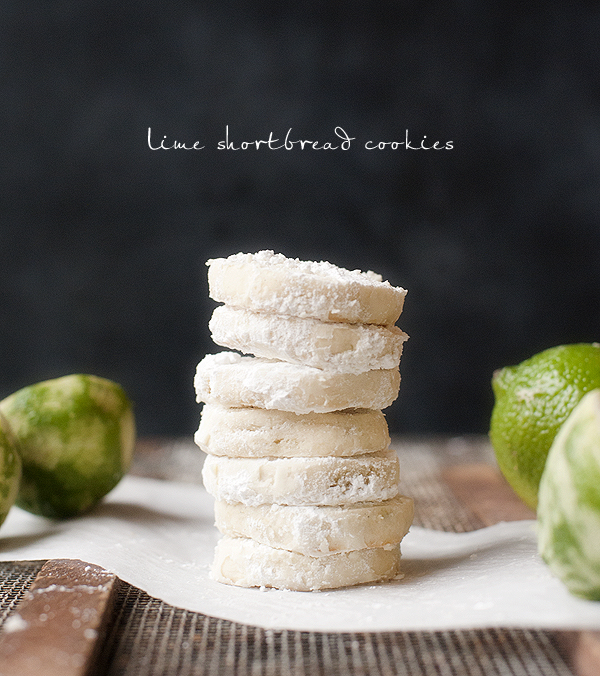 Last year when I posted these lemon shortbread cookies I always thought I would be making the lime version sooner than later. Well later came before sooner, unless you call almost a year sooner. Nonetheless lime shortbread cookies are here, and they are every bit as delicious as their lemon cousins.
A bowl of powdered sugar setting out is basically an invitation to a 21 month old. [21 months?! Say it ain't so!!] Especially to one who would consume sugar morning, noon and night if his parents were insane. We have a nephew who would hide sweets behind his back, in his pockets, via grandma.. we now have a sugar bandit of our very own. Bing, you're cute, but you cannot be trusted. [Probably why you are so cute. Dang.]
In case you wondering, filthy windows make light gorgeous for food photography. That is what I am going with at least.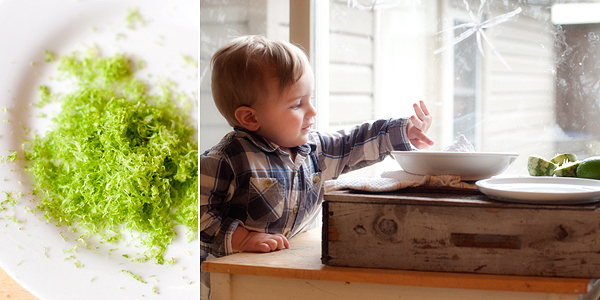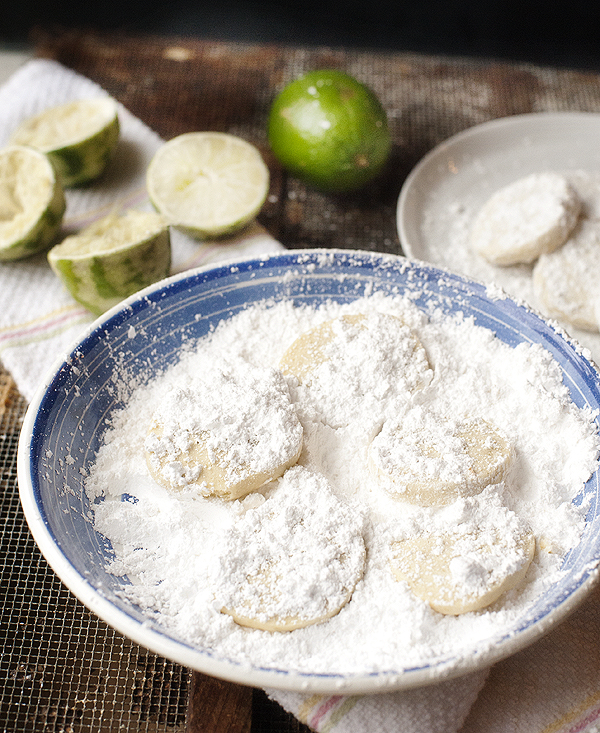 Here is what I do know about shortbread cookies:  They are a snap to make. Here is what I don't know about these particular cookies:  What to call them.
Some say shortbread cookies others say lime meltaways. Either way they are delicious disks of limey goodness and that is really all that matters, isn't it?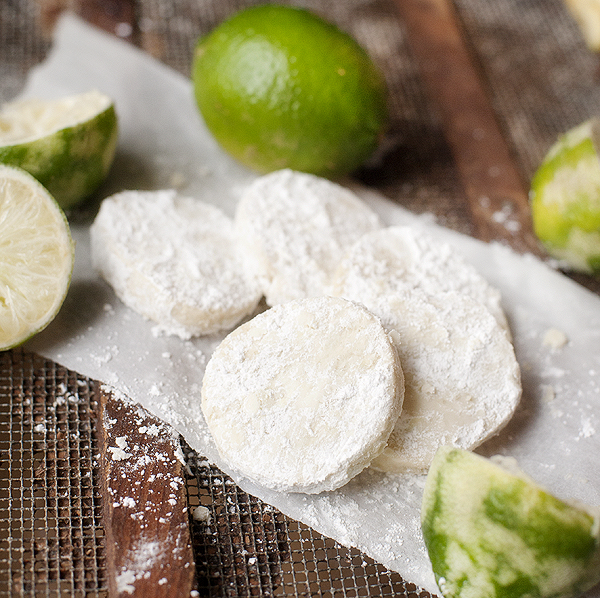 Serve these up with your next batch of tea or iced coffee. They would also be wonderful for a spring or summer shower/party. They are the perfect light and zippy treat for this time of year!
Enjoy!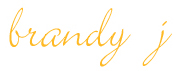 lime shortbread cookies
Author:
brandy j of prettyplainjanes.com
Ingredients
⅔cup unsalted butter, softened
⅓cup plus 1tbsp powdered sugar
zest of 2 limes
¼cup lime juice
1tsp vanilla
pinch of kosher salt
1¾cup all purpose flour
1tbsp corn starch
⅔cup powdered sugar (for dusting)
Instructions
Cream butter and sugar in a stand mixer until light yellow. Add lime zest, juice and vanilla, mix on low until combined. Add salt, flour and corn starch, mix on medium until dough is smooth.
Place dough on a lightly floured surface. Divide in half and roll each half into a log (about 2" in diameter). Wrap log in plastic wrap in place in fridge for at least 2 hours.
Preheat oven 350 degrees, line a baking sheet with parchment paper. Remove logs from fridge and plastic wrap. Cut into ⅓" slices and place on sheet (they do not spread much so you can place them close but not touching).
Bake for 10 minutes or until the bottoms begin to become golden. Remove from oven and allow to cool on sheet for 5 minutes or until cookie can be handled enough to toss but not yet completely cool. Gently toss with powdered and then allow to cool completely on a wire rack.