There are people out there who are obsessed with baby names. I would be one of those people. Heck, I could be their leader. Baby names are more than just a passion for me…they consume more of my thoughts than they realistically should. If kids weren't so darn hard to raise I'd have 100 more just so I could name their cute little souls.
(Any job openings out there for a baby namer? No? Dang.)
Why I haven't had a baby name post until today is beyond me. The best excuse I can think of is that I am just so overwhelmed with my love for names that I wouldn't even know where to begin. But now I do. And it's with a few other moms who love names too, specifically unique ones.
One of my favorite aspects of a name, whether it be super common or against the grain, is how mom and/or dad got to the point of knowing it was the one. It's like the first tale told in that child's storybook. And more often than not it fits that child in a way the parents could have never foreseen. These are our tales, a handful of moms with a bigger handful of babies to name: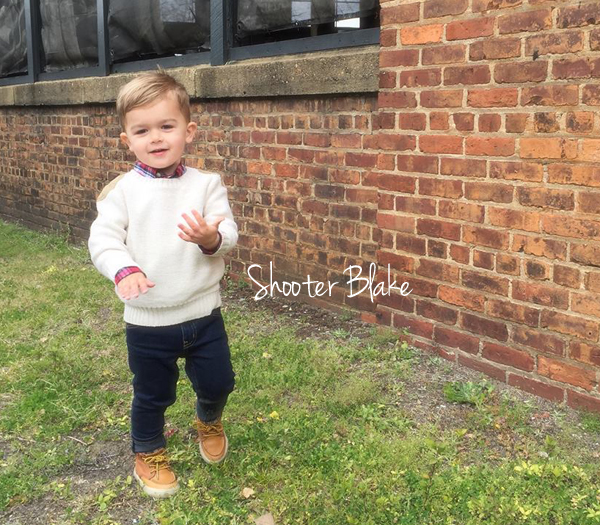 Alicia of Spruce & Willow, son Shooter
"From the very beginning, we knew we wanted a name that was different. A name that no other kids would have when our little guy hit grade school. We tried our best to channel our love for outlaw country music specifically the Highwaymen but Willie, Kris, Johnny nor Waylon seemed to fit us. But Waylon Jennings had a son named Shooter. I LOVED it but I was hesitant to share with my husband because he had shot down every single name I had suggested for 7 months. Much to my surprise he said, "YES, that's it!" We were instantly sold! We added Blake because it was one that we both agreed on and had a slightly more mainstream tone to it."

Also loved but ultimately vetoed:
 [Wilder, Minor, Legend, Knoll, Stone & Bridges]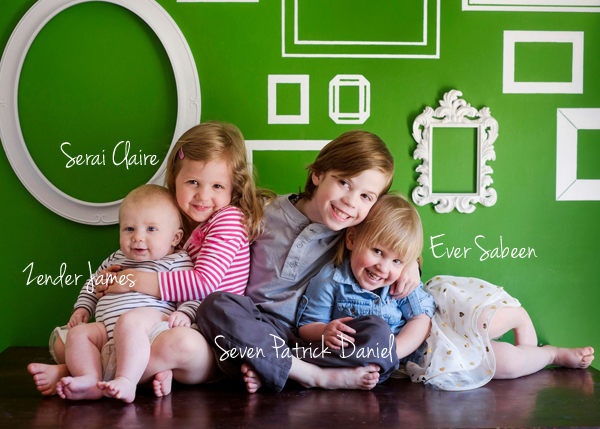 Mel of McLellan Style, kids Seven, Serai, Ever & Zender
"We knew that we wanted our kids' names to be really unique. It's defining in some way to grow up with a name no one else has. It sets you a part in some small way and we wanted that for our children. Nothing that would register in the top 1000 names on the social security baby name registry could even be considered as a first name so we dug through name apps/websites/books, looked at words we liked, and even combined things we liked the sounds of to create our own names.
Seven is the number for completion, and after both coming from broken families and having lost our first son unexpectedly at 38 weeks, being able to start our own family with our son, Seven, brought wholeness to our family life again. His full name is Seven Patrick Daniel, the 2 middle names being family names.
Serai (pronounced Sir-ray) Claire means "bright light". We've only ever met one Serai and have always loved the name. We've known since we were dating that that's what we would name our first daughter one day.
Ever Sabeen means "to constantly forge one's own path". As entrepreneurs and people who live life on our own terms, we loved the idea behind it.
Zender was possibly the hardest to name. We ended up with a list of words we liked and combined them with ending sounds we liked until we came up with Zen-der. It essentially means "to be of peace" and if there's anything you want to speak over the 4th in a line of small children, it's peacefulness. In keeping with what we started with Seven, we gave him the name James for his middle name, after my husband's grandfather."
 Cutting room floor names:
 [BOYS Zade, Zerrin, Toren, Alaric, Thayer, Tavian GIRLS Eastyn, Ember, Corin, Zade]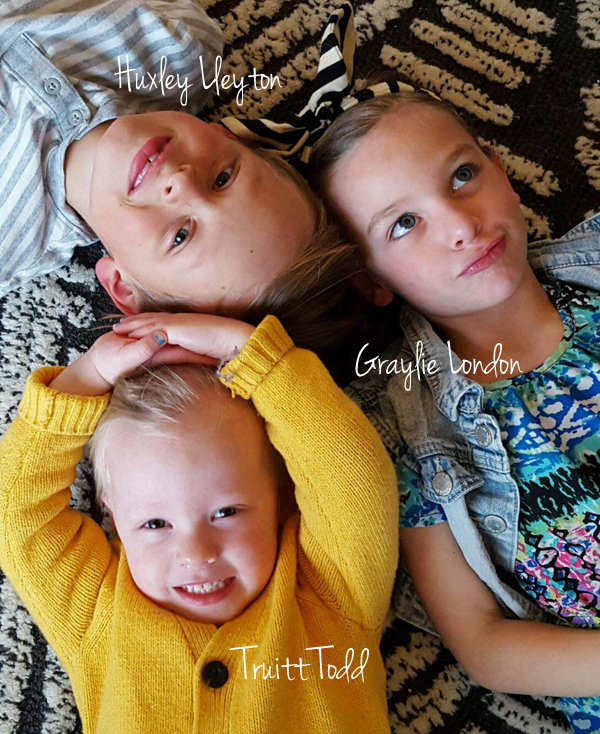 Stacia of CakeCrazy, kids Huxley, Graylie & Truitt
"During my first pregnancy I was 99.9% sure I was having a girl and had picked out the name Graylie Elle before my ultrasound.  To my surprise, "she" was actually a "he".  After scanning through lots of baby name books our first born was named, Huxley Lleyton. After finding out I was pregnant a second  time, there was no doubt that if it was a girl we were sticking with Graylie.  The original middle name had worn off by this time so after finding out I was indeed carrying a girl, we named her Graylie London.  Before my third pregnancy my mom had been looking at some old family names and had come across the name Truitt. I immediately loved it and wrote it down for safe keeping in case God blessed us with another child. Thankfully, he did and we decided to keep the sex a surprise until delivery. I can recall being in labor at the hospital and in a bit of a panic because we really didn't love any of our girl names.  To my relief, Truitt Todd was born. My father's name is Todd and I liked how it sounded with his first name."
If Truitt would have been a girl:
[Ivy]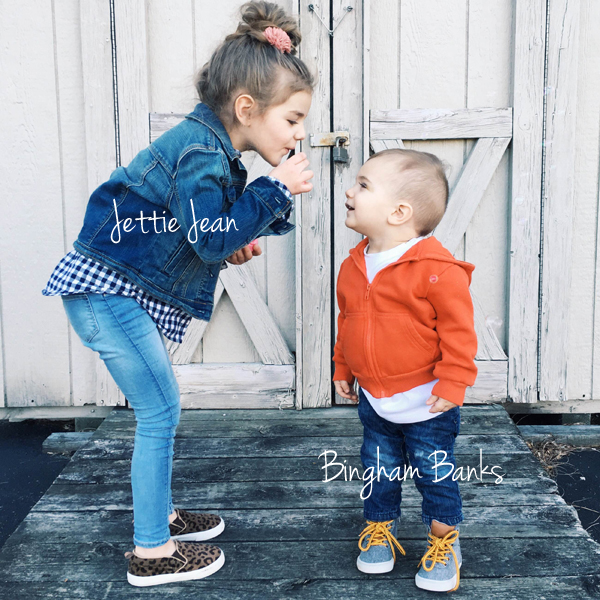 Me, my kids Jettie and Bingham.
"When it was our turn to name a baby the only thing we knew for sure was that if the peanut was a girl her middle name would be Jean – my middle name and adored Granny's first name. We had several girl names that we liked but kept coming back to the "J's". After seeing Jettie on a name list from the 1880's, I sent Sticky a text that simply said "Jettie Jean" and that was it.
When it was time to name a son we were stumped at first. If he had been a girl the name was chosen, loved and ready…but he wasn't so the search was on. Kate Hudson has a son named Bingham and I loved it from the moment I heard it. It's fun yet classic, just our style. It was the middle name we struggled with. At first we wanted to use something from Sticky's family but we didn't love the sound of any of them. With Sticky's middle being "Brent" we decided to go with that so our son would have a double "B" much like Jettie's double "J". About a month before due date I told Sticky how much I loved the name Banks and he said "forget Brent, we're naming him Bingham Banks." And that was that."
Considered/thought about for a hot sec/disagreed on:
[GIRLS Lorelai, Julep, Juniper, Posey BOYS Booker, Major, Hampton, Maxwell]
Thank you to the 3 gorgeous moms who shared their baby naming stories! I'd love to hear, as I'm sure many others would as well, your path to your little ones' names. Or even some favorites that maybe you couldn't convince your partner to pull the trigger on. Feel free to comment here or shoot me an email message if you would like to be considered for a part of a future post (link in top right – little envelope).
Names are so fun and this post makes my heart happy. A warning though…I may not stop now that I have started. (The name beast has been unleashed. Watch out!)
xoxo,