Last week I shared some of my favorite Valentine inspired gear for littles. Now it is time for the adults to get in on the action!
Hearts have become fairly acceptable for year round wear. They are basically polka dots in love. My favorite from the collection below is that Oasis dress (#5). I can't think of a better way to brighten these winter days than with a dress adorned with a shower of hearts. Of course those shoes are fabulous but they are really in there for looks – $750 heart shoes are not really practical for me at the moment….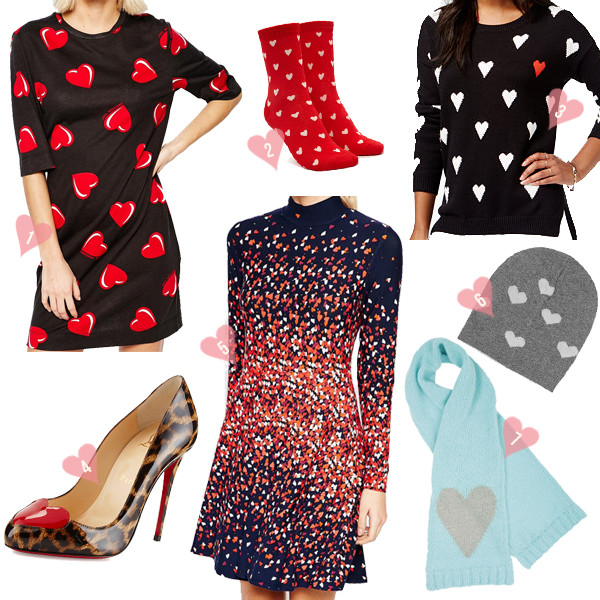 1Love Moschino shortsleeve dress in heart print/2Forever 21 heart pattern crew socks/3Maison Jules long-sleeve heart-print sweater/4Chrisian Louboutin doracora leopard-print heart red sole pump/5Oasis high nick heart print skater dress/6Julia Cocco multi heart beanie hat/7Wooden Ships heart scarf
Not to leave the guys out of course….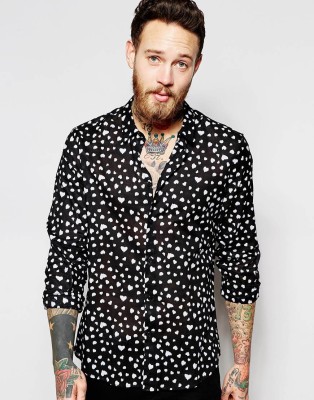 ASOS men's heart shirt
Anyone who knows my husband would agree that he could rock that shirt. (Or maybe it's just my opinion…but yeah, he would look gooooood in that!)
Will you be sporting some hearts this Valentine's?
xo,