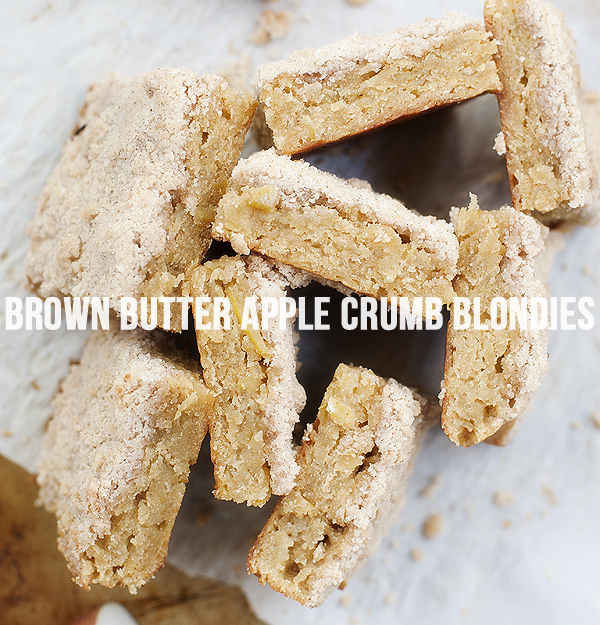 Confession: To my knowledge I have never made a blondie. I am not even sure what constitutes a bar being called a blondie over a brownie.. other than the obvious difference in color and lack of chocolate in a blondie. And while we are on the subject I should also confess.. I really don't like brownies. Not even a little.
But these, these I like..no, love.
Last week's easy pumpkin chocolate chip bread had me on the hunt for more fall desserts that were a cinch to whip up. Enter these blondies. It was a recipe that I had recently pinned and quite honestly didn't give a second thought to. (You know.. it goes to the land of "pinned" yet nothing every happens in real life with it.) This time though I had a pile of apples staring at me and no plan. This is where being able to search your pins comes in super handy. A couple of clicks and I knew this blondie was making an appearance in my oven.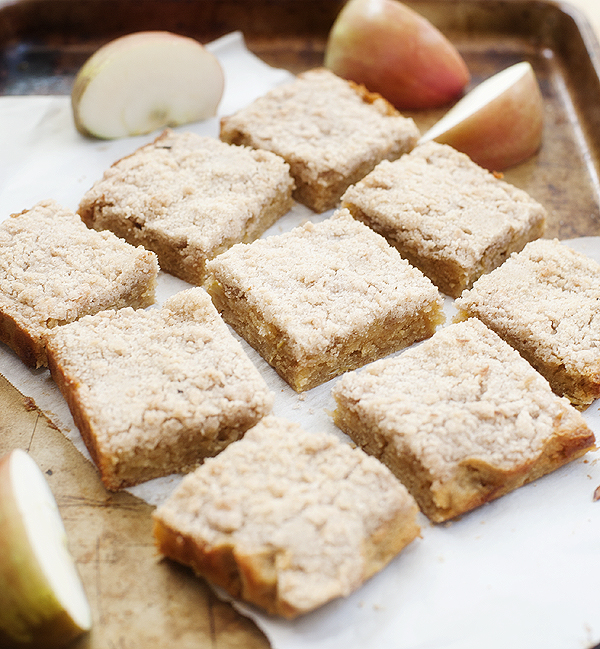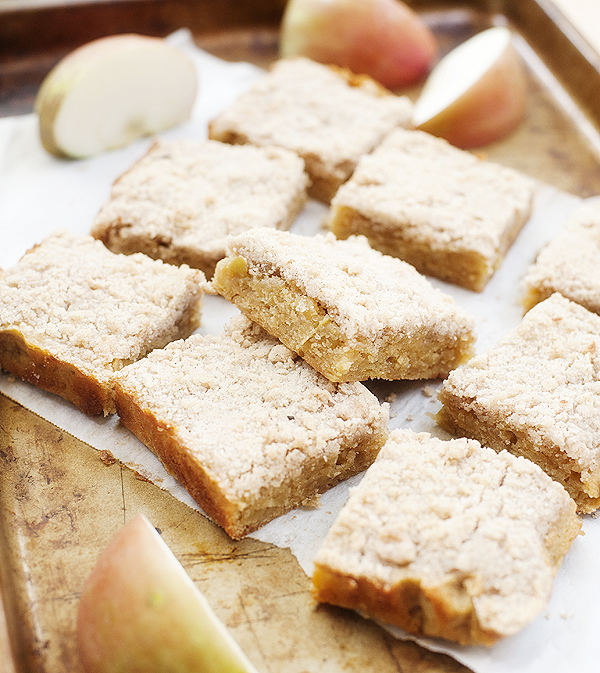 What drew me to this recipe was one of the most wonderful things in the entire universe… brown butter.
If you have never browned yourself some butter I suggest you grab a stick and do it immediately. You will never ever look at butter the same way again. It can seem slightly "tricky" but all you need to know is this: do not to leave it's side. Once it begins to brown you need to take it off the heat or it will become burnt and bitter. You love on brown butter and it will love you right back.
This recipe gets another bonus point for the no peeling, coring or cubing of an apple. This time you get to shred that delicious fall fruit. I'll take shredding over peeling every single time.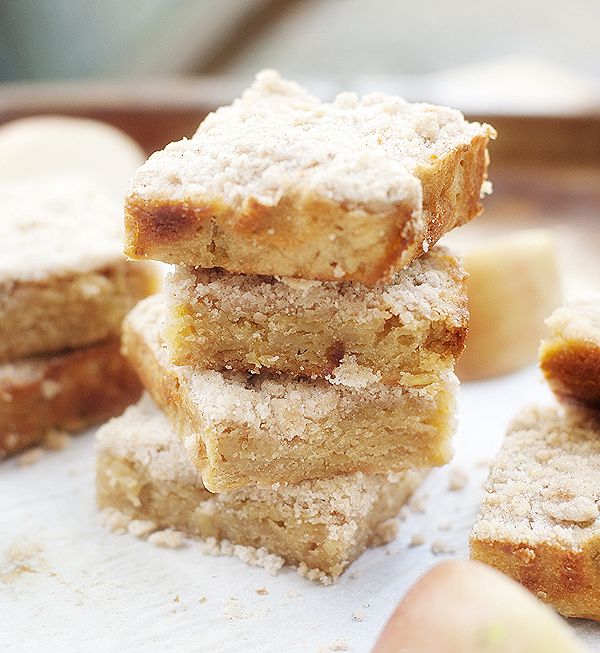 These blondies are nutty from that beautiful butter and touch of almond flavor. And those apples keep everything moist without making the texture too dense. It may be my first time in the blondie game but for sure will not be my last. These are everything I ever wanted a brownie to be and so much more – I guess I do prefer blondes after all.
Enjoy!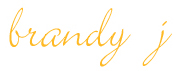 brown butter apple crumb blondies
Ingredients
for crumb topping:
¼cup sugar
½cup all purpose flour
½tsp cinnamon
⅛tsp of nutmeg
⅛tsp of kosher salt
3tbsp cold unsalted butter, cubed
for blondies:
½cup unsalted butter, browned (place in pan over medium heat, stir constantly as it froths, then turns clear and lastly browning. Takes about 6 minutes. Be careful not to burn, once it starts browning it is finished. Set aside to cool to room temp)
1cup light brown sugar
1 large egg, at room temperature
1tbsp Amaretto (or ⅛tsp pure almond extract)
⅛tsp kosher salt
1cup all purpose flour
1 cup grated favorite baking apple (no need to peel, I used Mutsu)
Instructions
Preheat oven 350ºF and line an 8X8 square baking pan with parchment paper.
To make the crumb topping combine sugar, flour, cinnamon, nutmeg, salt and cubed butter in a small bowl. Cut with a pastry cutter or 2 forks until crumbly. Place in fridge to chill until ready to top batter.
For the blondies combine brown butter, brown sugar, egg, amaretto and salt in a medium bowl. Whisk until well combined. Fold in flour until just combined. Fold in apples gently.
Pour batter into prepared pan. Spread evenly with offset spatula. Top evenly with crumb topping. Bake for 30 minutes - toothpick should come out with a few crumbs.
Allow to cool completely in pan on wire rack. Pop in the freezer for a few minutes before cutting. Enjoy!
recipe from Tutti Dolci