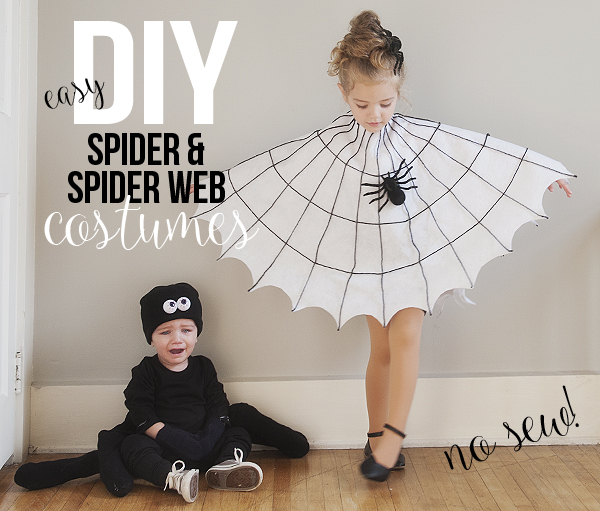 Halloween is just a few weeks away which can really sneak up on a person. If you are not prepared come trick or treat time you can either A. sift through what is left of the pre-made costumes and pay the price or B. hit up a dollar store and Walmart for TWO quick homemade costumes costing around $15 for both (does not include items you more than likely already own – like the shoes).
I am going to go homemade every single time. It's in my blood. I'm not sure what it is about crafting a costume that satisfies me…all I know is that it wholeheartedly does.
Always looking for an excuse to make a costume…and considering the popularity of last year's DIY Batgirl and Batman post…I thought why not share some more easy, last minute, throw together costumes. This time around we went old school with a spider and pretty spider web. These were crafted in less time than it took these two to wake up from their naps one afternoon. That's my kind of costume!
First up, our little spider: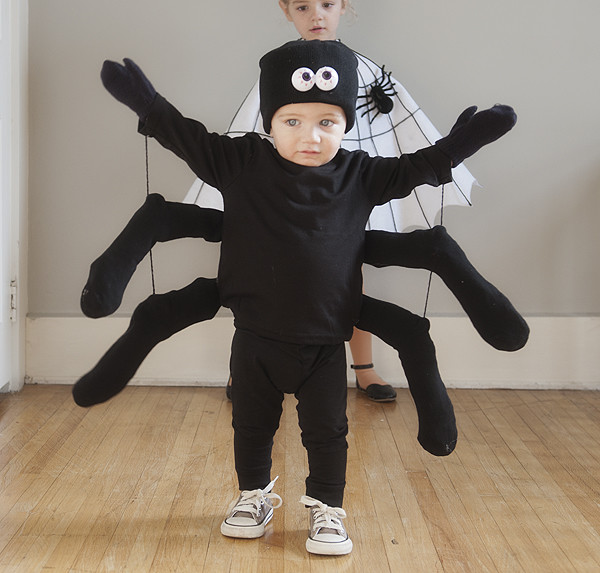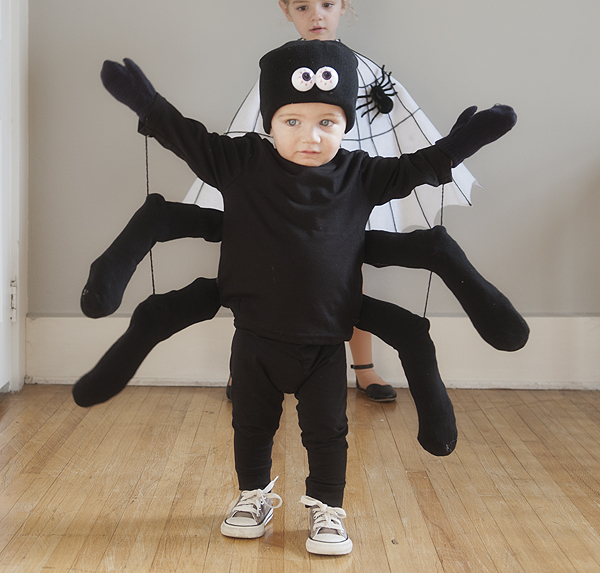 You will need:
black long sleeve shirt
black stocking cap (found mine at a dollar store)
black women's socks (the kind that have the "L" shape)
2 eyeballs (found mine at a dollar store)
black mittens (dollar store again)
gift tissue, plastic bags or newspaper for stuffing
a little bit of black ribbon or yarn
You will also need dark pants (black works best but dark denim could work too), shoes, hot glue gun and glue for it.
Stuff each sock with tissue, plastic bags, paper or whatever you have that will stuff a sock. I used one tissue paper for the foot of the sock and another for the part that goes up the leg.
Hot glue (or sew) each sock to back of shirt making 4 "legs".
Attach each "leg", starting with the arm of the shirt (because that's a leg too), by taking ribbon or yarn and hot glueing it to the back of every limb. I left about 4″ of space between each leg.
Take 2 eyeballs and attach to front of the hat with hot glue.
Dress your spider (don't forget the mittens)!
To make this costume extra sturdy you could sew instead of hot glue. Would be a good idea especially if you have a little one who might tug at the legs. As you can see, Bingham was not really feeling the whole spider gig but the hot glue did hold up even with a few "body throwing on the ground" episodes.
Next up, our pretty spider web: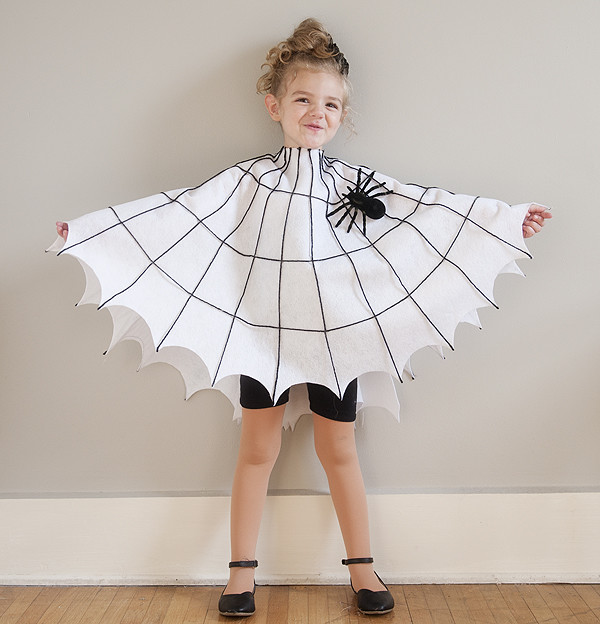 You will need:
1 1/2 yards of 72″ felt (I used white but black would work too – just make sure you purchase opposite yarn color)
black yarn
plastic spiders
You will also need black shoes, something for you child to wear under costume, safety pin and a bobby pin or clip to attach spider for hair to.
Fold your felt in half length wise.
Take a pen and tie a piece of yarn measuring 24″ long around it. (This measurement is for a 5T size – adjust by a few inches for smaller or larger.) Place end of yarn not attached to pen in the center middle on folded side of felt. Stretch the pen the length of the yarn and mark a half circle on your felt holding onto the yarn end in the center middle the whole time.
Take a large bowl and trace half circle sections on the rounded line that you marked with the yarn and pen.
Take the same large bowl and place on middle of fold about 2 1/2″ in and trace that half circle (this will be the neck hole).
Now cut following the guide of all the half circles you traced (including the neck).
Unfold the felt and cut a slit up middle of one side only. (This side will be the back.)
Grab your yarn and place one end on point of scallop and run the other all the way up to the neck – cut to length. Do this for every point around the "poncho". You can space out the neck ends more evenly once you have them all cut to size. Once everything is spaced evenly hot glue each end.
Now take the yarn and start at one open end of cape and run it lengthwise all the way around to the other open end, hot gluing when it intersects each yarn piece from step 7. I did this 3 times, which means I eyeballed the cape being divided by 4 as I was running the yarn around.
Attach a spider to the cape using hot glue. Also attach one to a bobby pin or clip for the hair (if using).
Dress your spider! You can hold the back closed with a bobby pin or hot glue some ribbon on each side and tie shut.
You can make the "web" with puffy paint as well. I am not a huge puffy paint fan so yarn it was for me. You could also get fancy with gems or sparkly embellishments of any sort. A fly would be fun too (I couldn't find one unfortunately.)
Here is a helpful guide for the spider web poncho: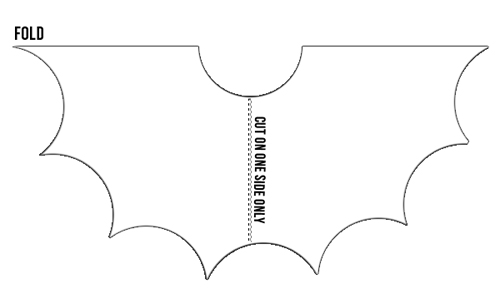 I have to admit these costumes came out even better than I expected. Jettie absolutely loved hers…while Bing was less impressed (although I love the one image where he is smiling and she looks evil). Little does Bingham know this is just the beginning of costume season. I have big, big plans for him come October 31st.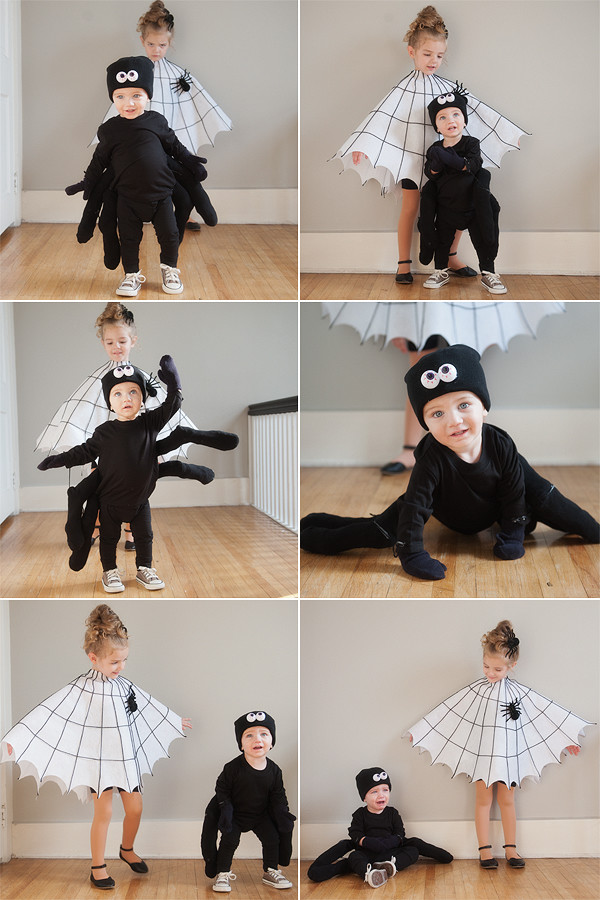 Please, please, please share your Halloween with PPJ by tagging #PPJHalloween. I would LOOOOVE to share some of my faves – I know there are a ton of creative crafters out there!
Happy Halloween Crafting!
xo,