Saturday we celebrated Locke's ONE MONTH birthday!  (Insert big smiles and cartwheels here.)  A few days before the event Shan settled on a superhero theme, obviously very fitting for her tough little man.  Never one to be a party pooper in the participation department, I had to come armed with a couple of superheros of my own.  Wanting to keep things simple I used clothes we already owned and a few easily purchased items.  After a few cuts of the scissors and a lot of hot glue we had ourselves a Batgirl and "baby" Batman.  Really cute ones if you ask me.
BATGIRL: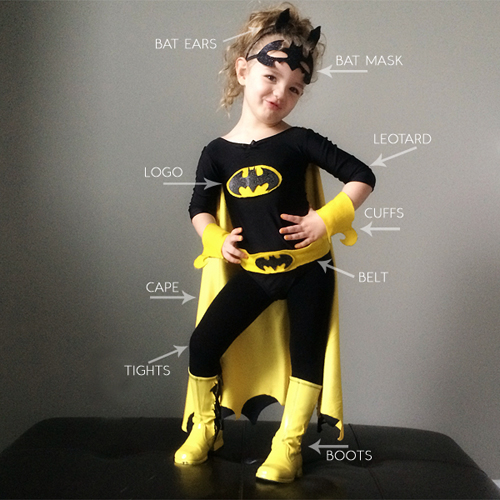 You will need:
black tights
hand-me-down or goodwill store boots
yellow felt
black felt
yellow spray paint
hot glue gun and hot glue
1/2 yard each of 58″ performance knit (one in black, one in yellow)
safety pins or self adhesive velcro for attaching cape and logo
headband
cardstock and pen
Mask:  Print Batgirl mask on cardstock and cut out using scissors.  Trace mask on back of foam glitter paper (be sure to use space effectively so you can cut out logos using same sheet) and cut out using scissors.  Measure elastic to fit snug around head, hot glue elastic to each end of back of mask.
Headband: Print ear template on cardstock (same template as cuffs) and cutout using scissors.  Trace ear on black felt (will need 4 ears) and cut out.  Attach ears to head band (2 pieces each ear) using hot glue.  Cut off access ear underneath band.
Logos: Print logo template twice on cardstock.  Cut small and medium ovals out of one, and small and medium bats out of the other (the large is a bonus in case you are making an adult size).  Trace ovals onto yellow felt and cut out.  Trace bats onto back of glitter foam paper and cut out.  Attach bats to center of oval using hot glue.
Belt: Cut 2.5″ strip out of yellow felt.  Measure length to fit child's waist – leaving about a 1/2″ gap.  Take 2 pieces of 2″ in length elastic and hot glue on ends of the inside of belt (adjust so that it is a snug fit on child).  Hot glue small logo on the center front of belt.
Leotard: Hot glue, velcro or sew logo to center of leotard.
Cape:  Layer the two fabrics and fold in half.  Cut to desired length of cape.  Cut the below shape out of folded fabric (the red is where you cut – use your eyeballs, you can do it!):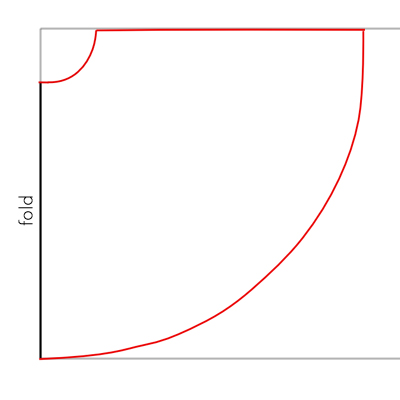 Starting at the bottom left, place a bowl and trace half of it on fabric.  Repeat that all the way up red curved line and straight red line (not the smaller red curve and fold line).  Cut the trace lines out (this makes the bat "scallop" effect).  Open fabric and admire your cape!  Attach to leotard using safety pins, by sewing or velcro (make sure you use the fabric kind and attach correctly).
Boots: Clean boots, cover zipper with tape and fill with paper or plastic bags and spray outside evenly with yellow paint.  Let dry and remove tape.
Cuffs:   Print cuff template on cardstock and cut out cuff and claw using scissors.  Trace onto felt (2 cuffs, 4 claws).  Cut out and hot glue 2 claws together (claws stand out better if layered as opposed to one layer of felt).  Fold 1 cuff in half (how it would fit on child) and place claw in widest opening.  Hot glue claw in as well as cuff – leaving a space at bottom large enough for child to fit hand through.  Repeat with second cuff.
Dress your Batgirl (tights go on first)!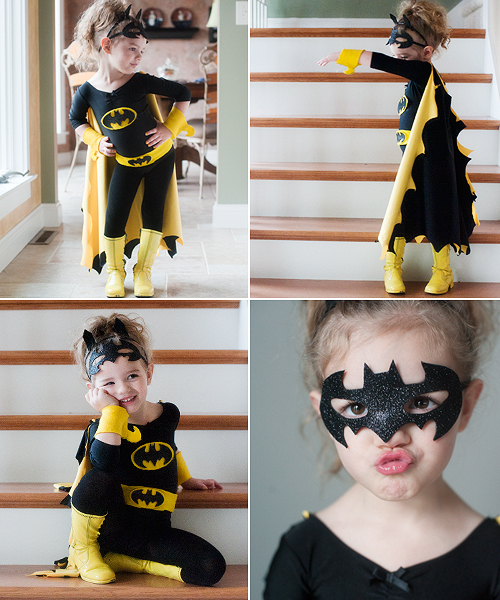 "Baby" BATMAN: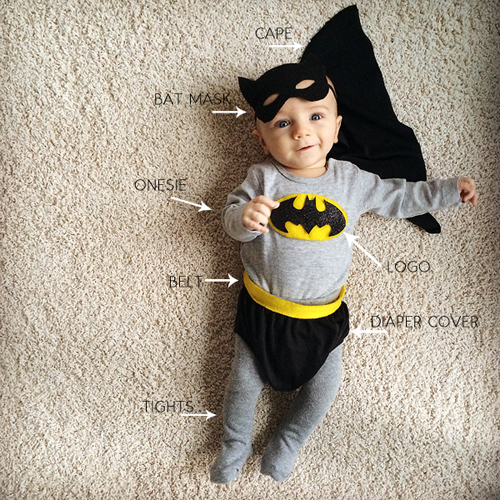 You will need:
grey onesie
grey tights
black diaper cover
black felt
yellow felt
1/4″ black elastic
1 sheet black glitter foam paper
black performance knit for cape (I used scrap from Jettie's cape)
Mask, Log and Belt:  Same as above costume except mask was made out of felt (help avoid glitter all over baby) and no logo on belt (belt is only 1″ in width).
Cape: Simply cut a rectangle out of fabric to size and pin, velcro or sew onto onesie.
Bat your baby up!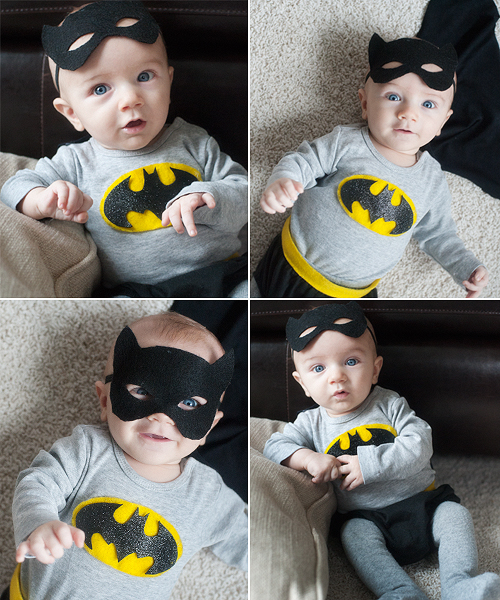 I know what you are thinking…."It must be nice that she already has her kids Halloween costumes done."  And of course I could very well send these kids on their merry trick-or-treating way in these ensembles.  But that wouldn't be me…(and we already have a Rammel/Maxey group costume planned that I am very very excited about.)  These would however make fabulous last minute DIY costumes for your little ones!  You can also alter for adult versions.  Mostly have fun with it and do not take any of the details too perfectly or seriously.  It is a costume after all – nothing but fun should be had in the creating of it.
xo,