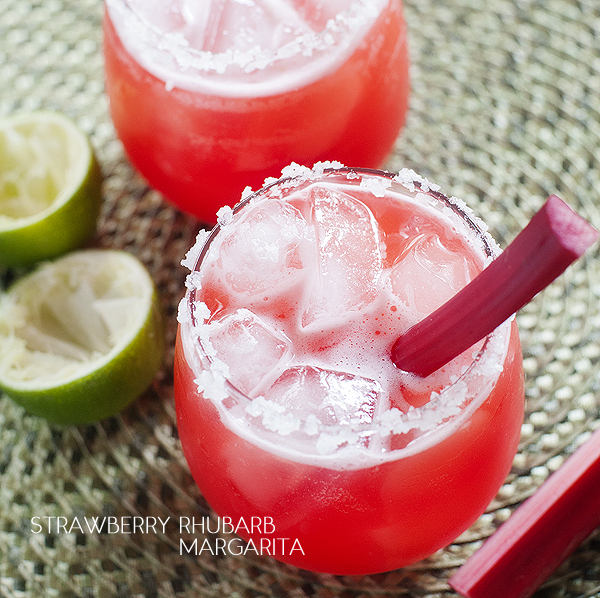 Strawberry rhubarb – undoubtedly on the top 5 list of flavor combos when it comes to me and pie. Strawberry rhubarb in margarita form…there is no list for this one.  It wouldn't be fair to the other margaritas. In fact I'm feeling slightly guilty for even posting this.  Look away other margaritas, look away.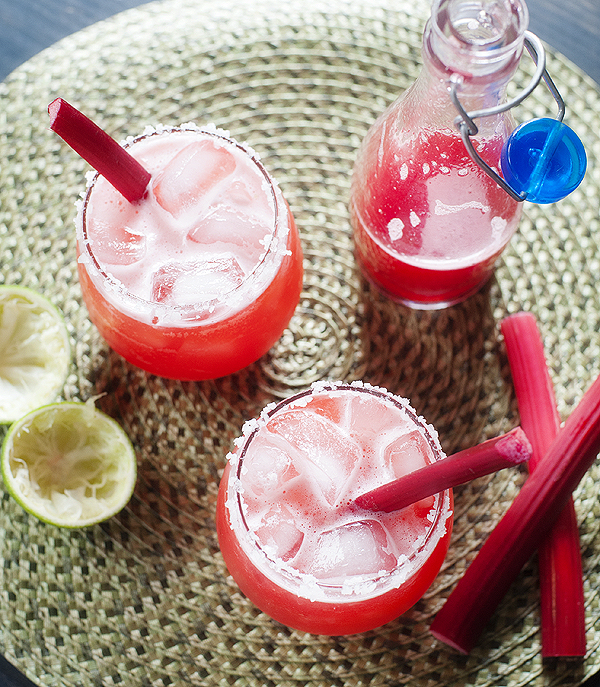 The fact that I have not been making these since I started making margaritas leaves me baffled. It makes perfect sense that fresh, tart rhubarb is the quintessential partner to tequila. It's crisp, refreshing and out of this world good. I've got my serious face on when I say you absolutely must try this concoction.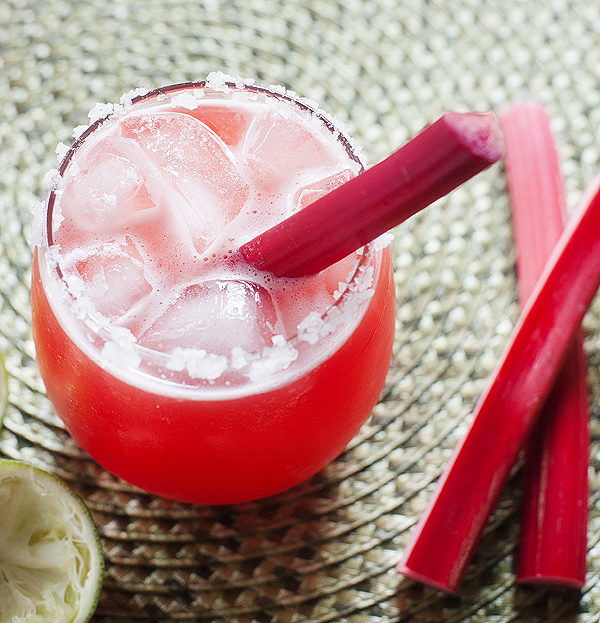 Fresh margaritas are fairly simple to make, you just need to give yourself a little bit of time to prep. This one calls for a homemade syrup. All this means is you throw fruit, sugar and water in a bowl. Boil and then simmer for 15 minutes. Strain and put in container you can seal. This can all be done while making yourself some coffee and breakfast. Don't let syrup making stand in the way of you and a damn fine margarita.
If you like your margs on the sweeter side you will want to double the amount of sugar that I used in the syrup.  My preference is for more tart than sweet.  Plus I did not want to overshadow the freshness of the rhubarb.  If you want to go really tart forgo the berries completely and just double the rhubarb. Gosh wouldn't that be a tart glass of euphoria…. Okay who has some rhubarb they can spare?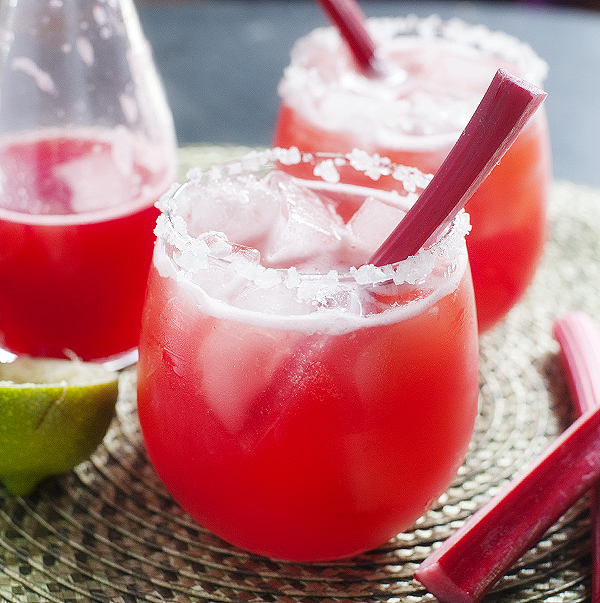 Sure you can pull out the good ol' champagne and orange juice for Easter brunch this weekend. Or you could whip up a batch of these bad boys and declare yourself the queen (or king) of brunch. We will be guests ourselves for the next couple of days.  I will be arriving armed with a jar of syrup and bottle of tequila. (Best houseguest ever award goes to….)
Happy Easter everyone!
Cheers!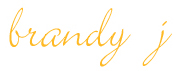 strawberry rhubarb margarita
Author:
recipe slightly adapted from Freutcake
Ingredients
For the syrup
1 cup chopped rhubarb
1 cup chopped strawberries
1 cup water
½ cup sugar (1 cup if you prefer sweeter)
For the drink
5oz rhubarb syrup
3oz silver tequila
2oz orange liquor (triple sec is fine)
4oz freshly squeezed lime juice
Sugar and sea salt for rimming glass
Rhubarb spears for garnish
Instructions
Syrup Combine fruit, sugar and water in saucepan and bring to a boil. Reduce and let simmer for 15 minutes. Remove from heat and strain juice into container through a fine sieve. Discard fruit. Allow juice to cool and store in airtight container in fridge for up to a week.
Drink Dip 2 glasses in a little syrup and rim with sugar/salt combo. Fill glasses with ice.
Fill shaker with ice and pour in syrup, tequila, lime juice, and orange liquor. Shake around 15 times.
Pour evenly into glasses and garnish with a rhubarb spear. Enjoy!
Notes
For large batches simple double (or triple) the recipe and mix ingredients together inside a pitcher. Serve with rimmed and ice filled glasses.