For some women that postpartum haze is gone by the time they go in for their follow up obgyn visit. There are even a few freaks of nature out there who could throw their skinniest of skinny jeans on and happily host a houseful of people within a week of childbirth. (They must have unicorn hormones and a uterus made out of memory foam.) Then there are people like me. My haze holds on for dear life the entire duration of nursing. It's not that I am depressed, or hate my life or want to kill my husband or anything. It's just this constant nagging oddness that doesn't go away until a few weeks after nursing is done. The good news is I buy pretty much nothing for myself except easy access nursing tops and discount sweatpants. The bad news is I have been wearing those tops and sweatpants for months – and you know what Eva Mendes says about those sweatpants…(Sorry, couldn't help myself.)
Being a few weeks post nursing I am so eager to buy something new for my closet that doesn't involve the words stretch or knit or "this can easily be lifted and a baby thrown under". To be honest with you though guys, I am not feeling this season. Like at all. Not even a little.
First off, I have no plans of going to Coachella which pretty much rules out half of what's being shown for spring. Second of all, what the hell is with the pants? It's like the designers got together and said "let's use every pant anyone has ever made fun of and make them the trend for 2015." Not cool.
Alright, maybe I am being cynical. Or maybe I am turning into a fuddy duddy. So be it. Regardless let's talk about these pants – starting with the palazzos.
Okay, at first glance I absolutely hated these. But as I was putting the below graphic together they started to grow on me. An easy breezy summer pant. Especially good for a beach vacation. My apologies to the palazzo…I guess you're not so bad.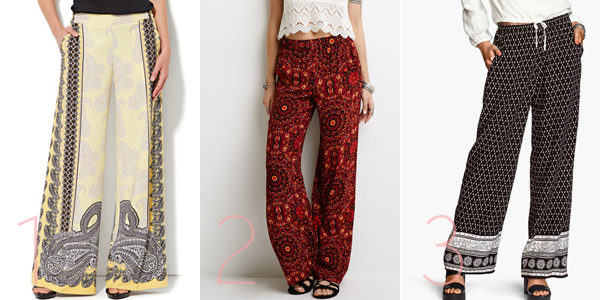 1New York & Company paisley palazzo/2Forever 21 kaleidoscope palazzo/3H&M wide leg pant
Next up, culottes. Yes, I said culottes. Here's the thing about culottes – they are super wide and cropped at the largest part of the calf. AKA, hard to wear. If you are 5'10", size 2 with itty bitty ankles culotte away! The rest of us really need to shop around before braving this trend. Again, these grew on me a little more after I looked into them, but I'm not saying they will find their way into my wardrobe.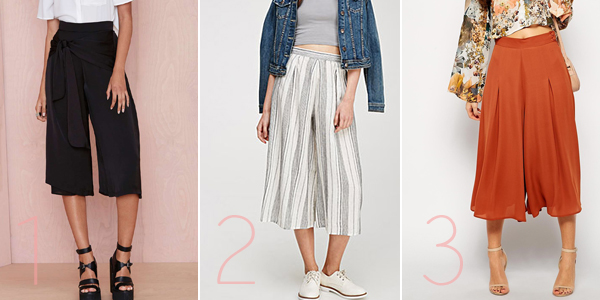 1Nasty Gal culottes/2Forever 21 linen culottes/3ASOS culottes
Oh but did I save the best for last. Ladies you can now purchase yourself some trendy mom jeans. Yep. Mom Jeans. They are literally called "mom jeans". Isn't that fabulous news? I mean who doesn't want an extra long flat booty and shapeless hips? I feel uncomfortable looking at these. In case you haven't guessed these did not grow on me, and never will. (#1 is a skinny, destroyed version – still doesn't do it for me.)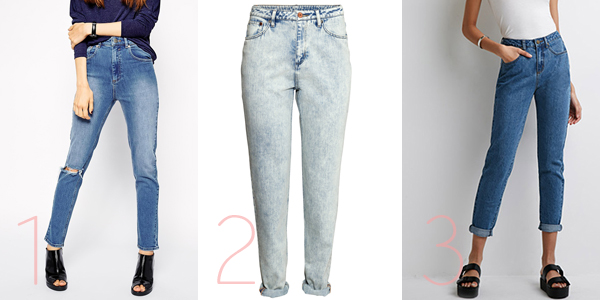 1ASOS slim mom jeans/2H&M mom jeans/3Forever 21 mom jeans
So ladies, I want to know what you think about this season of pants. (And who's rocking the mom jeans?)
xo,