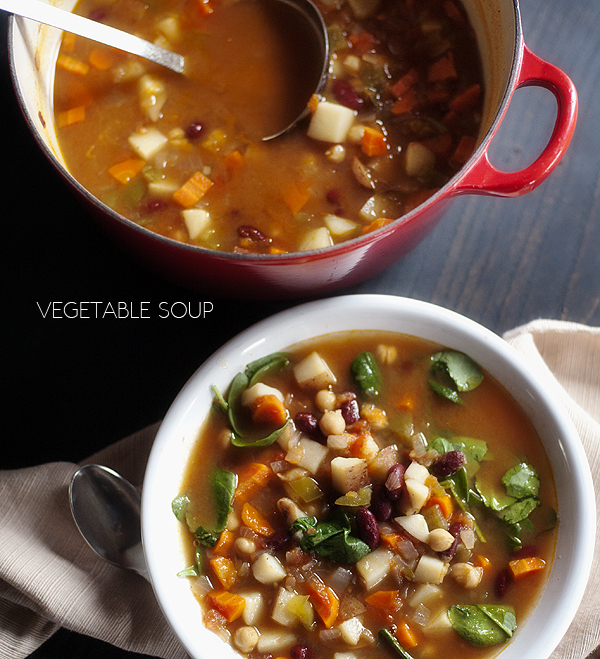 If the incredibly dreary weather we are having today does not scream for soup I have no idea what does.  Cold wet weekdays like these can certainly put a drag on your mood.  Losing yourself in a warm bowl of goodness is one way to look on the bright side of things.  After all, no one in Florida is sitting by their pool in 80 degree weather enjoying themselves some hot and steamy soup.  How unfortunate for them.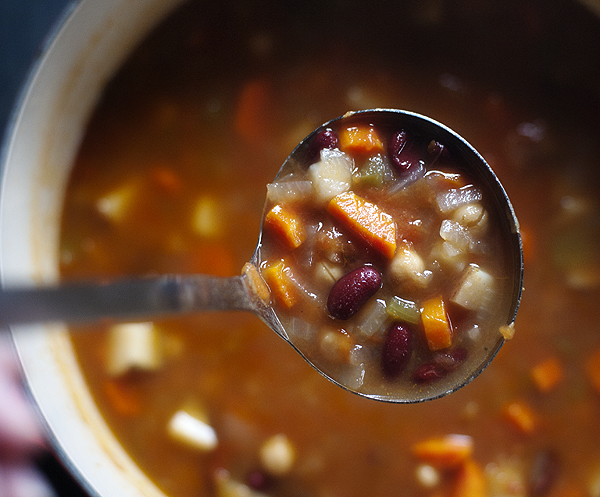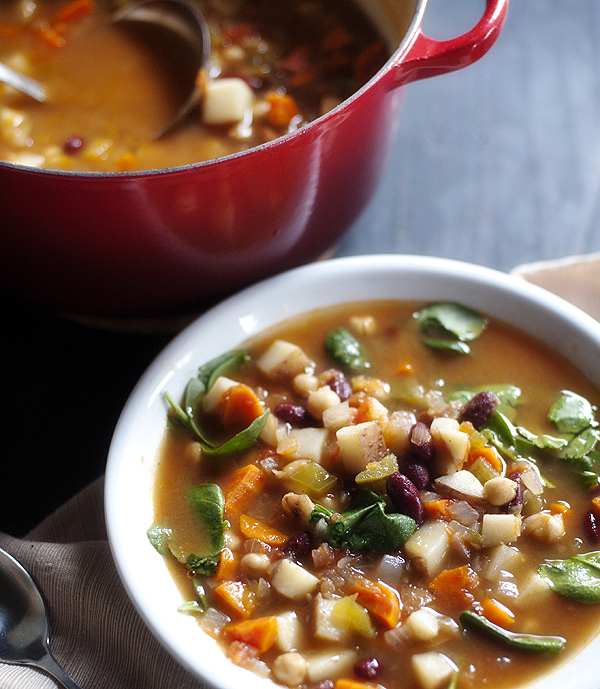 Other than the chopping this soup is about as low maintenance as they come.  And it's vegetable soup which means there are no rules when it comes to ingredients.  Throw in any veggie that you have on hand and sure enough, you will always end up with vegetable soup.  The ingredients I used are pretty much my go to and things that we almost always have.  If you want to make this extra special (here comes a tip I have said before but it's worth repeating) throw in the rind of your depleted parmesan.  It will give the broth a hint of nuttiness that no one will be able to put their finger on yet they know there is something sneaky and amazing going on in their bowl.  (Discard it before you serve as to not spoil the surprise.)
The spinach at the end is completely optional.  I for one am not a huge fan of a cold salad this time of year.  I want comfort and warmth – so my greens typically end up in my soup.  Spinach tastes and looks much better if you add it in the individual bowls upon serving as opposed to the pot.  If it sits in the warm liquid for too long all of it's color will vanish and the texture will turn to slime.  Not pleasant.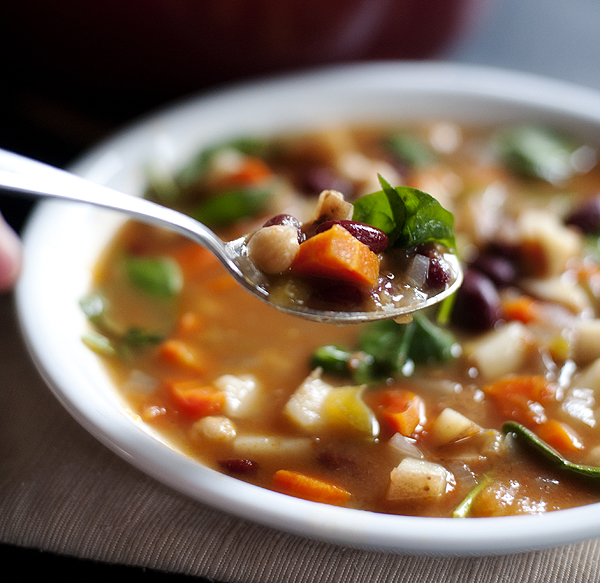 We are being told to brace ourselves for an even worse winter than last.  Fabulous.  At least we have soup (our sanity on the other hand is yet to be determined).
Enjoy!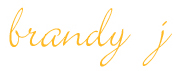 vegetable soup
Ingredients
2 tablespoons of olive oil
1 medium onion chopped
3 medium red potatoes diced (skin left on)
2 celery stalks chopped
2 carrots chopped
1 bay leaf
1½ tsp Old Bay Seasoning
1 can dark red kidney beans (drained and rinsed)
1 can garbanzo beans (drained and rinsed)
4½ cups vegetable (or chicken) broth. (can use a combo of broth and water)
1 14.5oz can diced tomatoes
salt and pepper to taste
splash of worcestershire sauce
splash of hot sauce
Fresh Spinach
Instructions
Heat olive oil in large pot over medium high heat. Add onion, potatoes, celery, carrots, bay leaf and Old Bay. Stir and cover for 5 to 8 minutes, stirring occasionally.
Add beans, broth and tomatoes and bring to a simmer. Add salt and pepper to taste. Add desired amount of worcestershire sauce and hot sauce. Simmer for 10 minutes or until vegetables are tender. Discard bay leaf.
Place healthy handful of spinach in bowl. Ladle soup on top and enjoy!