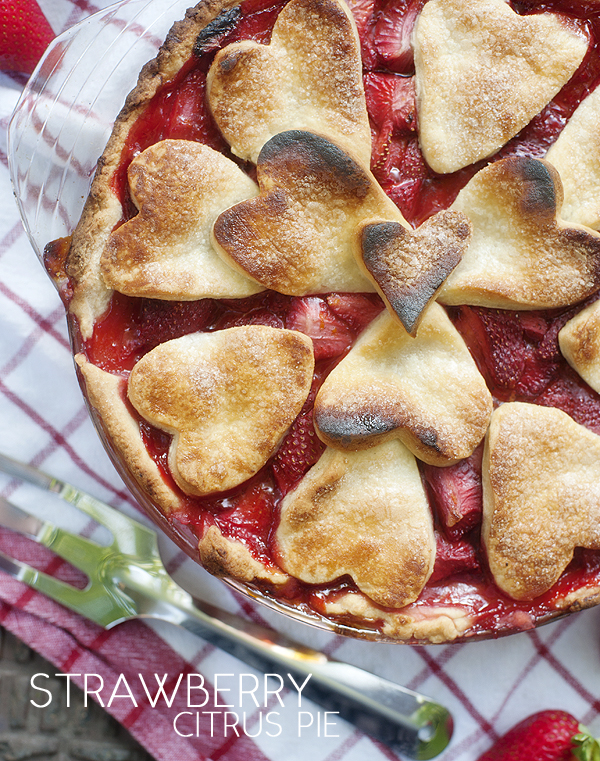 A few weeks back I posted about gathering around the table, and sharing meals with those we love more often.  The last few weeks have been filled with just that for us, and what a better time than when summer is breaking through, filling our days (and our backyards) with sunshine!  For Father's Day we sat around a card table under the trees, and enjoyed a really yummy meal, honoring our favorite guys with their favorite foods.  Pineapple pulled pork, brie stuffed mushrooms, caprese salad and this yummy strawberry citrus pie.  Our bellies and our hearts were full!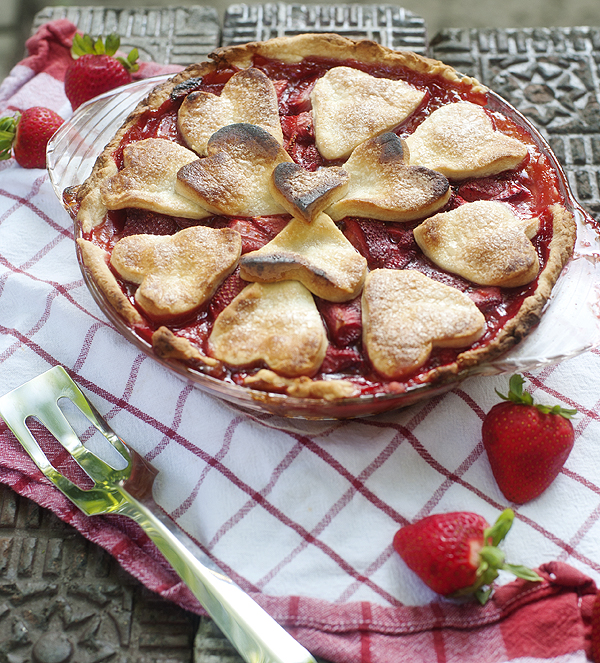 This pie has a unique taste- it is truly a strawberry pie to knock the socks off all other strawberry pies.  The unexpected zing of the orange zest makes it taste far more complex than it really is, and definately feels a bit more "summer" than a strawberry pie you would serve for Thanksgiving.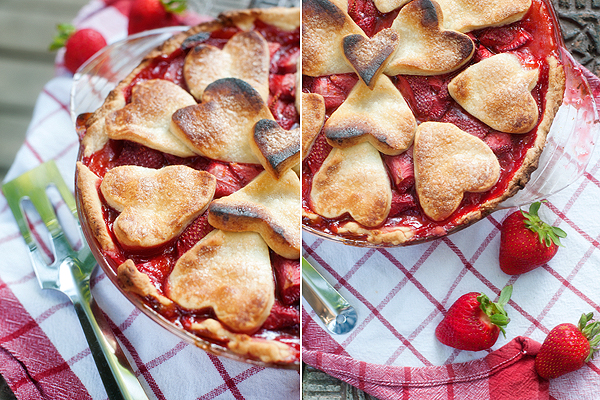 My crust could have been prettier, but 1. Adelynn insisted on doing most of the rolling out, and 2. as long as my crust tastes yummy I couldn't care less how ugly it is.  (Sorry if you are cringing at my ugly crust!)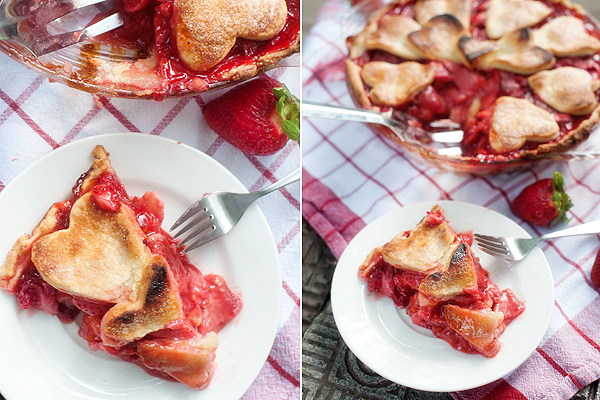 strawberry citrus pie
Ingredients
Crust:
2½ cups all purpose flour
1 tsp salt
1 tbsp sugar
2 sticks cold butter, cut into chunks
¼ cup ice water
Filling:
3 lb strawberries, chopped
¾ cup sugar, plus 2 tbsp separated, and another 2 tbsp separated
½ cup cornstarch
2 tbsp orange juice
zest of one medium sized orange (about 1 tbsp, but dont worry about measuring here!)
1 vanilla bean, seeds scraped
2 tbsp heavy cream
Instructions
For your crust:
Pulse 2 cups of flour, sugar and salt in a food processor, or whisk together by hand. Add butter, and continue pulsing until large crumbles appear. Add remaining ½ cup flour, and ¼ cup ice water, and pulse until a ball of dough forms. (Do not overwork the dough! If you are making by hand use a pastry cutter to cut in butter and form dough.)
Split dough in two, and wrap discs to be refridgerated for at least an hour.
For the filling:
Place 2 tbsp sugar in a small bowl. Add orange zest and mix to combine. Next, using a sharp knife split open the vanilla bean, and scrape the inside of the bean placing the seeds into your sugar/zest bowl. The seeds will be sticky, so use your fingers to really mix them into the sugar and separate the seeds so that they are not clumpy. Set aside.
In a large bowl, combine strawberries, cornstarch, sugar, and orange juice. Add the sugar that has the zest and seeds in it and mix well.
Line the bottom of your oven with foil to catch the juice that boils over while your pie bakes, and then preheat your oven to 425F. To prepare your pie, roll out one disc of dough to fit your pie pan. Fill with strawberry mixture, and then roll out your second disc of dough. We chose to use a cookie cutter to make hearts for the top, but you can top your pie however you like. Be sure to leave a few holes for ventilation.
Brush the top of the crust with heavy cream and sprinkle with the remaining 2 tbsp of sugar. Bake for about 50 minutes, until crust is lightly browned.
Serve warm!
For the crust, I used the recipe from The Pioneer Woman: Food From My Frontier.  The pie recipe was adapted from Saveur.