It's that time of year when we can no longer hide behind tights and pants.  When skipping a shave is not an option.  It's time to find out who worked out over the cold months and who well, did not (guilty).  Those legs are making their bare 2014 debut ladies.  Are you ready?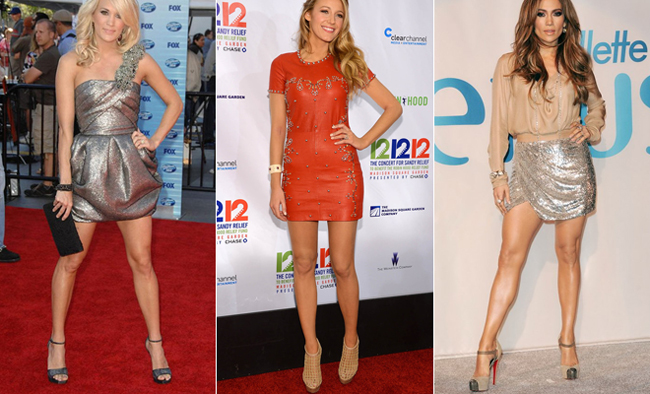 While we may not all be blessed with Carrie, Blake and J Lo legs there are some simple tools and tips that can help us make the most of what we've got:
Prepare your skin – always shave at the end of a warm shower so the skin is at it's sofest.  Also better to shave at night as opposed to first thing in the morning when skin is at it's puffiest.
Shave with the grain – it can be so tempting to go against the natural growth direction of your hair.  Shaving with the grain however prevents the unwanted bumps and redness from stubborn ingrown hair.
Exfoliate, exfoliate, exfoliate – removing dead cells refreshes your skin right before shaving.  Skin will have more of a glowing effect as opposed to when you just cleanse the skin.  (It's so easy to DIY your own exfoliate, like our coconut brown sugar body scrub.)
Here are some of my favorite products for shaving and making those legs look their best: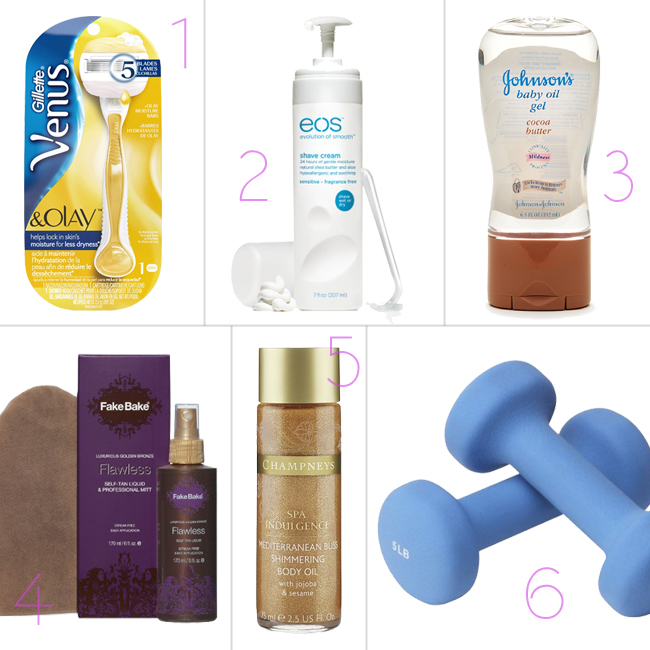 1Gillette Venus & Olay Razor – if you are shaving with a single blade razor please stop immediately.  This razor has five blades for a close shave and contains extra moisturizer for softness. 2eos Ultra Moisturizing Shave Cream – a paraben-free and phthalate free cream that is dermatologist approved.  I especially love the fragrance free version because let's face it, we put far too much perfumed crap on our skin. 3Johnson's Baby Oil Gel – Cocoa Butter – best used immediately after shower this gel leaves the skin so incredibly soft. 4Fake Bake Flawless – Shan and I are still using and obsessed with this self tanning wonder.  Used one to two times per week this easy to apply product will take those legs from blinding white to just vacationed in Rio bronze.  5Champneys Mediterranean Bliss Body Oil – if you prefer a little shimmer this oil is made for you.  A celebrity favorite because of it's "just visited the spa" fragrance and effect. 65 lb weights – if you truly want to make the most of what you've got then you will have to get off your booty and do some squats.  40 to 50 a day will help those legs tone up (not to mention firm the bottom).  For serious results try Jillian Michaels Killer Buns and Thighs.  (Call me crazy but I miss her annoying antics and can't wait for my green light to exercise post baby.)
Whether it's an a-line party dress or booty shorts you're daring to wear hopefully these tips will have you feeling a little more confidant about your gams.