Ever since we dropped the bad habit of sunbathing and visiting tanning salons, Shan and I have been on the never ending search for the best self tanner.  For me this journey started many years ago and has been nothing but a struggle with every brand I tried.  If I managed to somehow miraculously spread the color evenly I would then have to walk around in my birthday suit for at least 20 minutes before putting clothes on (which 99% of the time still rubbed off no matter how long I ran around naked).  The color was always just a little bit off as well, resembling an Oompa Loompa relative more than my actual tan color.  And then there was the smell, what is with the smell?  Some are reminiscent of kitty litter mixed with suntan lotion, no good.  Last but not least is it never lasted.  Rubbing off in some places before others – I had odd skin discoloration before it all came off.  Obviously self tanners and I have had a bad relationship until now.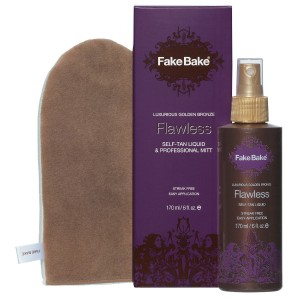 I want to hug Guest Jane Vicki (and her BFF Lindsay) for casually mentioning how she loved Fake Bake Flawless.  Before finishing her thought she ran into her bathroom and reappeared with a spray bottle and mitt.  Right before our eyes she began applying to her leg. All I could think was "Now she's going to have to get naked, rub it all over and sit around for 30 minutes.  What is she doing?".  Much to my surprise she didn't have to get naked, instead she had instant beautiful color on her leg that looked natural and even.  It was truly remarkable.  Shan and I ordered ours that very day and after a couple of weeks we are Fake Bake believers.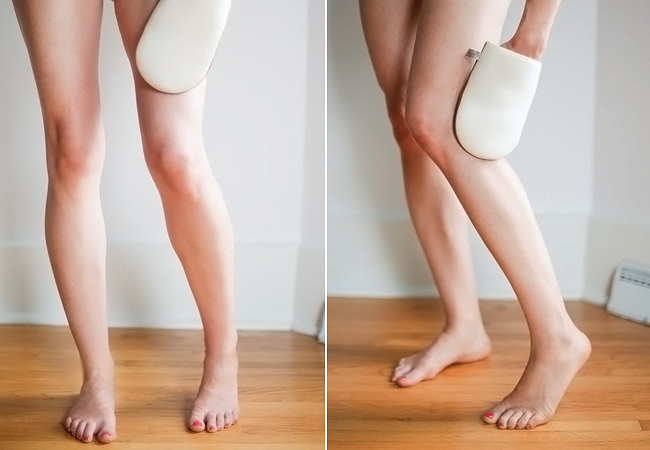 The process is really quite simple (above images show technique, product was already distributed evenly on all parts of skin).  Spray on included mitt, rub into exfoliated skin in a circular motion and reapply every day until you achieve desired color.  Only once a week after you are the perfect tan.  It stays on through showers, workouts and dips in the pool.  The smell is wonderful and has thus far not rubbed off in places or on articles of clothing.  Application is by far the simplest I have ever experienced as well.  Bending knees and elbows while applying and being mindful on hands and feet are the only "rules".  The color is instant so you can see where you are applying, a huge improvement from the "wait and see" lotions.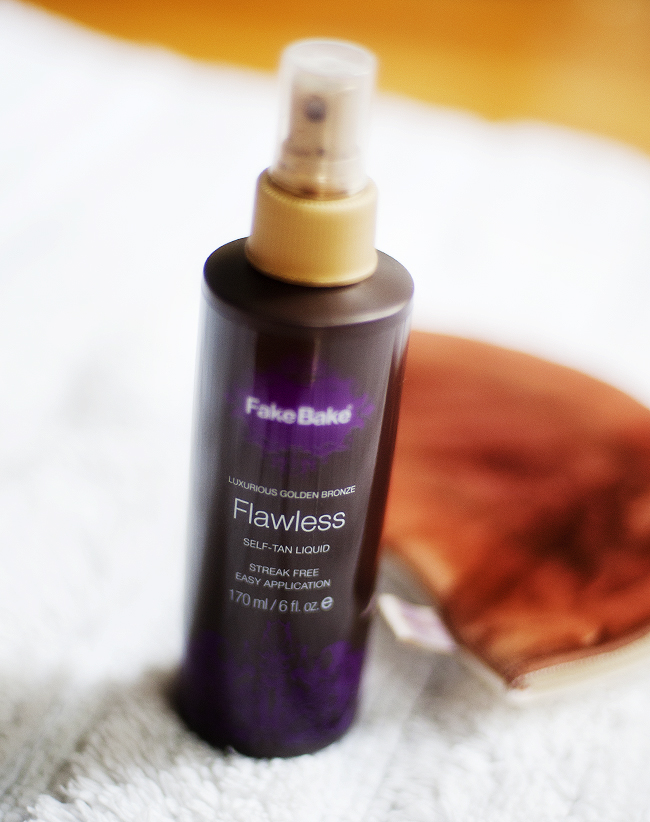 Thank you Vicki and thank you Fake Bake Flawless for finally giving us that glorious sun kissed skin without the actual sun.  We know it's only been a couple of weeks but so far we are completely satisfied.  Anyone out there using Fake Bake or another self tanner you can't stop talking about?  We would love to hear about your experience!
Happy safe tanning…