Blonde, blonde, blonde.  It is all the rage right now, especially for brave brunettes who have always wanted to take a walk on the lighter side.  I recently infused some lighter tones into my hair and left the salon feeling absolutely fabulous.  A week or so later however there was a brassiness creeping into my otherwise perfect ashy tones.  Not having the time or funds to frequent the salon every 2 weeks for a tone, I decided to research what could be done at home.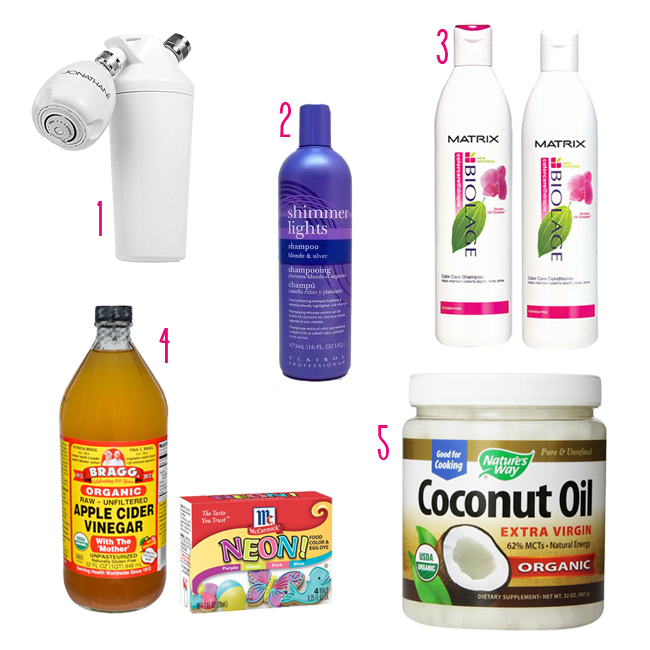 1 Shower Filter – admittedly I have yet to make the investment in one of these but it is quite tempting, especially if it saves precious salon color.  This takes out the chlorine, synthetic chemicals and heavy metals, replacing them with healthy, pH-balanced potassium ions.  The iron found in water specifically attacks blonde strands leaving them more of a brass tone.  A purification filter will banish the brass and bonus, it's great for skin as well!  2 Violet Toned Shampoo – when I asked my fabulous stylist Alex how to keep the brass out she suggested Shimmer Lights shampoo by Clairol Professional.  Having just purchased this item I can only attest to one use.  It definitely toned down some of the brassiness but it is (as she warned) very drying so spare usage is advised.  There is also a smell that reminds me of Zest bar soap, which may be offensive or not depending on who you are.  All that said I will continue to use the product on an every other shampoo basis (I wash my hair every 3 days in the winter).  3 Color Protection Shampoo and Conditioner – you paid for a professional color, only makes sense to protect it.  Invest in good color protection products to keep those locks safe in between salon visits.  4 DIY Home Toner Rinse – I was feeling daring and decided to try this simple at home toner made with apple cider vinegar and food coloring (yes I said food coloring).  I used more of a blue/green mix than the violet suggested.  After trying this twice my hair was a little less brassy and a lot more shiny (due to the vinegar).  I URGE you to do a test strand if you are going to give this a go.  Many of the reviews complained of their hair having a pink tone to it.  For me though it was a great little trick that I am sure will be put into use again and again.  5 Coconut Oil – no, coconut oil does not attack brassiness per say but it is a lifesaver when it comes to the inevitable dry hair that dyeing and toning will leave you.  Simply rub a fair amount into your hair (focusing on the ends) the night before you plan to wash.  Sleep with a cap to protect pillow and allow the oil to do it's thing overnight.  Wash like normal the next day.
Hopefully these tips will help you fight your war on brassiness.  I am hoping I become skilled enough to tackle it completely and maybe (just maybe) go even lighter.