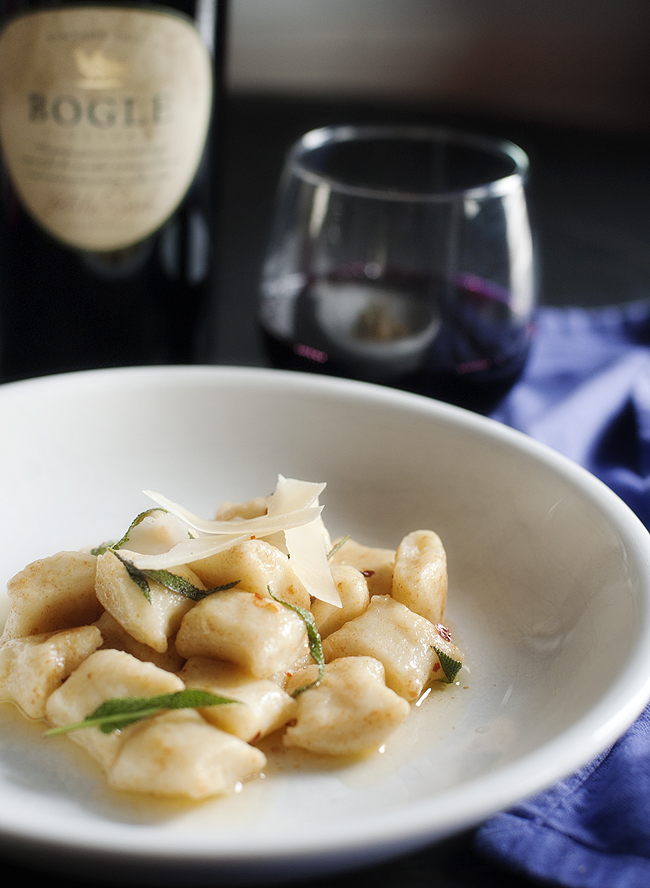 Gnocchi has been on my "learn to make" list for as long as I can remember.  Now that I have had a go at it all I can ask myself is why on earth I have not been making this for years?  This was a happy place for me.  The something missing in my bag of stress relieving tools.  Welcome to my life gnocchi, we will be visiting often.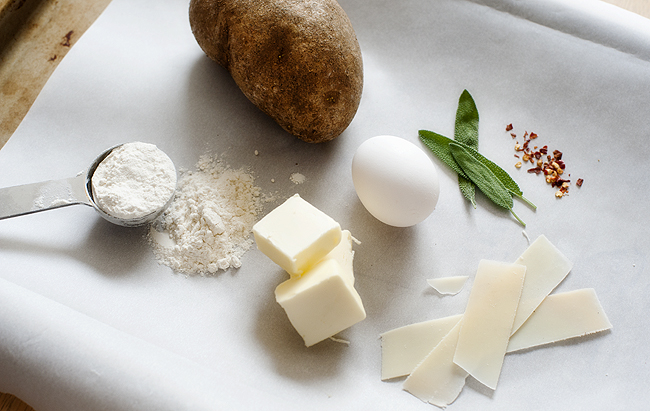 This dish has to be one of the most unassuming yet divine things I have created.  Take a look at those ingredients.  Nothing crazy, nothing hard to find.  Looks like a winner already to me.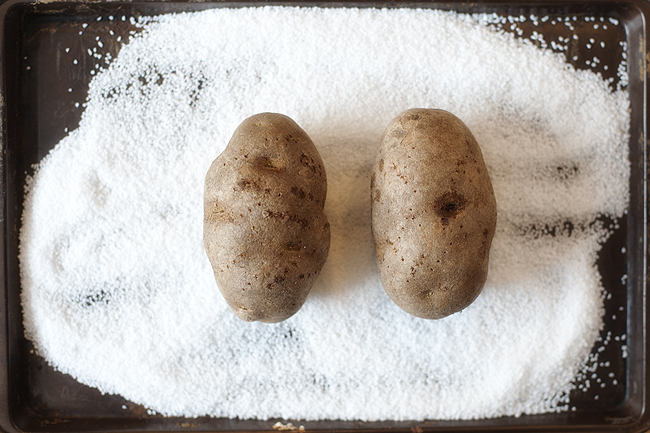 I have to admit I am a virgin at baking my pricked potatoes on a bed of kosher salt.  The salt draws out the moisture to ensure these spuds are nice and dry for light and fluffy dough making.  Don't skip this step.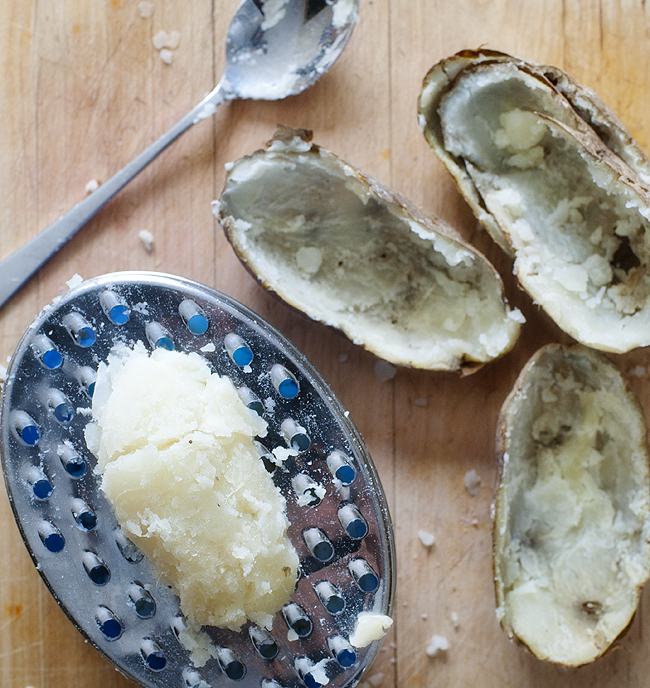 The recipe calls for sending your potatoes through a ricer or foodmill.  I own neither and really that's fine because I do not need more things in my kitchen.  Knowing there had to be an alternative I did a little research a voilà – cheese grater works!  And it did, fabulously.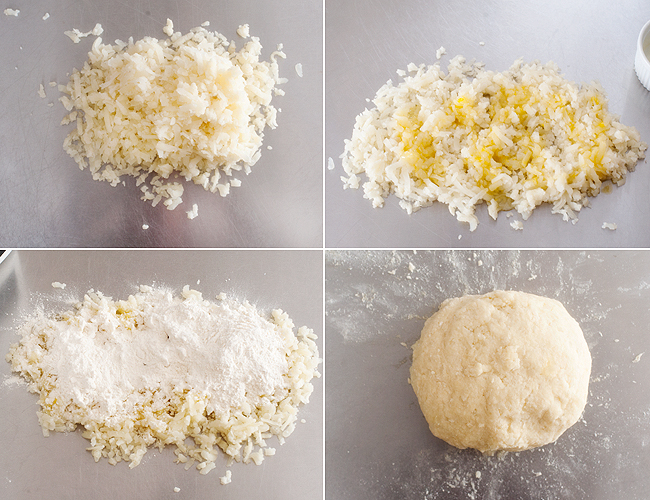 There are quite a few steps in gnocchi making but I promise they are all simple (go back and look at those ingredients).  Like most doughs you do not want to overwork it or add too much flour.  As soon as a smooth dough forms you need to stop.  Don't knead one or two more times for safe measure.  Your dough will become dense and the gnocchi will not be the perfect little pillows of potato pasta they should be.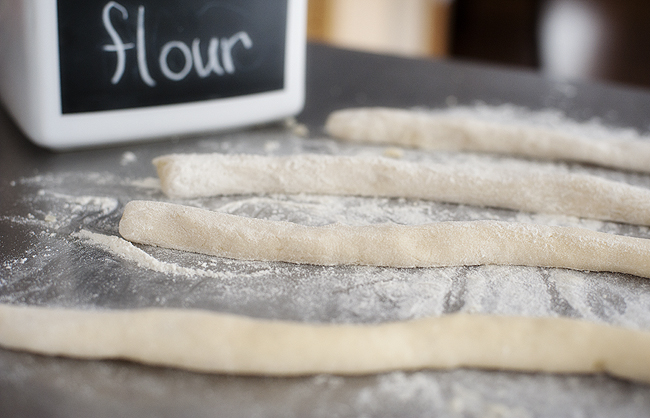 Dough snakes – why didn't anyone ever tell me how fun it is to make dough snakes?!  Let's be honest, I should have known.  This is the cooking equivalent to Playdo snakes after all.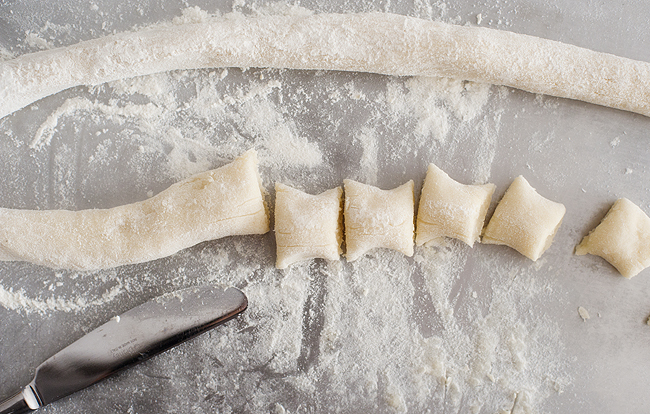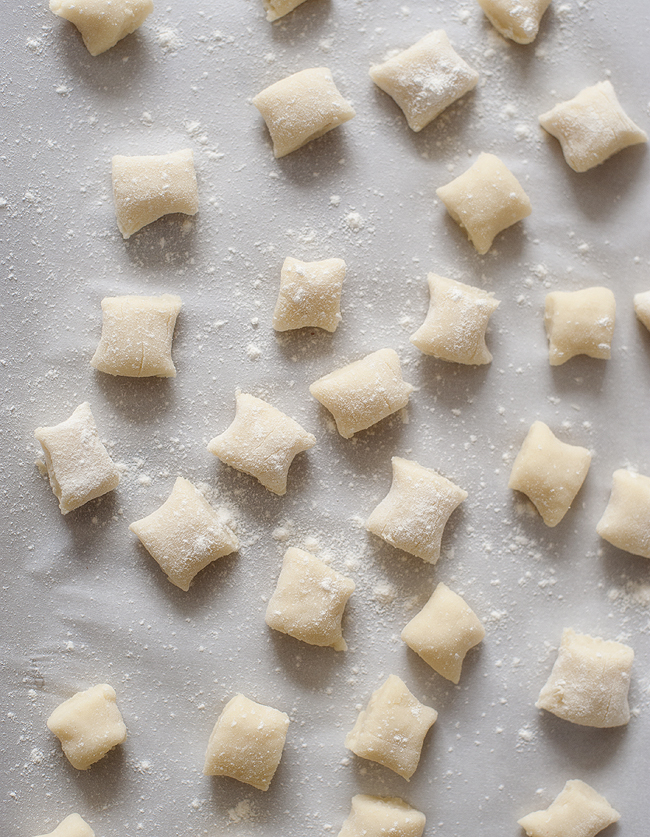 There's those pillows.  By this point you will be feeling giddy and anxious.  It's a good thing, I promise.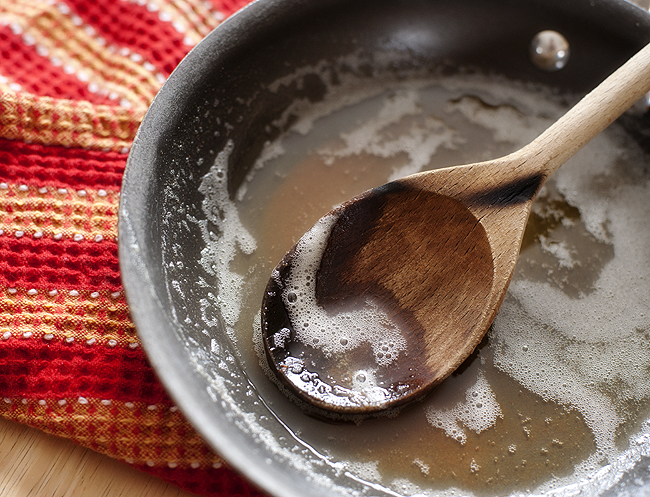 As if making gnocchi wasn't enough there is brown butter to savor.  That smell, just as it turns nutty – heaven.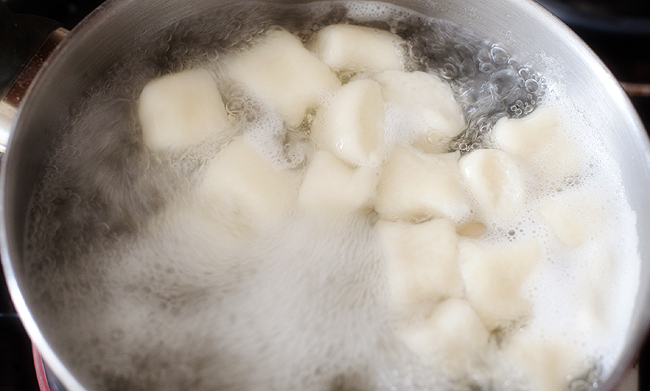 Throwing my gnocchi in the boiling water had me a little nervous.  What if they don't float was the biggest concern.  They did, and I 1-Mississippi'ed, 2-Mississippi'ed my way to 30.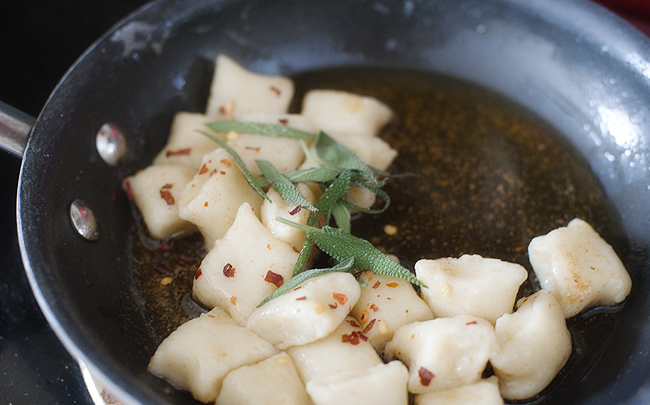 Sage and brown butter sauce is a simple recipe I have encountered many times yet for whatever reason had not tried till making this gnocchi.  It's the perfect way to coat the gnocchi without taking away the simplicity of the dish.  Sometimes less is more, the Italians do that best with their cooking and we should thank them everyday for that.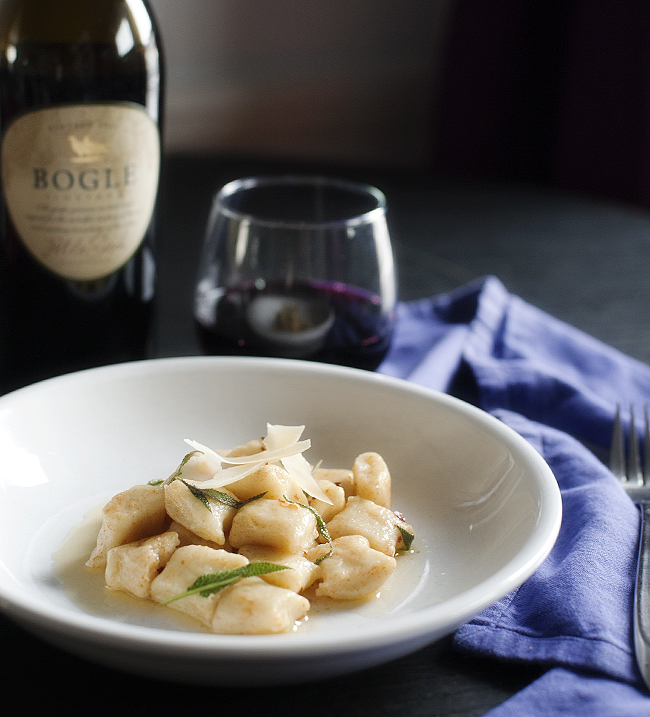 Don't you want to dive in?  With the exception that I could not drink the wine this little bowl of pasta is an ideal meal in my book.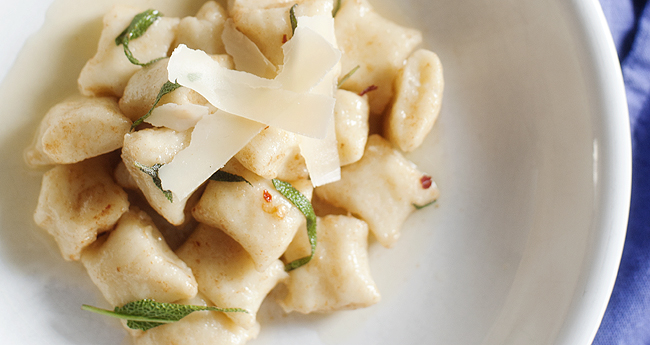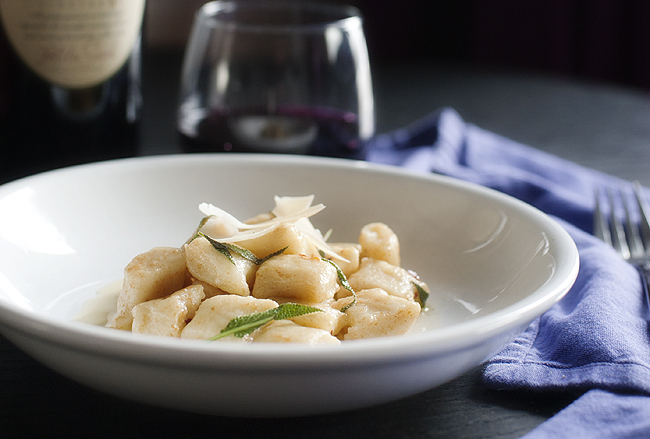 Valentine's day is looming which means romance is in the air.  This was specifically made with a dinner for two in mind.  Start off with a caprese salad of sliced fresh mozzerella, tomatoes and fresh basil (drizzle with olive oil and balsamic vinegar) and you have a satisfying yet not too heavy meal to romance your main squeeze with.  What about dessert you ask?  No worries, I've got you covered.  Stay tuned later today for something just as simple and even a little sexy for the final act of your feast.
Now go make some gnocchi!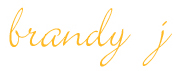 gnocchi for two
Ingredients
Kosher salt
2 large russet potatoes (1½ to 1¾ pounds)
¾ cup plus ¼ cup all-purpose flour, plus more for dusting
1 large egg
For the sauce:
3 tablespoons salted butter
1 teaspoon red pepper flakes
3 sage leaves, thinly sliced
½ cup shaved and/or coarsely grated parmesan cheese
Instructions
Preheat the oven to 375 degrees F. Pour a mound of kosher salt onto a rimmed baking sheet. Prick the potatoes all over with a fork and nestle them in the salt; this prevents the potatoes from browning and draws out their moisture. Bake the potatoes until fork-tender, about 90 minutes. Let sit until just cool enough to handle (this is very important).
Halve the potatoes lengthwise and scoop the flesh into a potato ricer; discard the skin. Press the flesh through the ricer, foodmill or large slot cheese grater onto a floured counter or cutting board; let cool 3 to 4 minutes.
Spread out the potatoes slightly. Beat the egg with ½ teaspoon salt in a small bowl and drizzle over the potatoes.
Sprinkle the potato mixture with ¾ cup flour and knead until a smooth dough forms, adding up to ¼ cup more flour if the dough is sticky. Cover with a kitchen towel and let rest 10 minutes.
Lightly flour your surface. Divide the dough into 4 pieces and roll into "snakes," about ½ inch in diameter. Cut into ½-to-1-inch lengths with a butter knife; transfer to a parchment-lined baking sheet and lightly dust with flour.
Make the sauce: Melt the butter in a large skillet over high heat. Cook, stirring, until the butter develops brown flecks and smells nutty. Watch it closely to keep the butter solids from burning. Remove from the heat.
Bring a large pot of salted water to a boil. Add the gnocchi; wait until they float to the surface, then simmer 30 more seconds. (Taste one to make sure it's cooked through - should not taste raw potato or flour.) Return the brown butter to medium-low heat. Scoop the gnocchi from the pot with a spider or slotted spoon, transfer to the skillet and toss until some of the brown-butter flecks stick to the gnocchi. Add the red pepper flakes, sage and a few tablespoons of the gnocchi cooking water; toss again. Remove from the heat and add half of the cheese. Divide among bowls and top with the remaining cheese.
 recipe from Food Network