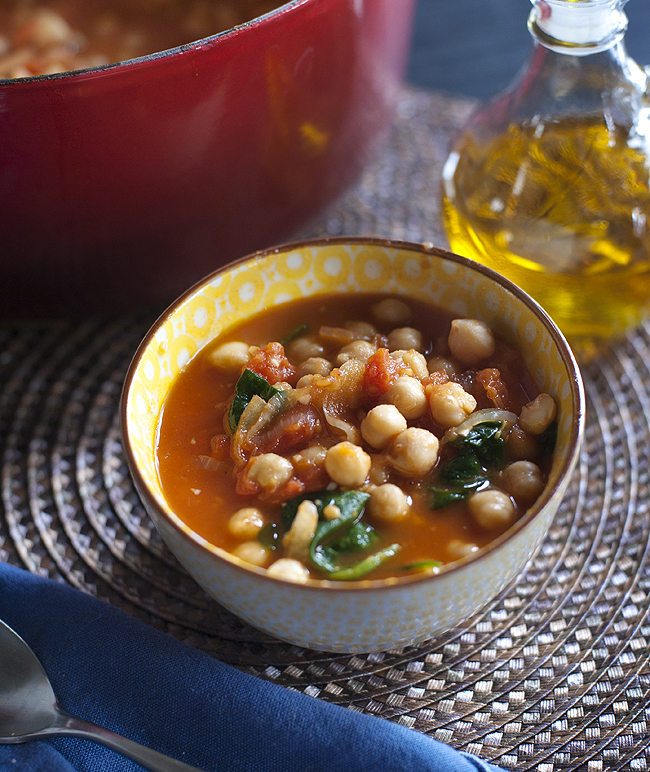 By now you've made your fall/winter go to soups several times.  All delicious and comforting and I am sure your family's favorites.  Come January though you may be looking for something a little different.  This would be your something different.  Several years ago I made this recipe during a soup rut.  The ginger and smoked paprika make the tomato broth dance on your taste buds.  While the chickpeas are buttery and satisfying.  There's extra bonus points here for being healthy and vegan as well.  I promise you will love this.  (Unless you do not like ginger, in that case look away and move on.)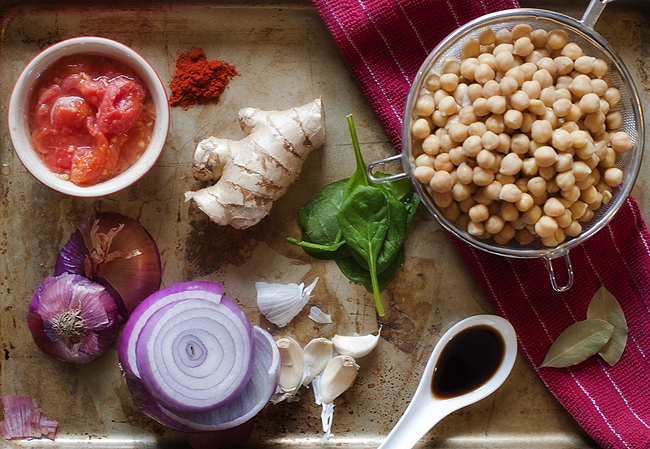 If you are not already storing big ugly pieces of ginger root in your freezer you should be.  And if you have yet to purchase smoked paprika you should immediately do that as well.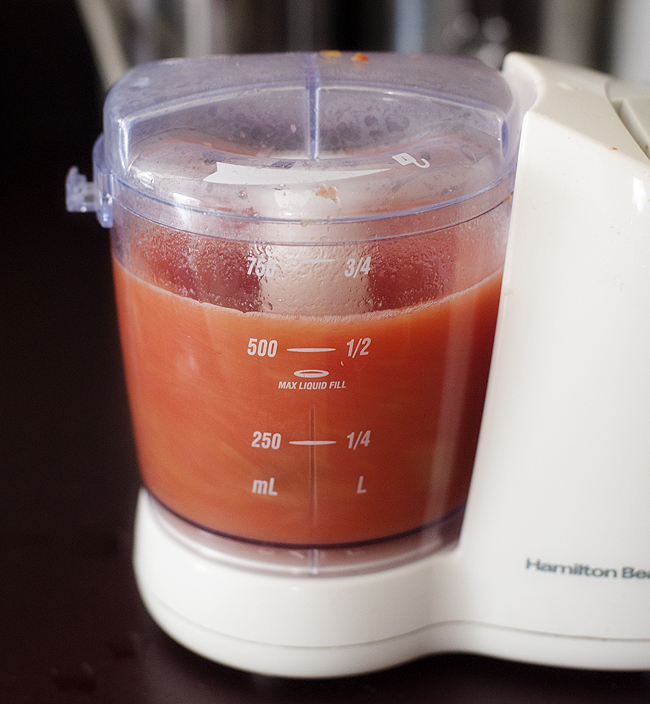 There is a little "fuss" in this recipe, hence the spinning mini food processor.  I swear it's worth it though.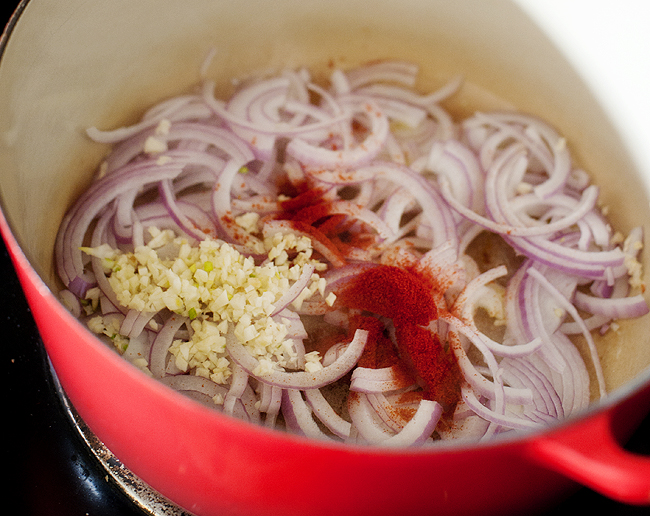 The original recipe has the onion and garlic thinly sliced.  I stuck with the sliced onions but went with a mince on the garlic.  While I love the taste of garlic I am not sure I trust my knife skills enough to a. not cut myself while thinly slicing and b. slice thin enough to avoid that giant chunk of garlic that may creep into an otherwise delectable bite.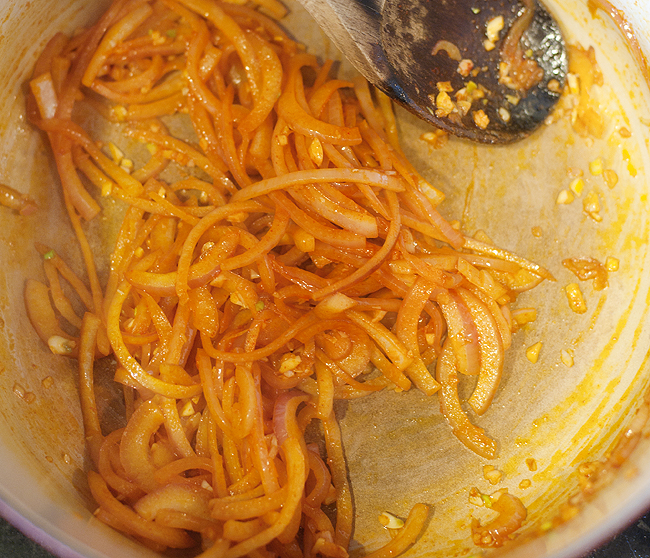 It is important to saute your paprika with the onions and garlic.  Equally important to keep the garlic from turning brown.  Golden is fine but brown means bitter which is not what garlic wants to taste like.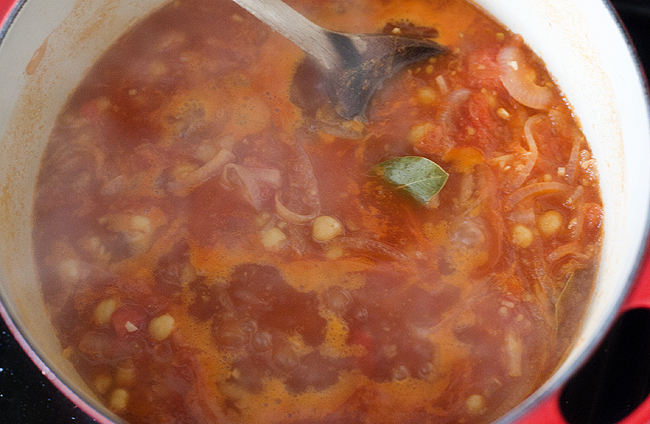 While simmering it is your choice how "stewy" you would like this to become.  This does thicken every minute that goes by.  Simply add more broth (1/2 cup at a time) if it has gotten too thick for your liking.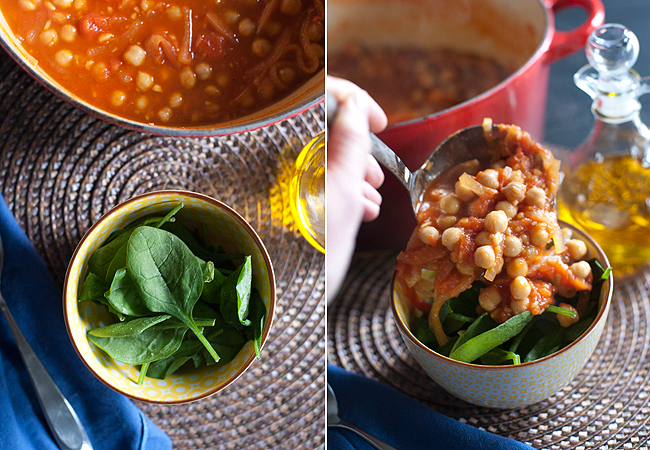 We all have our things with one of mine being discolored overcooked spinach – not a fan.  I prefer mine a bright happy green with a little bit of bite.  In almost all soups that involve whole fresh spinach I fill my bowl with the leafy vegetable first and then ladle the steaming hot soup over.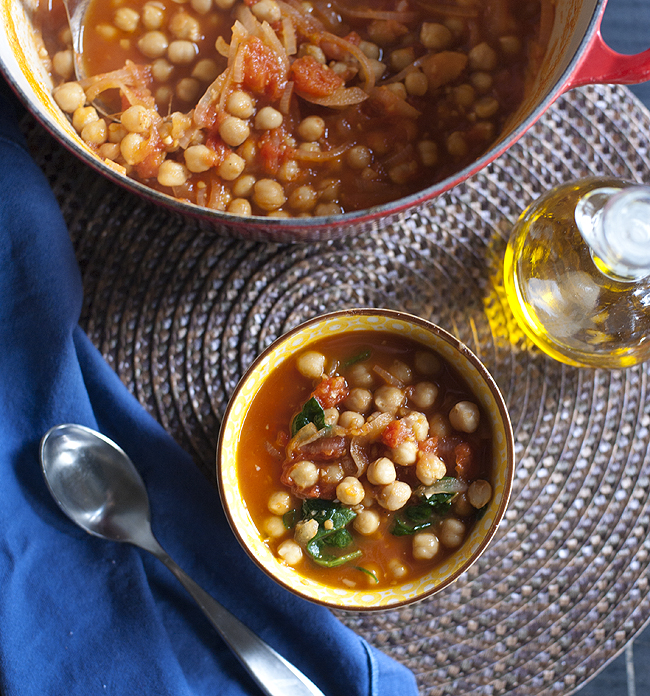 Gingery, smokey, buttery.  What's not to love?  Shake up your normal soup routine and give this a try.  It may even become a regular on the line up.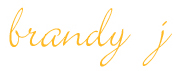 Spanish Chickpea and Spinach Stew with Ginger
Ingredients
28 oz of whole frozen (thawed) or canned tomatoes
1 1-inch knob ginger, peeled
¼ cup extra-virgin olive oil (plus more for serving)
1 medium onion, finely sliced
4 cloves garlic, minced
1 teaspoon sweet or hot smoked paprika
1½ cups vegetable broth (may use chicken stock but this does change the vegan status)
2 (14-ounce) cans garbanzo beans (chickpeas) drained and rinsed
2 bay leaves
2 teaspoons soy sauce
Kosher salt
12 ounces fresh spinach
Instructions
Drain tomatoes in a metal strainer set over a medium bowl. Transfer liquid and half of tomatoes to a blender along with ginger. Blend on high speed until completely pureed. Set aside. Roughly chop remaining peeled tomatoes and set aside separately.
Heat olive oil in a large pot over high heat until shimmering. Add onion, garlic, and paprika, and cook, stirring frequently, until softened and very slightly browned. Add tomato-ginger puree (it should immediately start simmering) and stir to combine.
Add broth, chopped tomatoes, garbanzo beans, bay leaves, and soy sauce, and bring to a boil over high heat. Reduce to a bare simmer and cook, stirring occasionally, until thickened into a thick stew, about 30 minutes total. Add more broth if it becomes too thick. Season to taste with kosher salt.
Place a handful of spinach into bowl and ladle hot soup on top. Drizzle with extra virgin olive oil if desired.
Nutrition Information
Serving size:
serves 2 with leftovers
recipe adapted from seriouseats.com