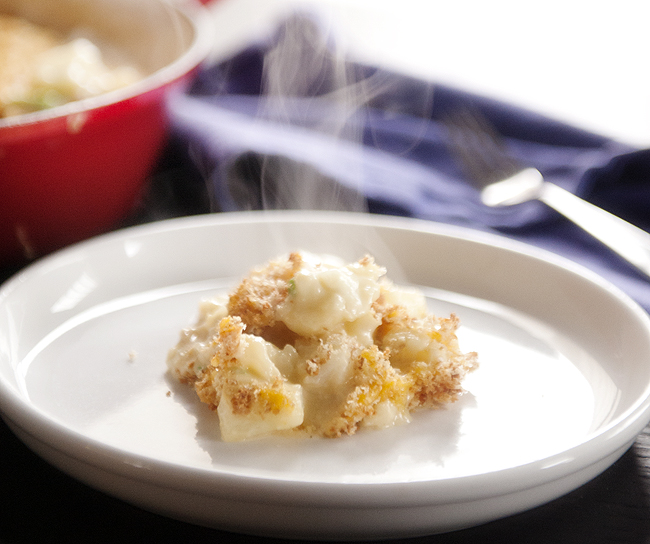 5 weeks ago I was told no more exercise. My response was "ok, I'll just run on the treadmill." This was greeted with an in sync "no" from OBGYN and husband. "Can I walk?" (Doctor squishes eyebrows and forehead in a way that says my version of walking is probably not normal or safe.) "Just please take it easy. Relax." And I thought she knew me.
Let's get this out of the way first. Absolutely without a doubt I would do anything for this unborn nugget (or avocado according to my pregnancy app). I still have to pinch myself just thinking that there is a little miracle he or she growing in there. Not being able to exercise is absolutely nothing I hold against baby or this pregnancy. This doesn't mean I don't miss it. And miss it I so terribly do. It was my release, scream in the pillow place. I looked forward to losing myself in the Pandora running station. Pushing myself to go faster and further than the last time. Sweating profusely while secretly loving and hating Jillian. It was all a rush and it all made me feel good. I didn't exercise while pregnant with Jettie and I swore this time around I would in hopes that post baby body would be so much easier to accept and recover from. Sitting here now I feel like a slug, way more than I ever did with the first pregnancy. It would be a lie if I said I wasn't terrified of falling in the deep hole of self disgust again come end of June. Possibly even worse this time around.
You would think enjoying being a fit person would have me at least eating fabulously despite the fact I can't exercise. Yeah, you would think that. An embarrassing amount of Starburst and dark chocolate have been my go to of late. Fruit cravings are in abundance much like the first time pregnancy. Unfortunately devouring 7 clementines in the blink of an eye probably isn't all that healthy (fairly certain I can feel my dentist cringing right now). I have to choke down a spinach smoothie, something I normally love, because it tastes different (and not like a cherry Starburst). I swear I have been consuming holiday calories since mid December. Something needs to be done. If not the 30lbs I gained my entire pregnancy with Jettie will greet me by week 20 with this one.
Several years ago my mom threw a spiral bound calendar recipe book in one of my Christmas presents. At the time I didn't think much of it, thought I would throw it in the cupboard of lost cookbooks. But as soon as the calendar turned January Sticky and I became interested in trying the Eating Well dishes. We tried a spinach potato soup and were pleasantly surprised. Next up a shrimp po' boy with cabbage – yum. Recipe after recipe was fantastic. Satisfying enough for the winter months yet light and dare I say healthy. This cauliflower gratin was another favorite. A way to eat a vegetable that leaves you feeling full and cozy. I don't feel bad about myself after eating this and everyone in the house loves it as well. The only person that has control over the way I feel is myself. This is my first step in a mission to feel better and simply enjoy being pregnant.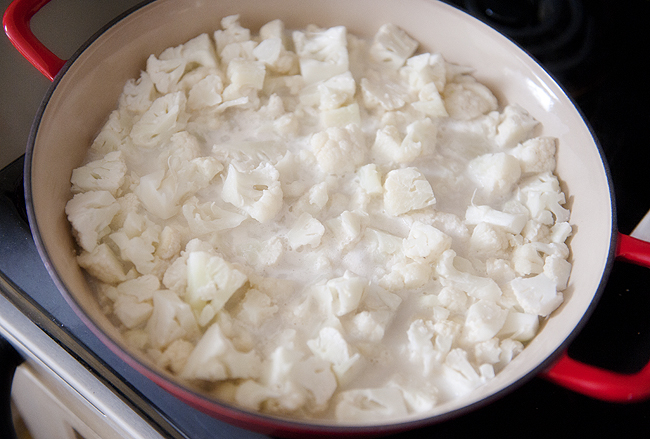 easy "lite" skillet cauliflower gratin
Ingredients
1 medium head cauliflower cut into 1-inch florets
2½ cups unsweetened almond milk or nonfat milk, (1/2 cup divided out)
½ teaspoon salt
1 cup dry breadcrumbs, preferably whole-wheat
1¼ cup shredded sharp Cheddar cheese, divided
1 teaspoon extra-virgin olive oil
3 tablespoons all-purpose flour
2 tablespoon chopped scallions
1½ teaspoon Dijon mustard
½ teaspoon pepper
Instructions
Position rack in upper third of oven; preheat broiler.
Bring cauliflower, 2 cups milk and salt to a boil in a large ovenproof skillet over medium-high heat. Reduce heat, cover and simmer until the cauliflower is tender, about 5 minutes.
Meanwhile, combine breadcrumbs, ½ cup cheese and oil in a small bowl. Whisk flour and the remaining ½ cup milk in another small bowl until smooth; stir the mixture into the pan and cook, stirring, until thickened, about 1 minute. Stir in the remaining ¾ cup cheese, chives, mustard and pepper. Sprinkle with the breadcrumb mixture. Broil until the top is crispy and beginning to brown, 1 to 2 minutes.
Notes
Also works well with sliced potatoes.
recipe adapted from Eating Well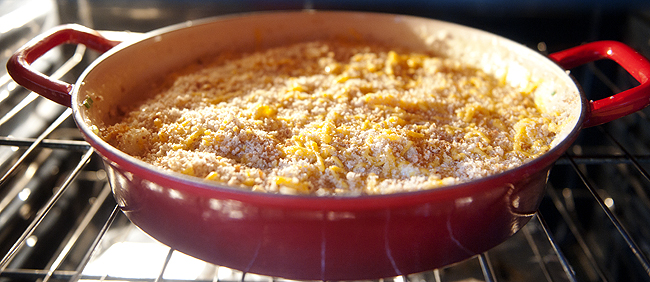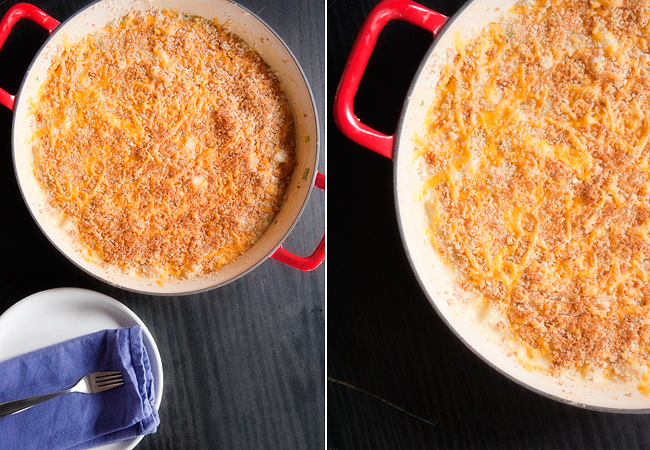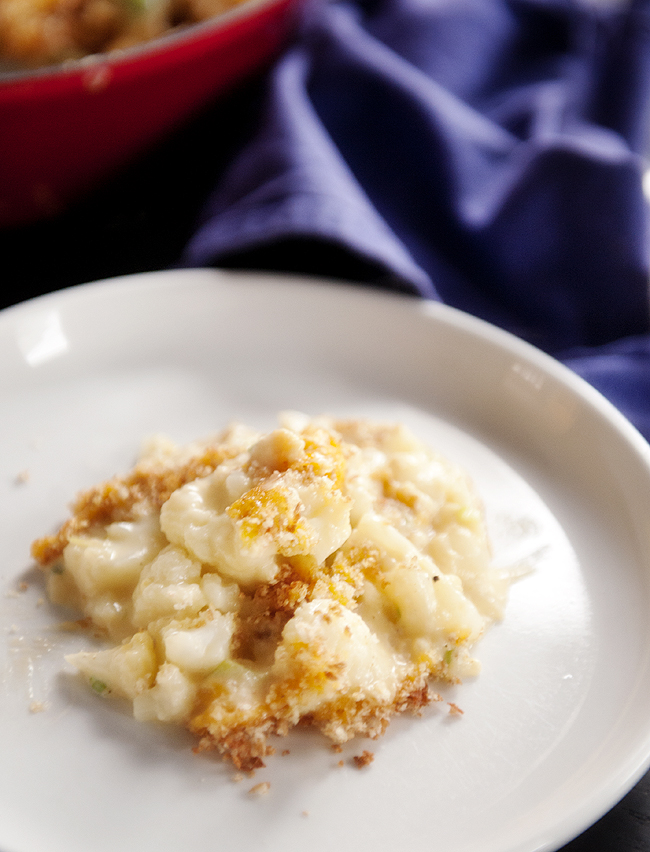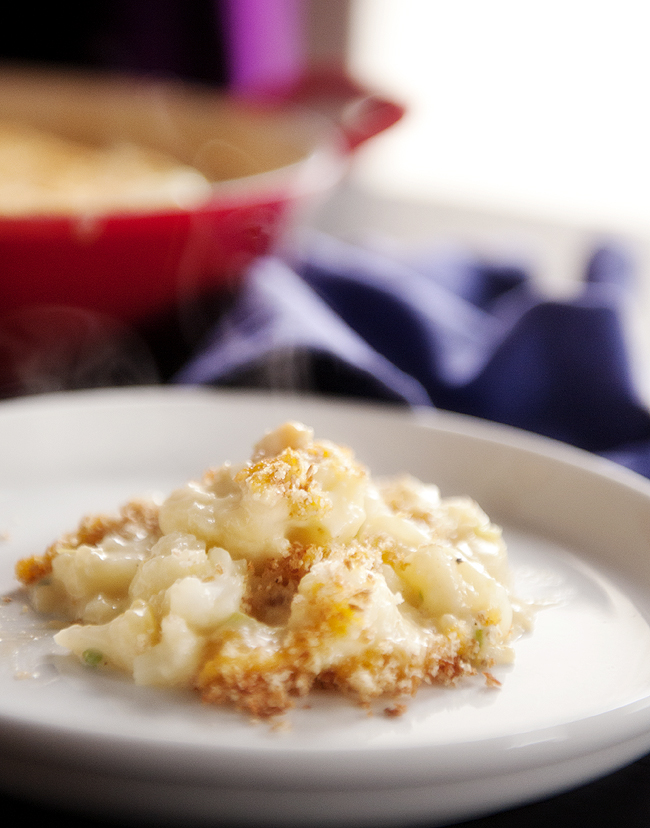 Bon appetit to good food and healthier eating. Of course this is not going to replace my candy craving but it does fill me up and help feel a little bit better about what me (and baby) are eating. Looking forward to smarter choices and the riddance of holiday slug eating. Better late than never.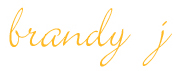 *update* I've ate 5 Starbursts since posting this.  3 strawberry, 1 cherry and 1 fruit punch.