This past weekend was Jettie's second birthday celebration, and I needed to whip her up something special.  With a fruit stand theme- these cookies could not have been more perfect.  I adapted the recipe just slightly, because if you have not figured out by now I am crazy about some browned butter- and I thought that it might put these right over the edge from good to incredible.  It did.  The plate was empty before long and I was wishing I had made a double batch.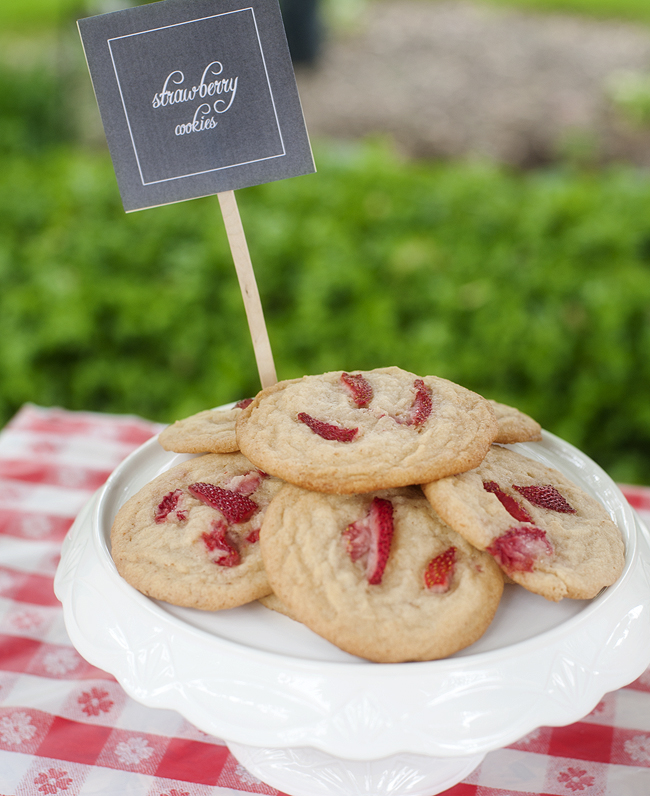 These cookies were sort of outside the box for me.  I make citrus cookies with zest and juice- but these are filled with actual strawberry chunks!  And no chips?! I wasn't sure what to expect, but couldn't have been more pleased with the results.  A new summer favorite for sure.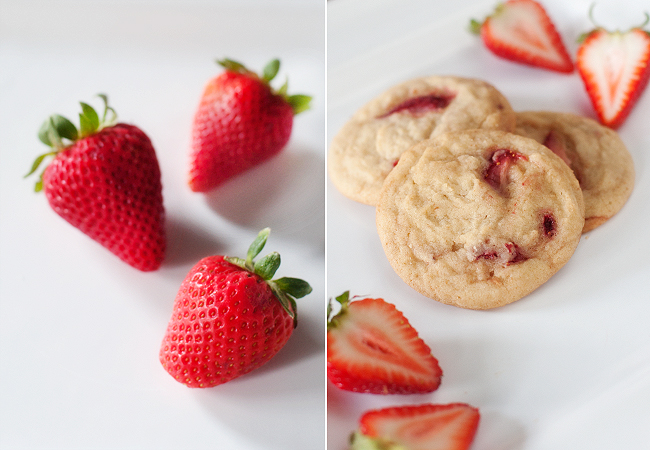 Strawberry Cookies
Ingredients
1½ sticks unsalted butter, browned and cooled to room temperature
½ cup brown sugar, packed
¼ cup + 2 tbsp white sugar
½ tsp vanilla
1 egg
1¼ cup all purpose flour
¼ tsp baking soda
½ tsp salt
9 oz strawberries
Instructions
Preheat oven to 350F, and line two baking sheets with parchment paper.
Hall and slice strawberries, blot dry with paper towels, and set aside.
In mixing bowl cream browned butter and sugars. Scrape down sides and then add egg and vanilla until well incorporated. In a separate bowl, combine all dry ingredients (flour, baking soda, salt) and whisk well to combine. Using a wooden or sturdy spoon, gently stir dry ingredients into the wet ingredients. Again, blot dry your strawberries to eliminate as much excess juice as possible, and then fold them into the batter.
Bake about 13 minutes, until cookies are golden and the center of the cookie does not appear to be wet.
adapted from Butter Baking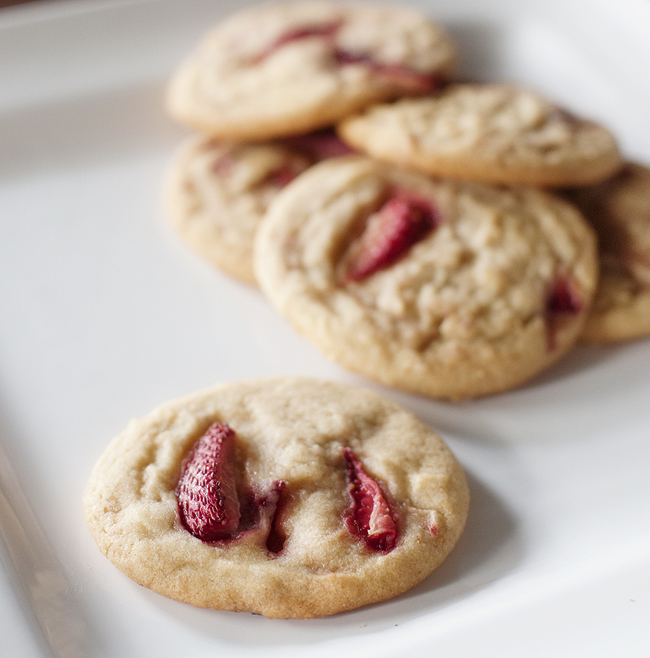 Because of the fresh fruit, these cookies are best the day they are made- they get a bit soggy on the second day.  The original recipe called for soaking the strawberries in sugar before baking, but I omitted this step the second time I made them for a few reasons.  One being that the strawberries I had on hand were very ripe and sweet on their own- and two I thought it added to the strawberries being too juicy.  If your strawberries are not as sweet-by all means give it a try!  They were yummy both ways!