Josh loves lemon bars.  I mean really, really loves them.  In our (nearly) four years together guess how many times I have made them for him? Zero.  I know, I'm evil.
He has even gone to the extreme measures of sneaking a box of Krusteaz Lemon Bar Mix into our shopping cart when I am not looking, knowing that I am offended by ANY "boxed mix" residing in our pantry.  (Did he really think I was going to pull it out one day and make them!?)  Poor guy.
Truth be told, the reason I had never made them is sort of ridiculous.  Nailing their texture terrifies me.  There.  I said it.  And you know what?  I'm not even sure that the texture of these came out correct, but I don't care.  They were insanely yummy.  So good that I promise another four years will not go by before I make them again.  And again.  And again.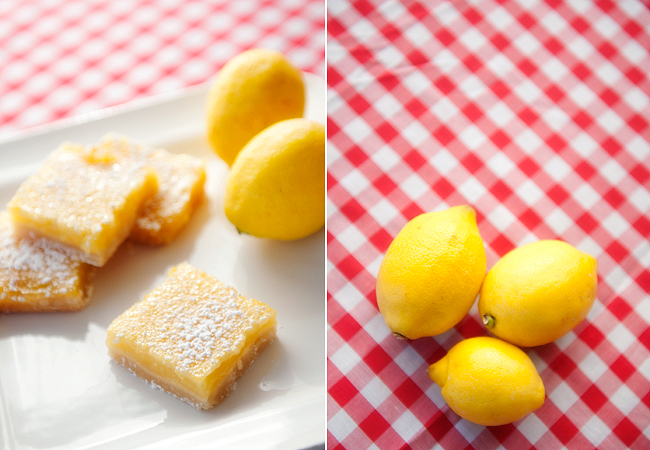 Lemon Bars
Adapted from Averie @ Averie Cooks
Ingredients:
For the crust:

1/2 cup unsalted butter (1 stick), very soft 1 cup all-purpose flour 1/4 heaping cup confectioners' sugar 1 tablespoon cornstarch pinch salt, optional and to taste
For the filling:
2 large eggs 1 cup granulated sugar 1/2 cup lemon juice (about 2 juicy medium lemons) 2 tablespoons half-and-half (whole milk or cream are okay too) 1/2 teaspoon vanilla extract, optional and to taste 2 tablespoons all-purpose flour 2 teaspoons lemon zest loosely packed confectioners' sugar, for dusting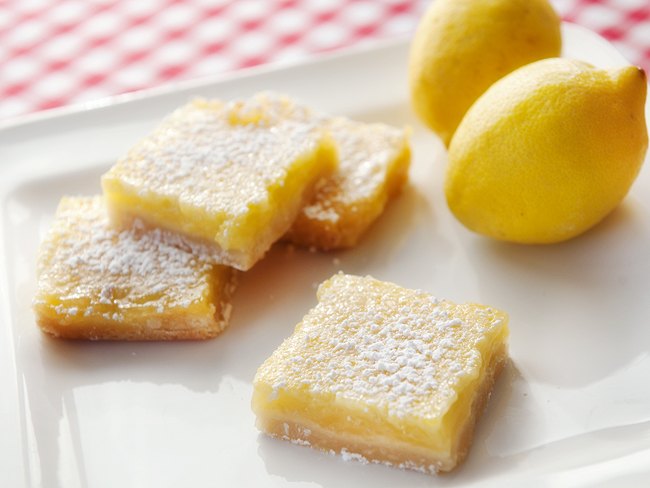 Directions:
Preheat oven to 350F.  Grease 8-by-8 pan with butter or cooking spray, line with aluminum foil, and then grease again.
For the crust:  Using a large bowl, combine all "crust ingredients" and mash the butter into the mixture using a spoon.  Mix until a sandy  mixture forms.  Place mixture in oven prepared pan and (using fingers) press into a flat layer of crust.  Prick with fork to create air/steam vent.  Bake crust for 12-15 minutes, until crust has just barely set but is not golden or brown.
While crust is baking, prepare filling.  In a large bowl- combine eggs, sugar, lemon juice, half and half, and vanilla.  Whisk until smooth.  Add flour, and whisk until all flour lumps are gone, followed by lemon zest.  Pour mixture over crust.
Bake for 16-20 minutes until the top has just "set" and isn't jiggly or runny.  Some looseness and movement is normal.
Cool bars at room temp for 1 hour, and then cover and refrigerate for at least three hours before topping with powdered sugar and serving.  Store extra bars in an airtight container in the refrigerator for up to five days.
As far as I am concerned, these are perfection.  You're welcome, babe.