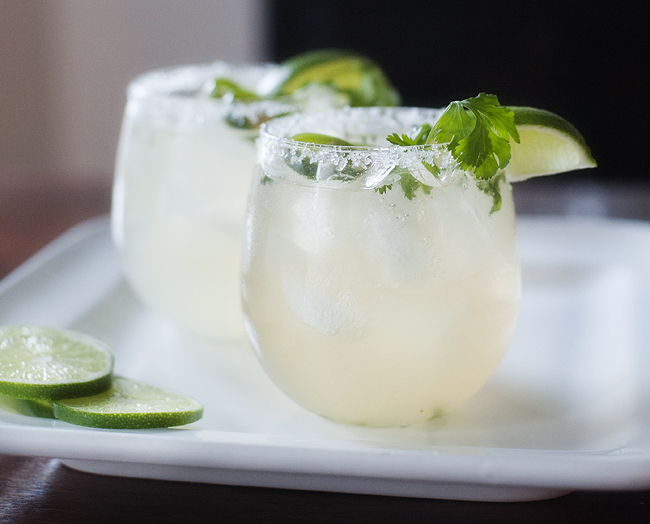 Earlier this week Shan showed off her tantalizing tequila lime cookies. Lime, coarse salt and booze – not exactly a "wash down with milk" kind of treat. If you went through all the trouble of making cookies (and there's a tequila bottle open) you deserve a cocktail, at least that's the rule in my limited baking kitchen.
I am somewhat of a margarita snob (I know, so pretentious). Honestly what I thought was so yummy back in my early 20s I have come to realize is a very generic version of what a margarita should taste like. Many are far too sweet with artificial lime flavor – a true margarita should be light, refreshing and above all FRESH. I love this recipe because it not only gives homage to an authentic margarita but it adds the perfect twist of cilantro and jalapeno (don't be scared, it only adds a touch of heat).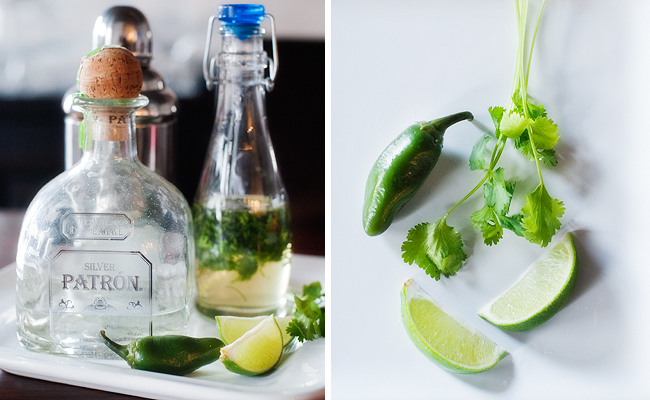 Jalapeño Cilantro Margarita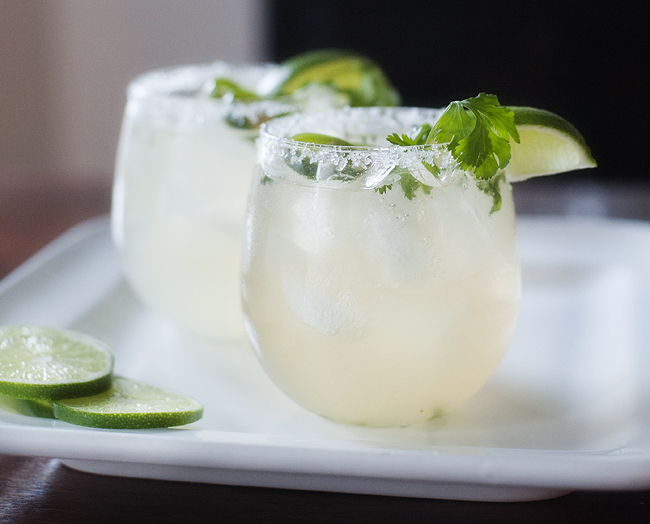 Ingredients
½ oz cilantro syrup (1 cup water, 1 cup sugar heated until sugar is dissolved. Steep a cup of cilantro leaves in syrup for 10 minutes, cool and store for up to a month in refrigerator. Or use simple syrup you have on hand, heat and add cilantro.)
juice of 1 lime – plus more for garnish
2oz of GOOD tequila (Patròn is my absolute favorite. I would do a shot of it even at my lightweight level – I would probably regret it later but at least it would taste better than crappy tequila.)
fresh jalapeño strips – plus more for garnish
salt to rim glass
ice
cilantro sprigs for garnish
Instructions
Rim glass with lime than dip in salt. Fill glass and cocktail shaker with ice.
Add cilantro syrup, juice of lime, tequila and jalapeno strips to shaker – shake vigorously for at least 20 seconds. Pour through shaker strainer into salt rimmed glass and garnish with lime wedge, jalapeno ring(s) and cilantro sprig. This makes one 4 oz cocktail – adjust to glass size and amount of margarita consumption necessary.
recipe inspired by today's nest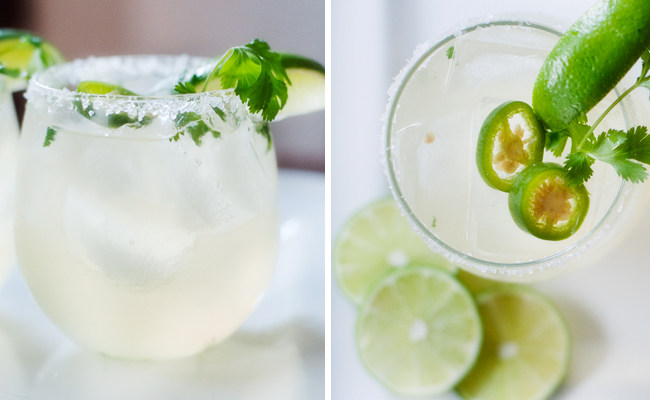 Margaritas are of course especially yummy on a warm day, but fire up a mexican feast and they become a year round concoction. This gets me thinking… we already have the cookies and Cinco De Mayo is just around the corner, seems like we may need to post something in the form of a taco. Maybe, we'll think about it.
Adiòs for now…