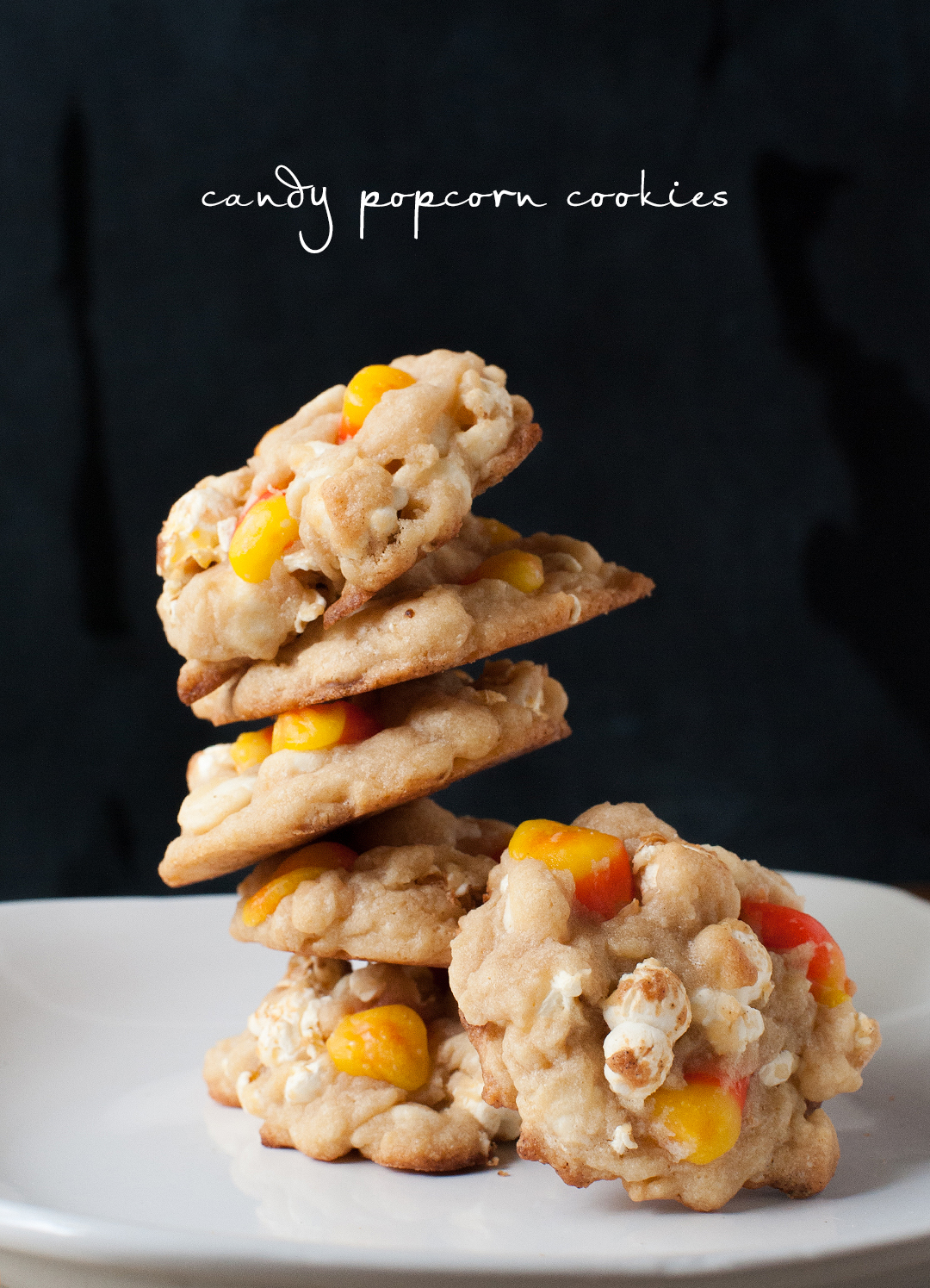 I have been making Smitten Kitchen's popcorn cookies for quite sometime now. They are a "Brandy" favorite – my family enjoys them as well, but no one appreciates the salt, the butter, the crunch quite like me.
As fall approached I began wanting to add more to this cookie (which is already perfection so I totally realize I'm walking on thin ice here). Love it or hate it candy corn screams October…and popcorn laced with white chocolate is never a bad idea. The combo of the 3 make for a cookie that is worthy of any harvest party.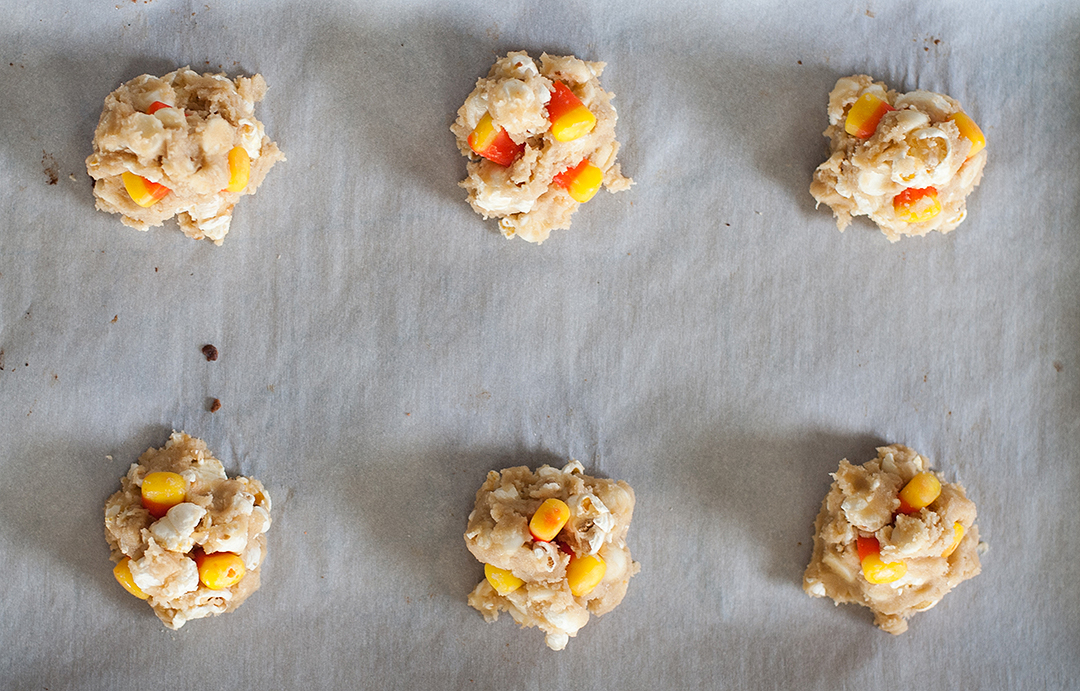 A note on the candy corn – they do not do well on the bottom of the cookie. They will burn before the cookie is done baking, not good. This is why you want to place those bad boys on the top – right before baking.
Of course if candy corn repulses you, burnt or otherwise, feel free to leave them out. Peanuts would make an excellent replacement. (I'm totally trying that next time.)
There is something about the way these look. Like my Halloween as a youth when people handed out homemade popcorn balls and candy. I can almost see 7 year old me, fully costumed, chowing down on one of these with a paper cup full of cider.  (And a first place "costume contest" ribbon of course, because my mom kicked major ass in the costume making department.)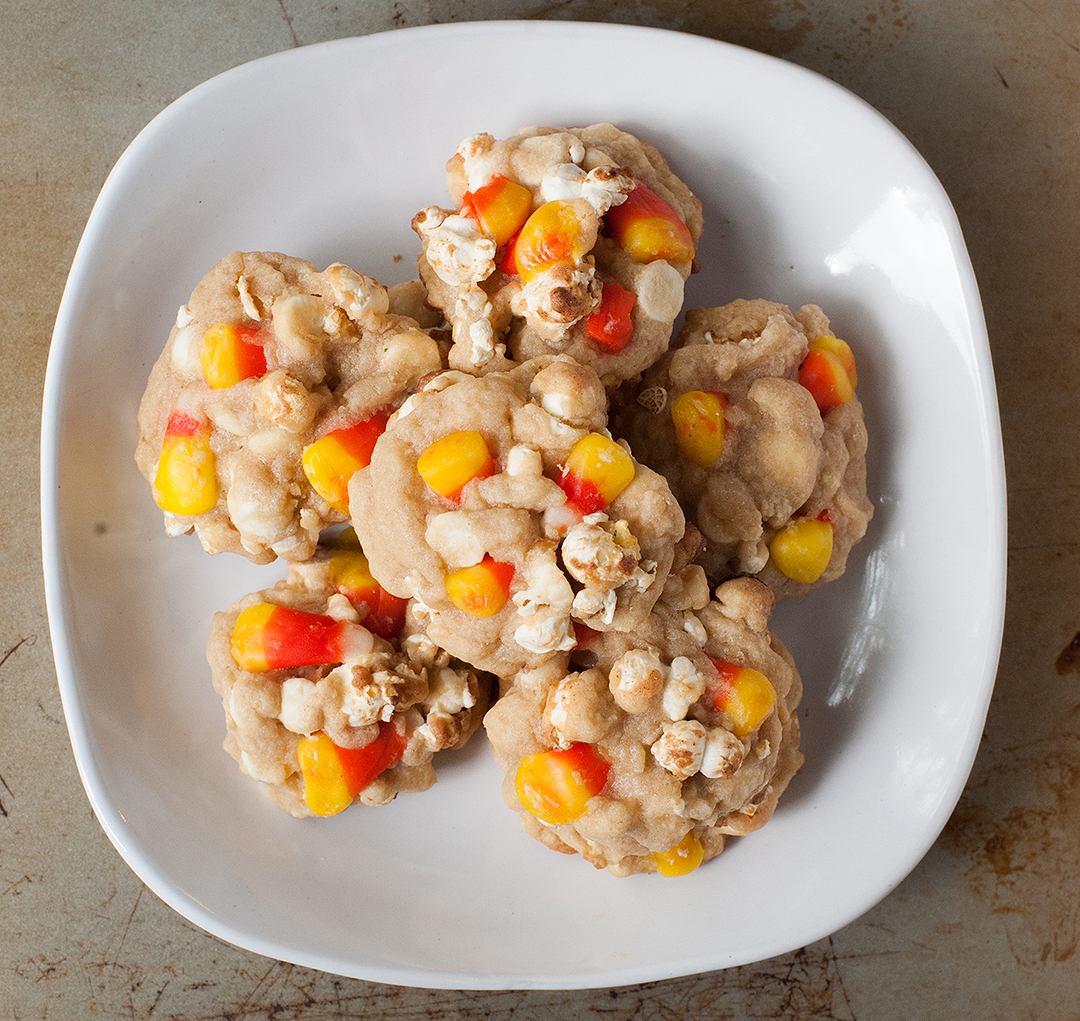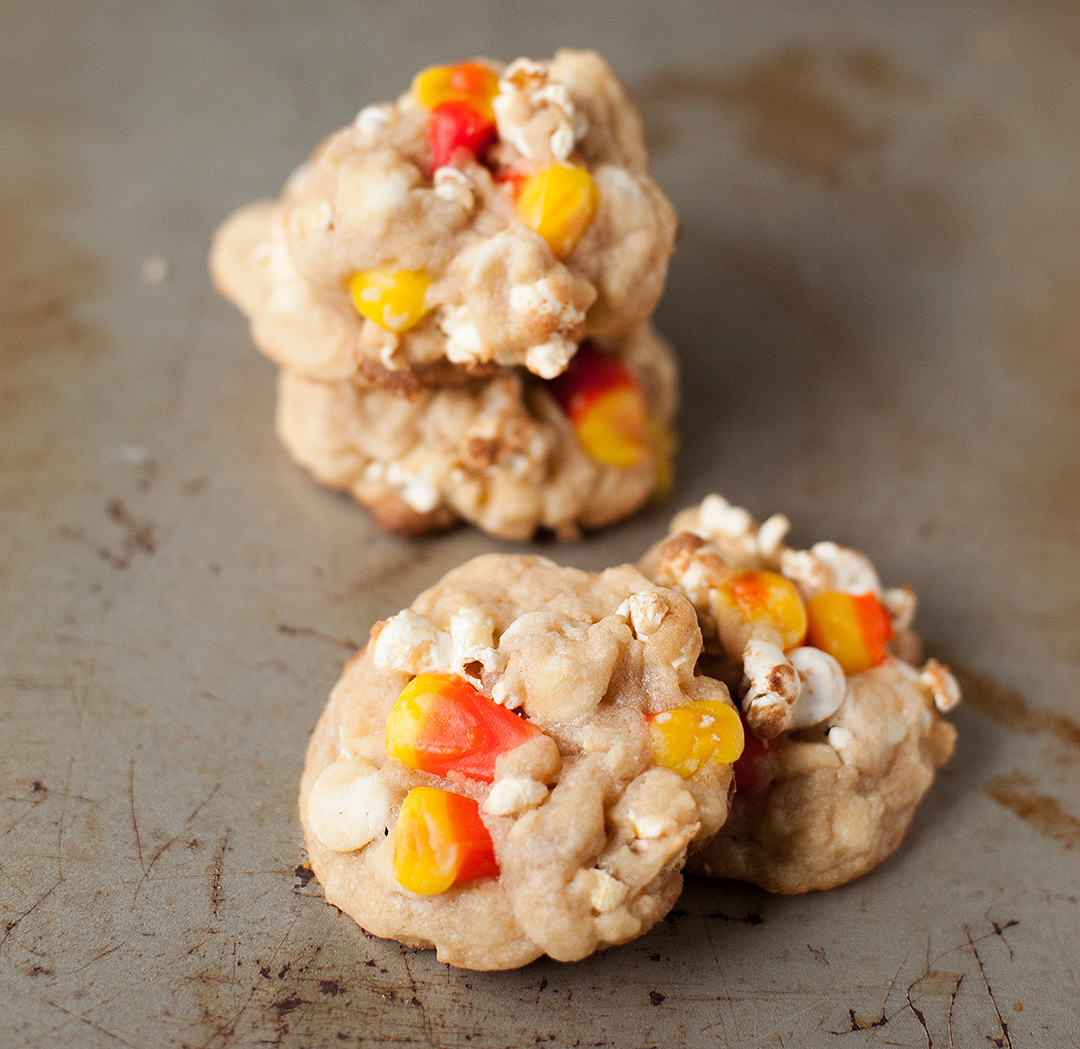 Crisp edges, tender centers….buttery, crunchy, sweet bites. This cookie is unique and totally familiar all at once.
Enjoy!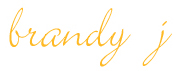 candy popcorn cookies
Ingredients
½cup unsalted butter, softened
½cup packed brown sugar
⅓cup granulated sugar
1 large egg
½tsp pure vanilla extract
1½cups flour
¾tsp baking soda
3 to 3½cups popped popcorn (buttered with 1tbsp butter and lightly salted)
1cup white chocolate chips
1cup candy corn
Instructions
Preheat oven 350ºF. Cover a baking sheet with parchment paper. Set aside.
Cream brown sugar, granulated sugar and softened butter on a high speed with a hand or stand mixer for 5 minutes. Add egg and vanilla extract and mix until combined. Mix flour and baking soda in a separate bowl. Add to wet mixture in ⅓rds, until completely incorporated.
Gently fold in the white chocolate chips and popcorn. It will seem a little odd - a lot of popcorn, little dough - but keep gently folding until it's incorporated. (Popcorn will break some and that's okay!)
Using a medium ice cream scoop (about 2tbsp), place dough 2" apart on the prepared baking sheet. Push 3 to 4 candy corns into each ball. Try to push them in as much as possible without penetrating the bottom of the ball. Bake for 6 to 9 minutes or until bottoms begin to turn gold. Cookies will seem raw, but allowing them to bake on cookie sheet for 5 minutes out of oven will be perfect! After this, transfer to a wire rack and allow cookies to cool. Store an an airtight container for up to 5 days or freeze for up to 2 months.
Notes
If candy corn is not your thing simply omit them! Peanuts would be a good addition as well!