When we dropped Jettie off at preschool last year I can remember feel anxious but not so much sad. There was no intense desire to sit in the parking lot and cry. (Which of course made me feel like a bad mom because aren't we all suppose to react the same exact way and sob with every milestone, beg for our babies back, and rethink the decision to support our husband being snipped, otherwise we are evil and crazy and unfit mothers???!!!! ……uuuuuggggghhh! Breathing….rant over. Sorry about that.)
Last May though, they threw a graduation cap on my kids head and said "She's off to Kindergarten!" I thought I was having a heart attack. All I could think was please, please, please, never ever end summer 2016.
But it did, and today was the day she officially walked back through that doorway as a Kindergartner. I spent a lot of time over the summer dreading this morning, wishing it away. Yet somehow it came and felt good, almost easy and most definitely right. She walked in a lot excited, a little nervous and with those eyebrows cautiously up – it's her body language for when she knows something is going to be awesome. It's one of my favorite things that she does.
You guys, we could not be more proud of our slightly weird (and I mean that in a very good way), out of this world special and incredibly sensitive, artistic human we created. Milestones most definitely can put lumps in the throat but they bring way more joy to the heart. I feel like the luckiest girl on the planet that I get to witness all of hers.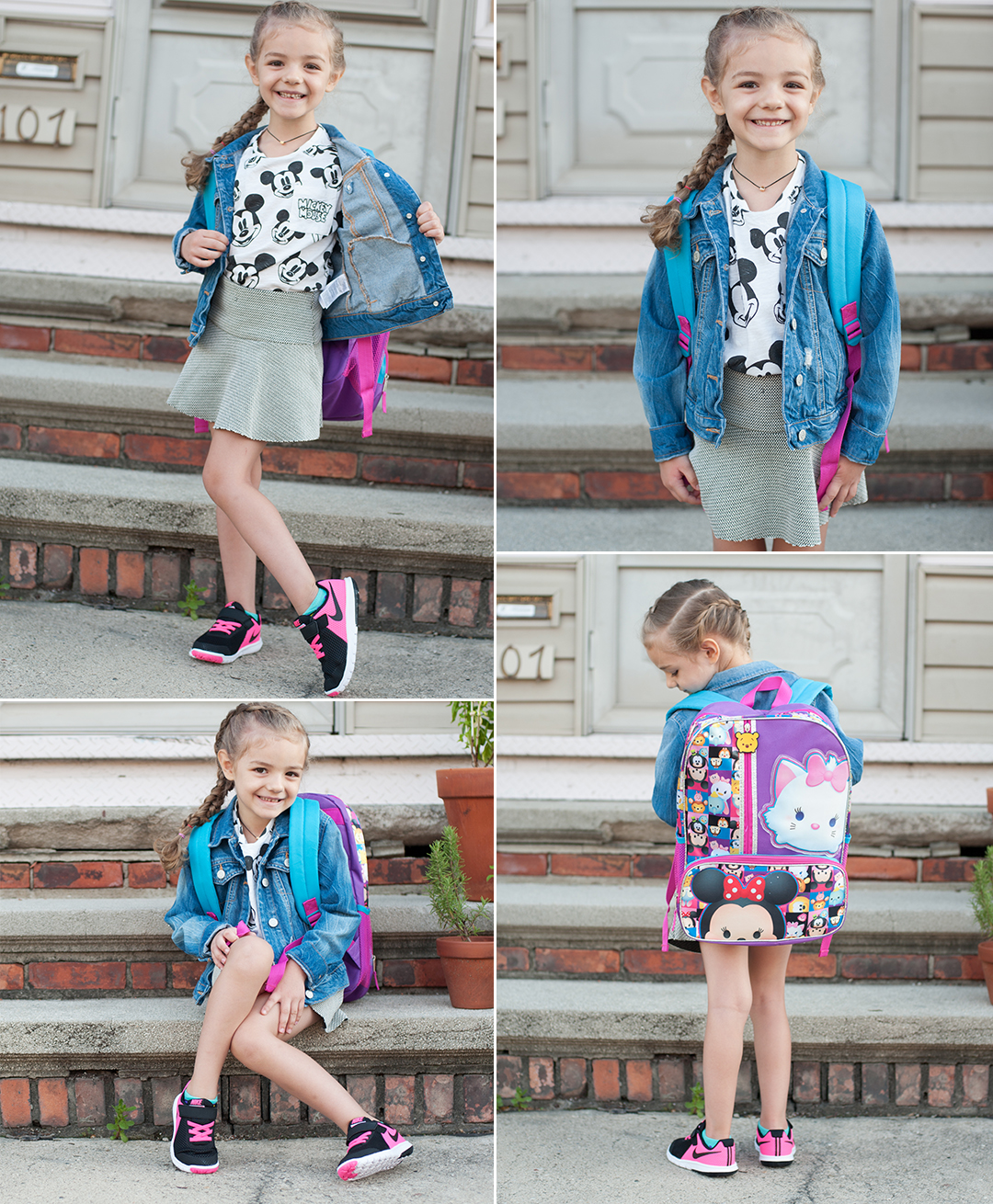 We had to get Bingham in a couple. He had his 1st day at a new sitter, that's exciting stuff for a 2 year old!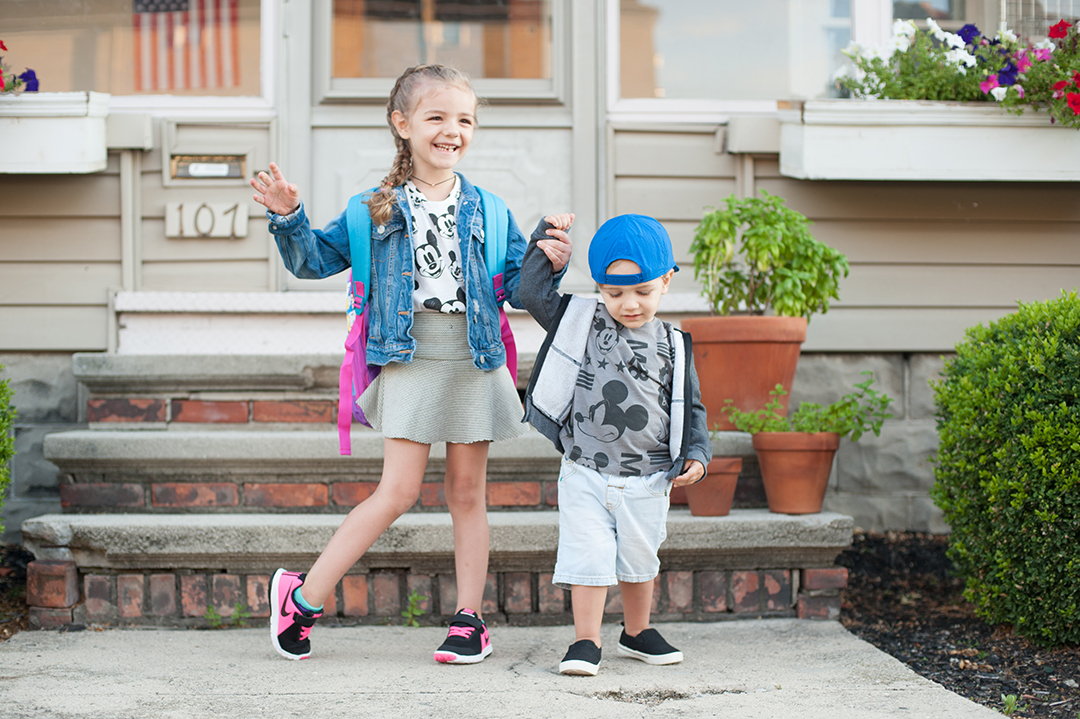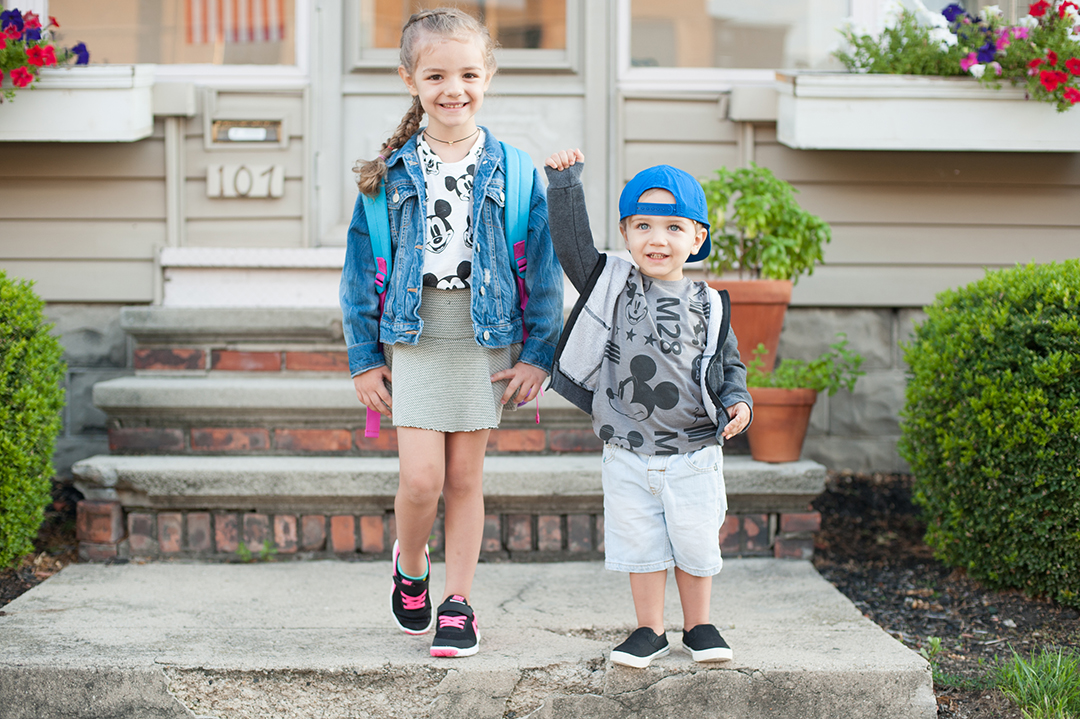 (This post was sponsored by Mickey Mouse….no, but really, I did not intentionally do that.)
[Jettie picked out her shirt and skirt from Zara, shoes are Nike and jacket is Old Navy. Bing is wearing last year's clearance Old Navy Mickey shirt (linked to a different one) and the rest from H&M boys.]
Happy 1st days to all the parents! Whether you are holding back the tears, letting them fall like Niagra or popping the champagne the moment you step back in the house…on some level I get you. We are in this together after all.
xo,