For months I had been seeing bloggers on snapchat slipping on these plastic booties and going on and on about this amazing product for rough feet. Having really dry feet myself, I was dying to try but would always forget about 5 seconds after I saw it. (Can a person direct link a product on snapchat? Is that a thing I don't know about because I would totally dig that.) It must have been divine intervention the day my man came walking through the door with a present from one of his med spa clients. He told me that the lady said "your wife will love"…and she could not have been more right.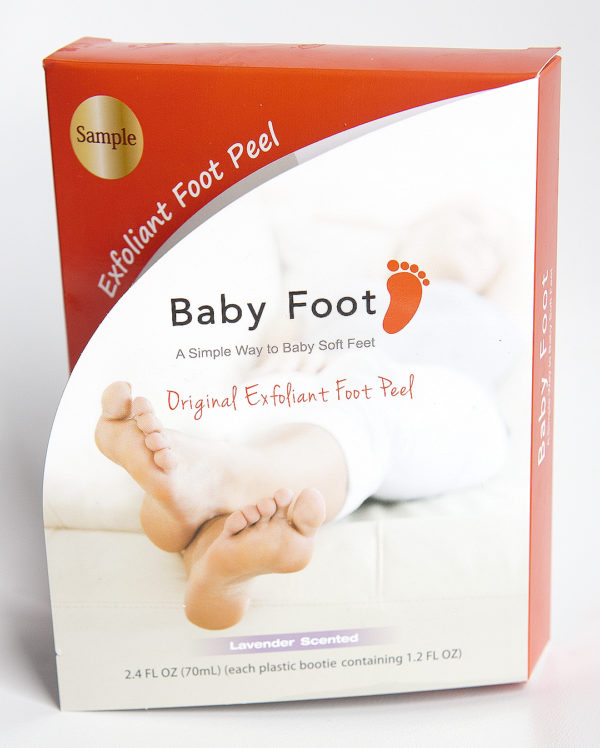 Here is the thing about me…I am hard on my feet and they don't like it. They retaliate by toughening themselves with calluses and cracks. Blah! I also genetically have a tendency to have dry hands and feet so that's a double whammy for me. Drinking lots of water and using good lotions help tremendously. But nothing, and I mean nothing, has came close to what this product does.
So how does one use Baby Foot? The application is fairly simple. You place your clean, dry feet in the plastic booties that are pre-filled with magic dry skin attack gel and sit your butt down for an hour before removing them. Once removed you wash feet with mild soap and water, pat dry and then wait. For days. That's right, I said days. It will take a few before you see the peeling and when you do you will be amazed.
Prepare to be grossed out by my peeling reptile feet…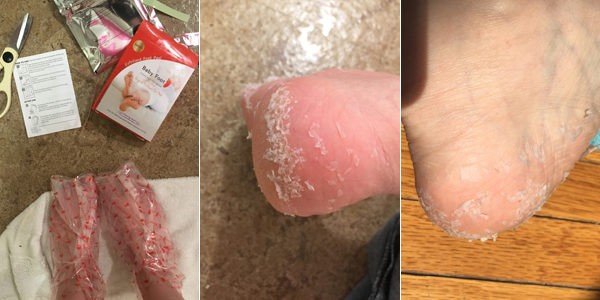 Oh my gosh…grossest thing on this blog EVER!!!! Insert the monkey emoji with his hands over his eyes right now. I promise to never get this gross again. (At least I hope so.)
Here is the thing about the peeling (other than the holy crap factor). You absolutely are not suppose to peel it off with your fingers. It's tempting. VERY VERY tempting. But don't do it. The box says not to, I am not sure why, but if it says not to then I believe it. If you have zero willpower (not gonna name names, but I know who you are) I suggest you wear socks all the time and forget about your feet. It's the only way.
As far as how long you will peel that really depends on how much dry skin there is. My feet were scaly for almost 2 weeks…but if you do not have much dry skin that may only last a week. What I was left with after 2 weeks blew my mind. Soft feet with no calluses and zero cracks on my heels. I really wish I would have taken a before picture…and kind of glad I didn't because I have disgusted all of you enough already.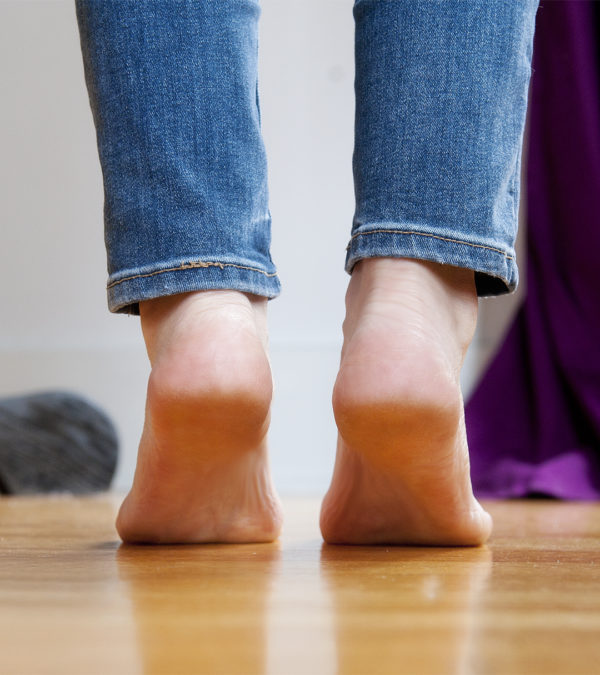 Please, I beg of you, if you try Baby Foot follow the directions. Also, if you have sensitive skin you may want to dip a q-tip in the gel and do a test spot first. I also know you are not to use if prego or nursing. You can find the full deets as well as other reviews here: Baby Foot.
To be clear I was given this product but not by Baby Foot themselves. [It was from my hot salesman husband.] I did however love this so much that I recommended it to friends already as well as sent one to my SIL who loves pedicures. So far all reports back are the same as mine. Baby Foot rules!
If you have tried Baby Foot please let us know how it worked for you!
Cheers to soft sandal-ready feet!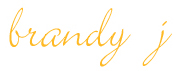 *This review is based on my personal experience with this product and not intended to represent every individual. As with all products, read the warnings and full directions before using. Brandy J Rammel nor www.prettyplainjanes.com are responsible for varying, damaging and/or negative results from this or any products featured on www.prettyplainjanes.com.