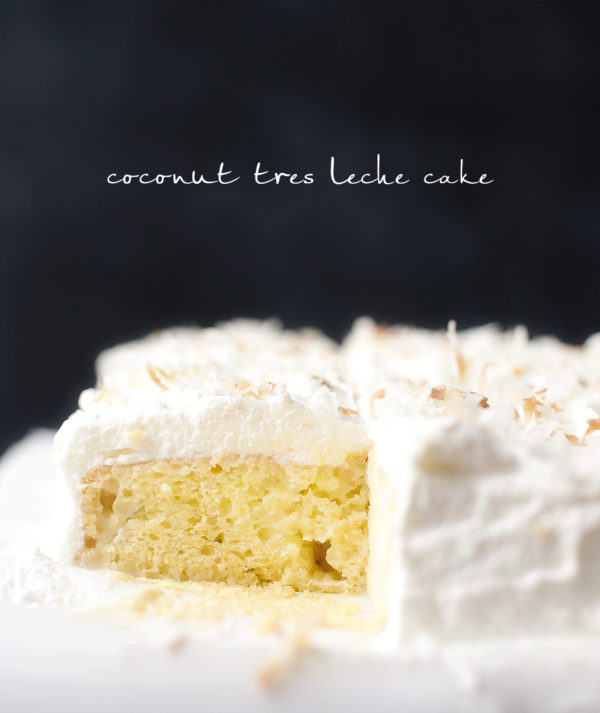 Over the last few years I have come across tres leche cake on various food shows and blogs..always thinking that it sounded absolutely delicious. It has been around forever, especially popular in Central and South America as well as the Caribbean. It's basically a sponge sheet cake, made without butter and soaked in 3 different milks – evaporated, sweetened condensed and heavy cream.
A cake soaked in sweet creams. There is absolutely nothing about this that can go wrong.
I decided to switch up the recipe just a bit by swapping out the heavy cream for coconut milk (the thick kind, from a can). I also added a couple of tablespoons of Grand Marnier because it was suggested in a few recipes I found. [A suggestion I take very seriously.]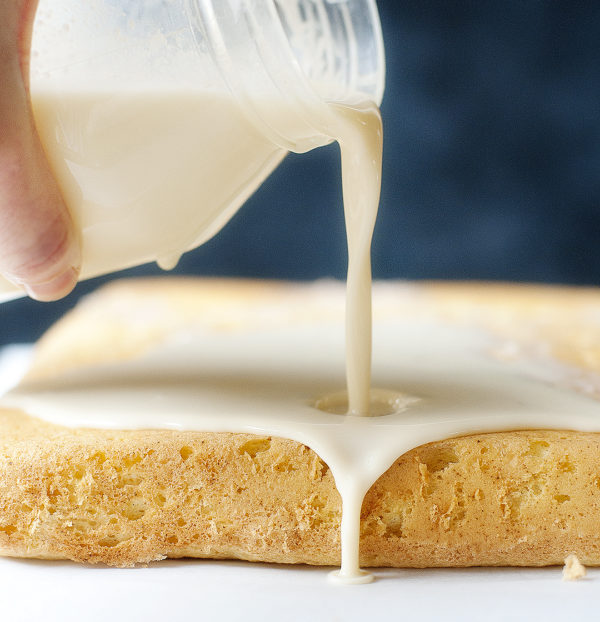 If my job was to perfectly ice cakes I wouldn't have a job by the end of the week. Thankfully fresh whipped cream is beautiful in a mess or perfected.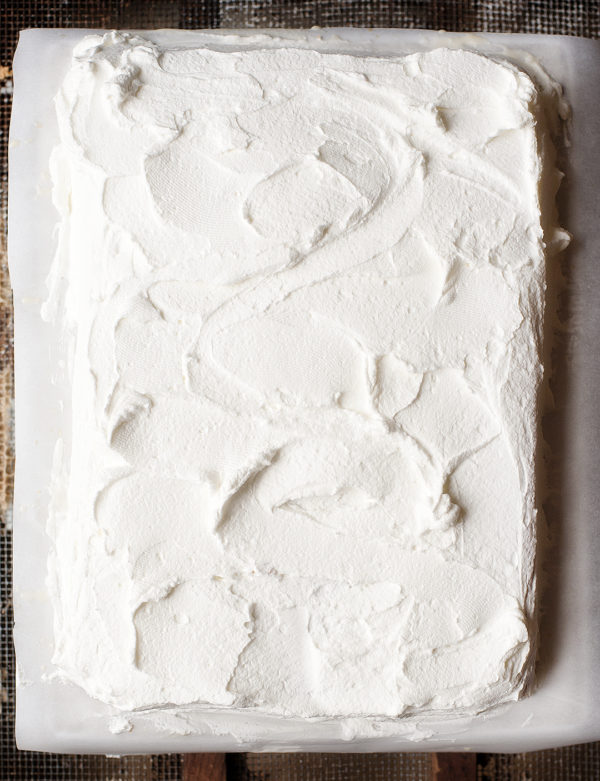 And of course there's always the trick of topping the cake with toasted coconut. Now she's a pretty cake!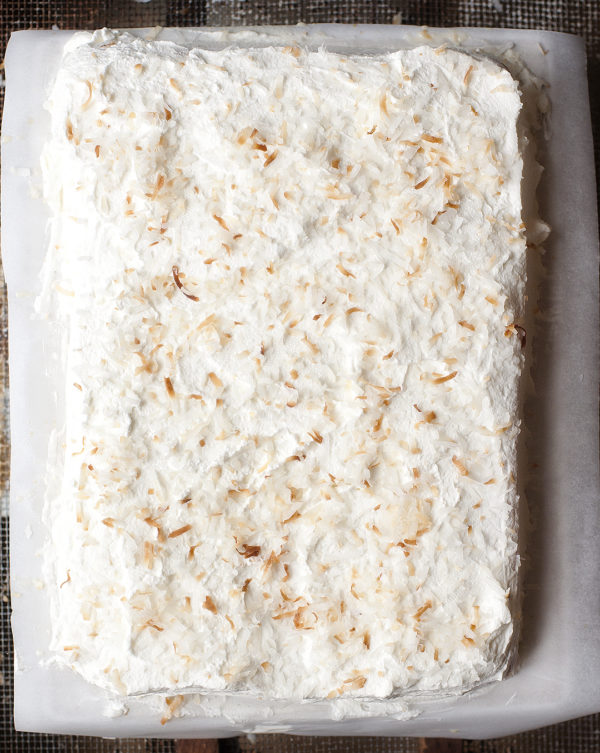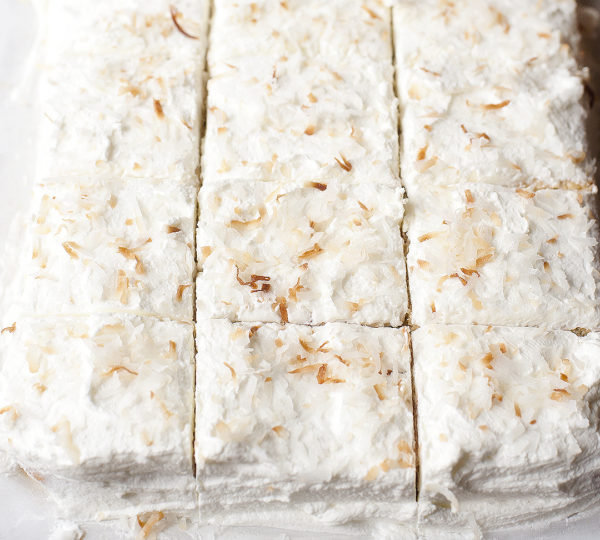 Anyone eat sheet cake soaked in Kool-Aid, topped with Cool Whip as a child? Oh my gosh was that good out of the fridge! Ice cold and oh so artificially fruity. The best.
This is sort of a grown up version. Certainly just as unhealthy but without the food coloring. [Choose your battles, right?] It is also fab chilled, with coffee and a big fork.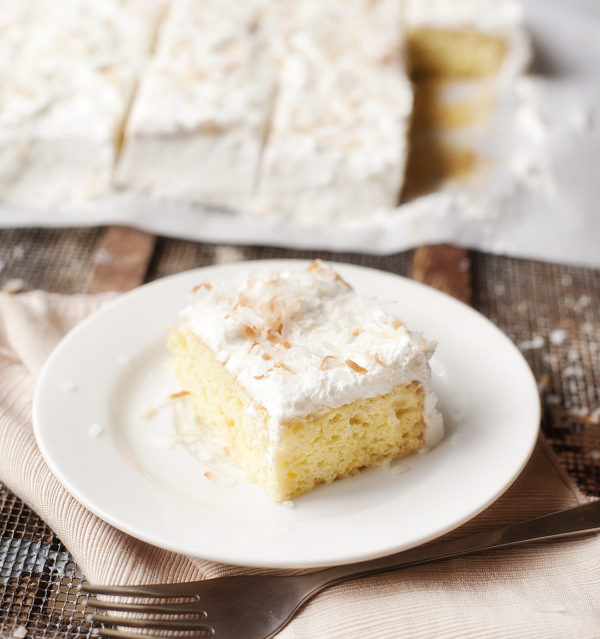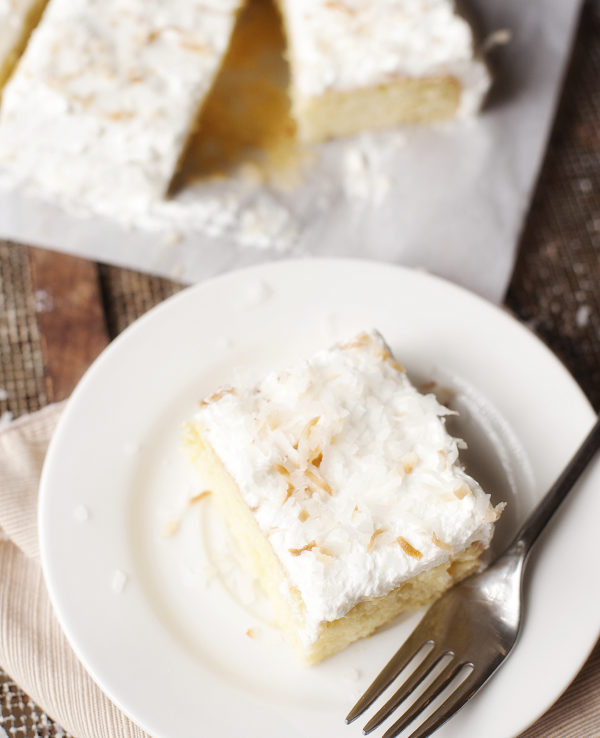 This would obviously be perfect for Cinco de Mayo. Would also make a wonderful brunch dessert for Mother's Day. [Envisioning it topped with berries – YUM!]
Enjoy!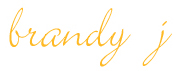 coconut tres leche cake
coconut tres leche cake
Ingredients
Cake:
1cup all-purpose flour
1½tsp baking powder
¼tsp kosher salt
5 large eggs, separated
1cup sugar, separate by ¾ and ¼
⅓cup coconut milk (from can)
1 tsp vanilla extract
Tres leche:
2tbsp Grand Marnier (optional)
1 14oz can evaporated milk
1 12oz can sweetened condensed milk
¼cup coconut milk (from can)
Icing
12oz heavy cream
2tbsp powdered sugar
¼cup toasted coconut flakes
Instructions
Prehat oven 350ºF. Butter and flour a 9X13" cake pan.
Place the flour, baking powder and salt in a large bowl and whisk together.
Place the egg yolks in a mixing bowl with ¾cup sugar and beat on high speed until pale in color. Stir in the coconut milk and vanilla. Pour over yolk mixture over the flour mixture and stir gently until combined.
Clean the mixing bowl and add the egg whites. Beat on high until soft peaks form. While running, add the remaining ¼cup sugar. Beat until egg whites are stiff but not dry. Pl;ace egg whites in the batter bowl. Fold them gently into the batter mixture. Spread evenly into prepared cake pan. Bake for 25 to 25 minutes, or until a toothpick comes out clean when inserted in the center. Turn out onto patter and allow cake to cool for at least 10 minutes.
While cake is baking blend the evaporated milk, condensed milk and coconut milk well in a small pitcher or large jar. Once cooled for 10 minutes, poke the cake all over with a fork. Brush the Grand Marnier on top, if using. Slowly pour all but 1 cup of the milk mixture all over cake and allow to soak for 30 minutes. (You will have one cup extra, that can be discarded.)
Meanwhile whip the heavy cream until soft peaks form. Add the sugar a whip about 30 seconds more. Spread evenly over cake and top with toasted coconut. Keeps will in fridge, covered for up to a week.