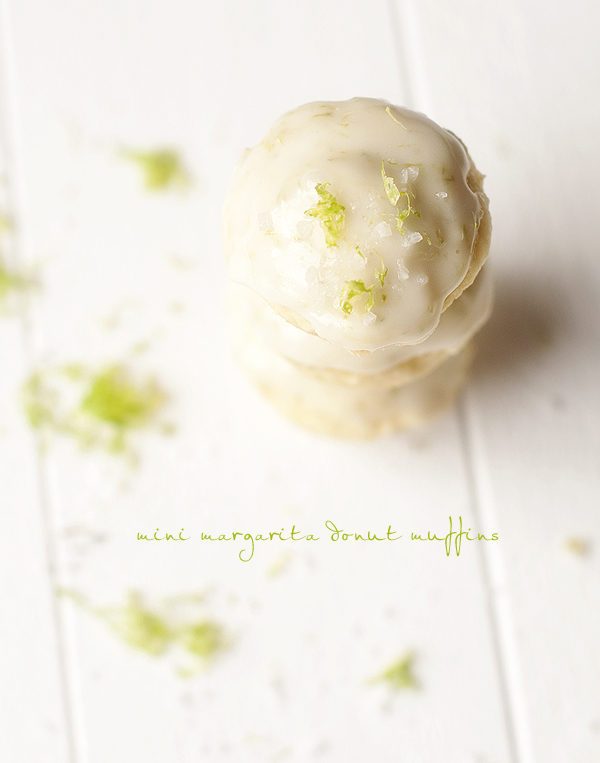 You add "mini" before pretty much any dessert and I am all ears. An itty bitty bite feels like far less of a splurge than a big ol' piece a cake. Then again after the 4th, 5th, 6th "bite" all that goes out the window.
With all that said popping 6 of these in your mouth would be so easy. Especially if you are using all tequila and no lime juice in the glaze. At that point all reasoning goes out the window because let's face it, tequila is the eraser of good judgment. [Of course I do not know from experience or anything.]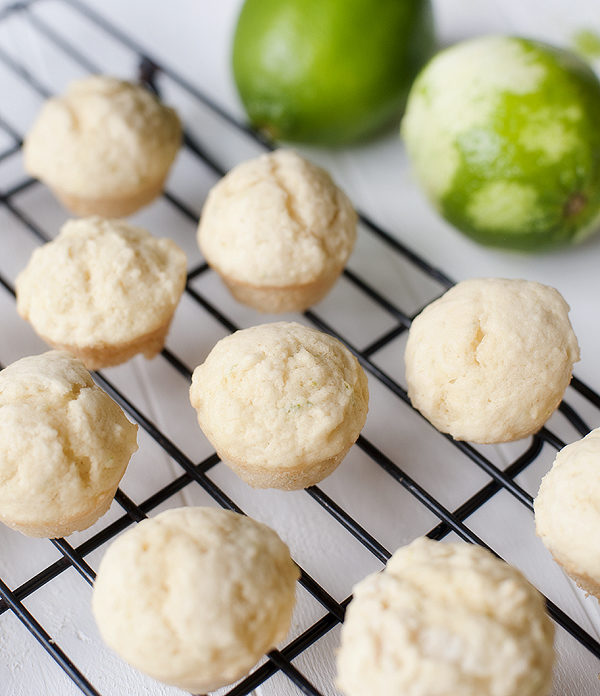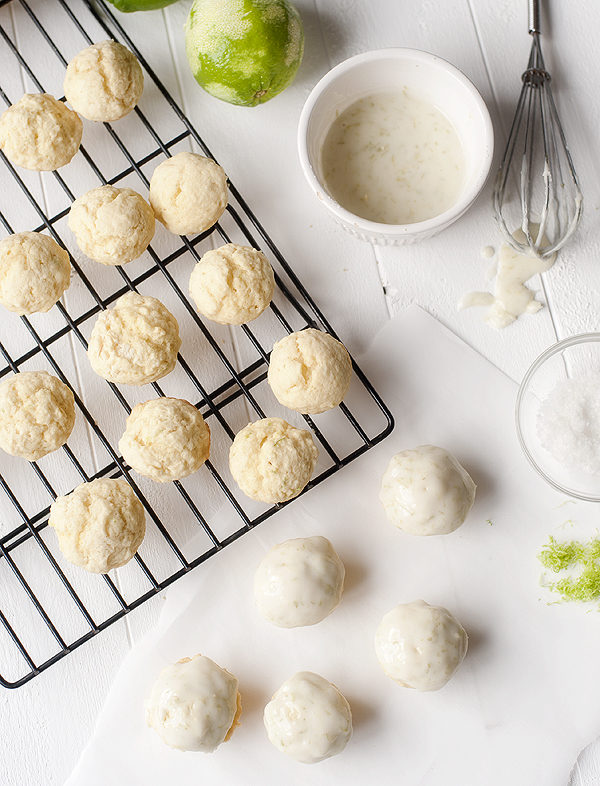 I call these "margarita" donut muffins because of the lime, tequila, salt combo. You can of course omit the tequila, and the salt if you want, at which point you will have lime donut muffins. Still good of course, and more appropriate for children and those who need to stay at least 10 feet away from tequila at all times. [We all know one or two.]
You may be wondering why these are "donut" muffins. The texture is more of that of a cake donut yet they are delicate like muffins. And obviously baked like muffins. Feel free to simply call them muffins. No one is going to care because you are feeding them sweet, tart, balls of fiesta goodness.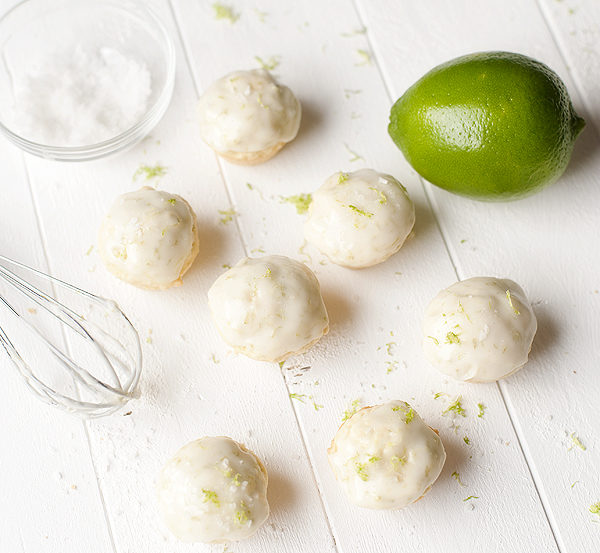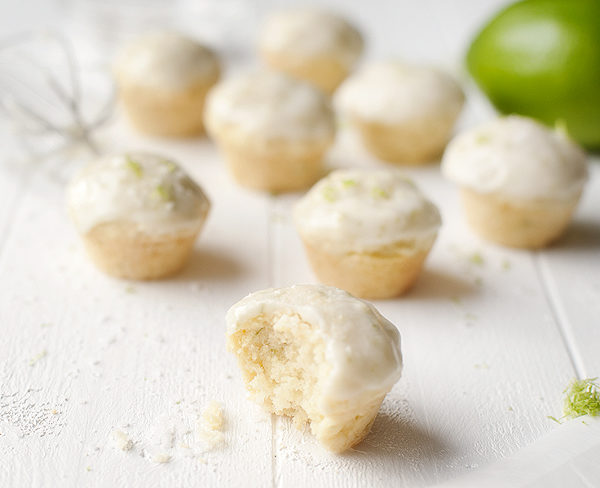 These would make a perfect Cinco de Mayo treat for coworkers or school (omitting the alcohol of course). My man absolutely loves the glaze and even suggested doubling it and dipping the entire mini muffin. I think that's a fab idea, just be careful if you are using the tequila. It's bad enough to have too many margaritas, but I have a feeling it's worse to have one too many margarita muffins.
Enjoy!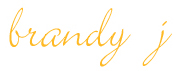 mini margarita donut muffins
mini margarita donut muffins
Author:
brandy j of www.prettyplainjanes.com
Serves:
about 40 mini muffins
Ingredients
for muffins:
12tbsp unsalted butter, room temperature
¾cup plus 2tbsp sugar
2 large eggs
zest of one lime
3cups all-purpose flour
2½tsp baking powder
¼tsp baking soda
¾tsp salt
½cup plus ⅓cup milk (it's easier to measure separately than trying to figure out ⅚cup)
2tbsp fresh lime juice
for glaze:
1cup powdered sugar plus more in case you need to thicken glaze
2 to 3tbsp tequila or fresh lime juice or a combination of both, plus more in case you need to thin glaze
zest of one lime
sea salt (optional)
Instructions
Place rack in the middle and preheat oven 350°F. Grease and flour a mini muffin tin.
To make muffin cream butter and sugar together in a stand mixer. Be sure to cream until pale, fluffy and you can almost not see the sugar granules. About 5 minutes. Add eggs one at a time, and then lime zest and mix until just blended.
Sift together flour, baking powder, baking soda and salt in a large bowl. Combine milk and lime juice in another bowl. Starting with the dry, pour about ¼ of it into the creamed butter/sugar/eggs. Stir until just combined with wooden spoon. Then add ⅓ of the milk mixture and stir until just combined. Repeat this until all dry and wet have been used - you will end with the dry. Batter will be super thick - always stir until just smooth. Be sure not to over mix. (Very important.)
Scoop batter evenly into muffin tin - batter should fill to the top. I used a mini ice cream scoop. Bake for 8 to 10 minutes or until a toothpick comes out clean when inserted in the center of a muffin. Take out of oven and immediately place on wrack to cool completely.
Meanwhile make the glaze by mixing powdered sugar, tequila and/or lime juice and zest in a bowl. Add sugar or juice depending on whether you need it to be thicker or thinner. Dip the top of a completely cooled muffin in glaze. Sprinkle a little sea salt on top and allow to set. Repeat with remaining muffins. Enjoy!