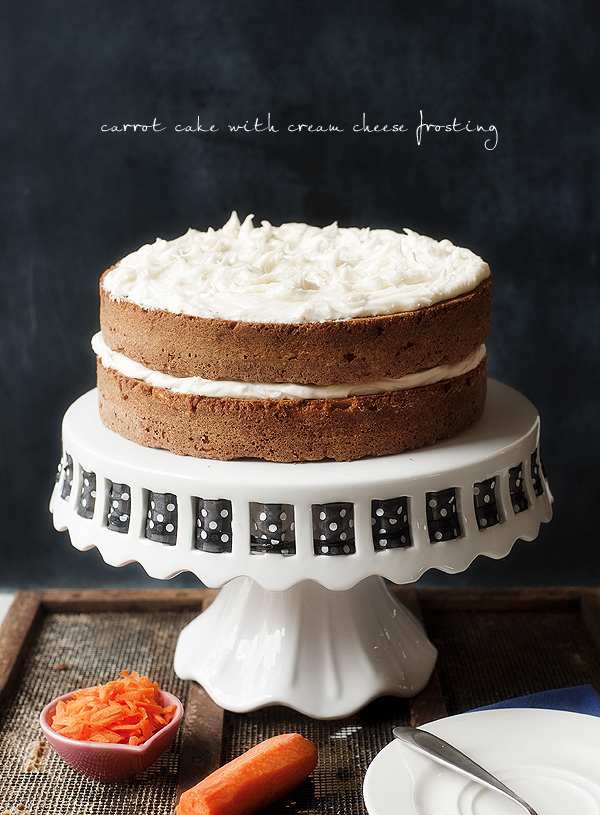 There are those people who are always going to go for the carrot cake over all other cakes.
I am one of those people.
Some of them even like their carrot cake laced with raisins.
That would be me.
Nuts?
Give me the nuts.
Anything other than cream cheese frosting?
Well, then it wouldn't be carrot cake now would it?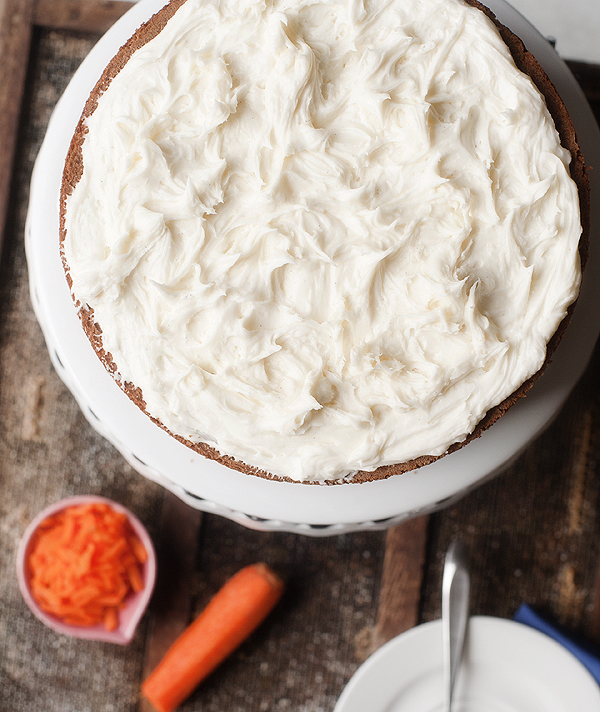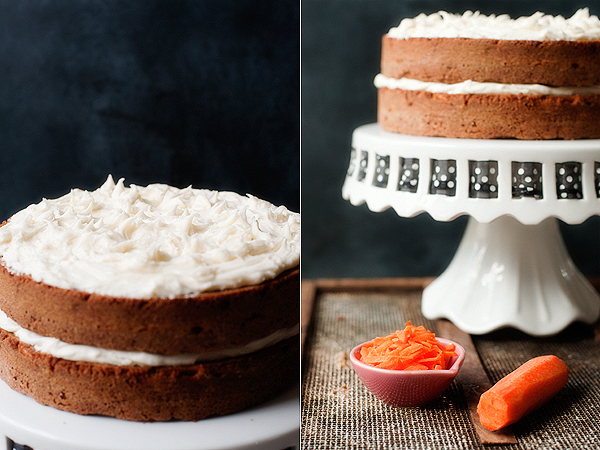 Without a doubt I am some sort of carrot cake addict. It started very early in life and has continued to take over as the years pass. For this very reason I have only attempted to make my own official, double layer carrot cake once before. And it was dreadful. Dry, bland, yuck. Not my idea of good cake in any way, shape or form.
Now that I have more baking experience under my belt I thought why not. The worst that could happen would be dry cake and hey, at least I'd save the calories.
The results? The bad news is my waistline is going to get the brunt of this recipe. The good news is this cake is AMAZING!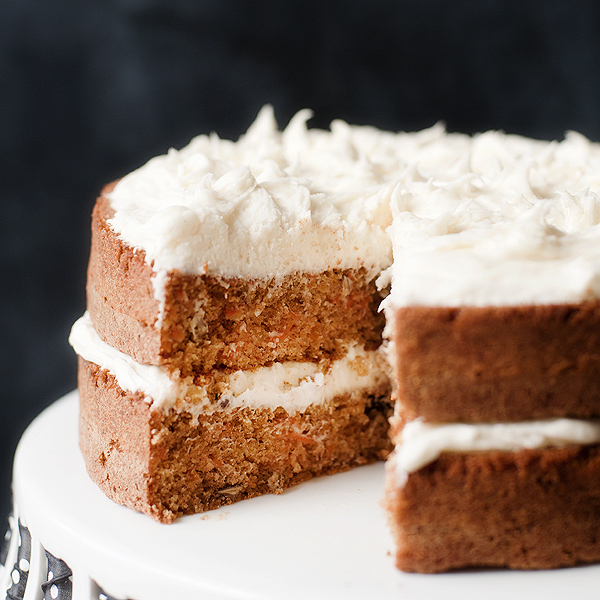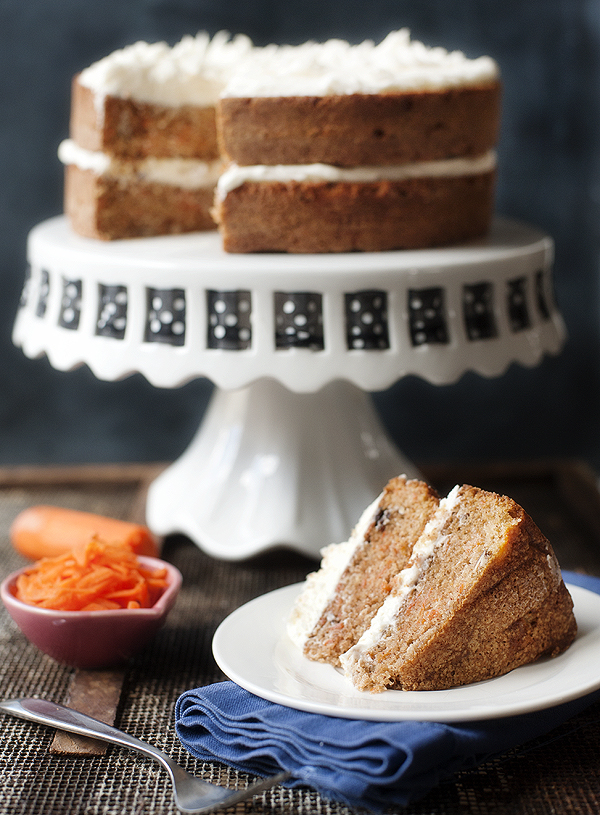 This version was adapted ever so slightly from one of my favorite blogs, Two Peas and Their Pod. I added a touch of ginger because where there is carrot there should be ginger, at least in my world. I also cut the oil in half and replaced it with unsweetened applesauce. Much to my delight this cake still came out soft like pillow and incredibly moist. And the cream cheese frosting with a touch of lemon….. to. die. for.
It may be called carrot cake but let's be real…it is sinful with all that sugar and cream cheese. But it's so so so good, and even better the next day. I am more than alright with a little extra treadmill time just so I can devour my favorite cake.
Enjoy!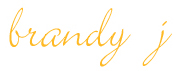 carrot cake with cream cheese frosting
Ingredients
For the cake:
2cups all purpose flour
1tsp baking powder
1tsp baking soda
1tsp kosher salt
2tsp cinnamon
¼tsp nutmeg
¼tsp ground ginger
4 large eggs
2cups granulated sugar
1tsp vanilla
½cup unsweetened applesauce
½cup vegetable oil
2cups shredded carrots (I used 3 medium carrots)
¼cup chopped pecans (optional)
¼cup raisins
For the frosting:
½cup unsalted butter room temperature
8oz cream cheese room temperature
5cups powdered sugar
1tbsp lemon
½tsp vanilla
Instructions
Preheat the oven 350ºF. Butter and flour 2 9" round cake pans.
Put flour, baking powder, baking soda, salt, cinnamon, nutmeg and ginger in a medium bowl and whisk to combine.
Place eggs in the bowl of a stand mixer and beat until combined. Add sugar and beat on medium speed for about 2 minutes. Add vanilla and combine. In a slow steady stream on low speed add the applesauce and then the oil until well incorporated. Gradually add the flour mixture and mix on low until just combined. You will want to stop mixing just before all the flour is incorporated. Very important not to overmix.
Fold in the carrots, nuts and raisins. Divide evenly between the cake pans and bake for 30 to 35 minutes or until a toothpick inserted in the center comes out clean. Allow to cool in pans on wire rack for 15 mintues. Run knife along the side before removing cakes from pan. Allow cakes to continue to cool completely on wire rack.
While cake is cooling place butter and cream cheese in the bowl of a stand mixer and beat on medium speed until well incorporated. About 2 minutes. Gradually add the powdered sugar (switching between low and medium as to not make a giant mess) and beat until well combined and fluffy. Add the lemon juice and vanilla, beat until incorporated.
Place on cake flat side up on a cake stand. Spoon half the frosting on top and spread evenly. Place the other cake flat side up on top of that. Spoon the remaining frosting on top and spread evenly.
Store in a cake stand fitted with dome for 2 to 3 days or in the fridge for up to a week.